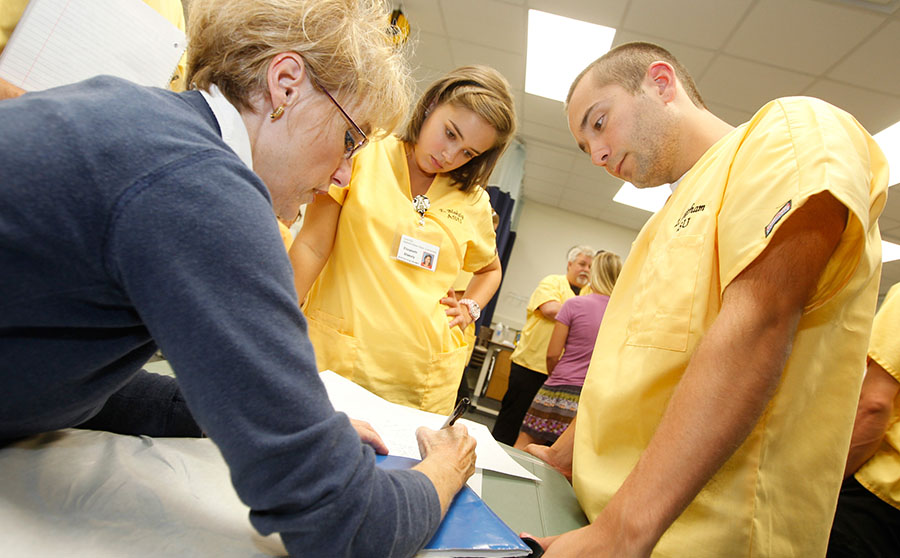 Posted Jan. 16, 2015 at 3:49 p.m.
BOONE—The UNC Board of Governors has approved a Master of Science in Nursing (MSN) degree program for Appalachian State University, which is pending approval by the Southern Association of Colleges and Schools (SACS), Appalachian—accrediting body. The MSN application process will be available once final approval is granted by SACS . The degree will prepare nurse educators. Courses will be offered online and at Appalachian's off-campus, distance education sites in surrounding counties.
It's anticipated that the first group of approximately 30 students will begin the MSN nurse educator program in August. The new program will be housed in the College of Health Sciences' Department of Nursing and will be the fifth graduate degree program offered by the college. The MSN is the first new graduate degree program at Appalachian approved during the past five years.
"The program has been in development over the past several years and is a result of the outstanding work and efforts of the nursing faculty and leaders who have worked so hard to make this plan a reality," said Dr. Fred Whitt, founding dean of the College of Health Sciences.
Department of Nursing interim chairperson Dr. Linda Johanson said, "The MSN will be primarily an online distance education program with a concentration in nursing education. We are very excited about this new program as it will address an unmet need for students in northwestern North Carolina."
Whitt said development of the new degree was supported by local and regional partners. "Richard Sparks and the leadership team at Appalachian Regional Healthcare System have been our key strategic partners and very supportive in the development of the new College of Health Sciences," Whitt said. "We are also grateful to Caldwell 20/20, a visionary group of community leaders in Caldwell County, for providing a $300,000 gift to support the development of the new nursing degree. We have also enjoyed strong support with our collaborative community college partners in Caldwell, Catawba, Burke and Wilkes counties. Their continuing support and enthusiasm on many levels has been a strong catalyst in helping us advance our strategic plan."
Similar to Appalachian's online RN-BSN program, the majority of applicants to the MSN degree program are expected to be from northwest North Carolina and east Tennessee.
The degree will help ease a shortage of nurse educators in nursing programs in the region.
In 2012, the Bureau of Labor Statistics projected a 35.4 percent increase (24,000 positions) in nursing faculty nationally from 2012-22. Faculty shortages at nursing schools across the country have been well documented by the American Association of Colleges of Nursing and others. In April 2013, the N.C. Board of Nursing reported 115 full-time and 125 part-time faculty positions were vacant in North Carolina.
The College of Health Sciences (CHS) at Appalachian opened in 2010. The rapidly growing college is the second largest on the Appalachian campus with a fall 2015 enrollment of approximately 3,300 students.
The Department of Nursing is one of six departments housed in the college, which also include the departments of Social Work, Health and Exercise Science, Communication and Sciences Disorders, Nutrition and Health Care Management, and Recreation Management and Physical Education.
The CHS also houses the Blue Cross Shield of NC Institute for Health and Human Services, the Charles E. and Geneva S. Scott Scottish Rite Communication Disorders Clinic and the Human Performance Lab at the North Carolina Research Campus in Kannapolis.
About Appalachian State University
As the premier, public undergraduate institution in the state of North Carolina, Appalachian State University prepares students to lead purposeful lives as global citizens who understand and engage their responsibilities in creating a sustainable future for all. The Appalachian Experience promotes a spirit of inclusion that brings people together in inspiring ways to acquire and create knowledge, to grow holistically, to act with passion and determination, and to embrace diversity and difference. Located in the Blue Ridge Mountains, Appalachian is one of 17 campuses in the University of North Carolina System. Appalachian enrolls more than 19,000 students, has a low student-to-faculty ratio and offers more than 150 undergraduate and graduate majors.
What do you think?
Share your feedback on this story.