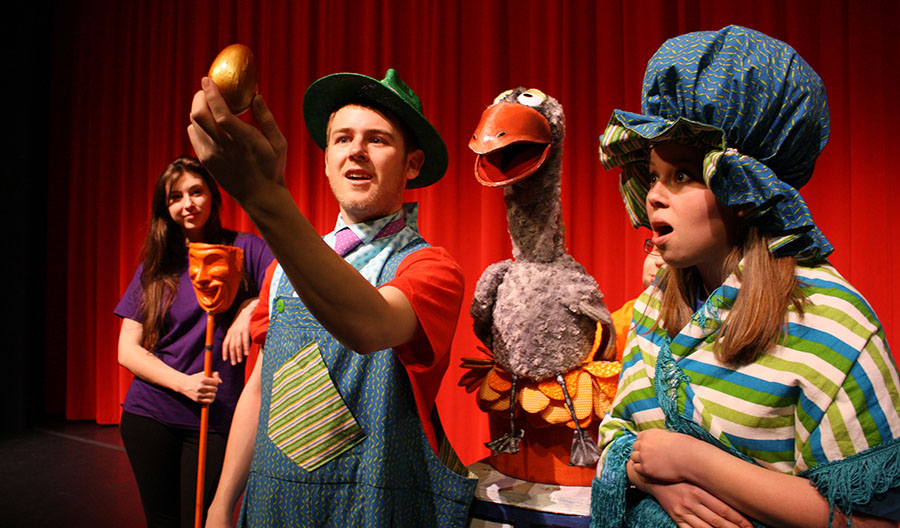 Posted March 30, 2015 at 2:06 p.m.
BOONE—Children and family audiences will be magically transported back to ancient Greece in the Appalachian Young People's Theatre (AYPT) production of "Aesop's Fables: On Stage" by Vivian and Larry Snipes. The fables are appropriate for all ages and will be presented at 7 p.m. Friday, April 10, and at 2 p.m. both Saturday, April 11, and Sunday, April 12, in the I.G. Greer Studio Theatre at Appalachian State University.
Ticket prices start at just $5 for children and students with a $10 admission price for adults. For more information go to http://theatre.appstate.edu, or call the box office at 828-262-3063 or at the toll-free number 800-841-ARTS (2787).
The play opens with six actors setting the stage with an introductory "rap" retelling the most popular of Aesop's fables with a slightly modern twist. The fantastical stories have stood the test of time and include "The Honest Woodcutter," "The Milk Maid and Her Pail," "The Goose That Laid the Golden Eggs," "The Lion and the Mouse," "The Fox and the Crow," "The Dog and Its Reflection," "The Wind and the Sun," "The Ant and the Grasshopper" and "The Tortoise and the Hare."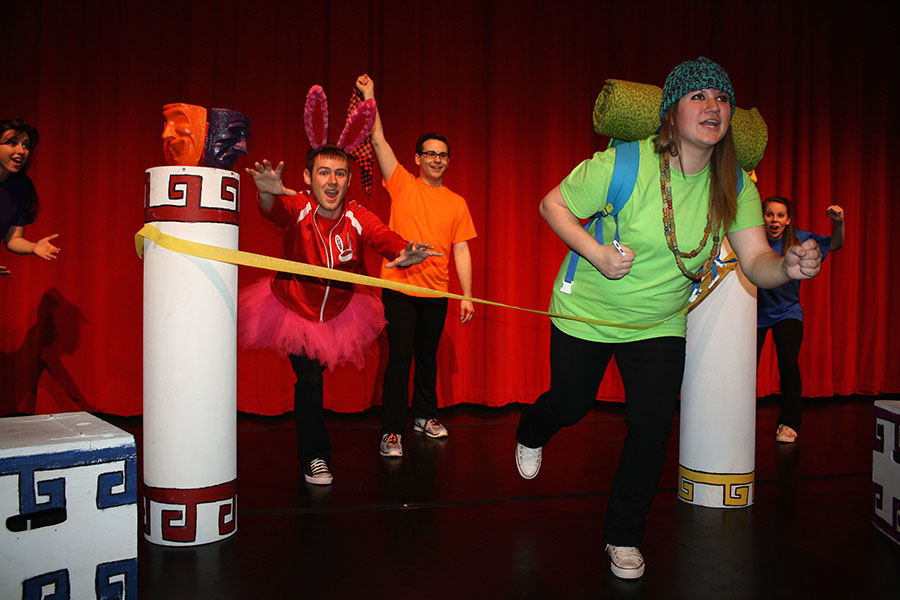 Aesop's fables each tell important moral lessons that are applicable to everyday life. These fables are prevalent worldwide, and are often used for the moral character education of children. "The audience will recognize some old familiar sayings," said Teresa Lee, Appalachian professor and director of the play. "'Don't count your chickens before they hatch,' 'Slow but steady wins the race,' and 'Don't cry over spilled milk' are just a few of the morals that 'Aesop's Fables: On Stage' brings to life."
This production marks the 45th show since Lee began her AYPT tenure in 1988 and the 33rd for which she has been director. She takes pride in the fact that two former students and AYPT veterans – Gordon Hensley and Anna Ward – are now faculty members in the Department of Theatre and Dance who have directed AYPT productions.
Comprised of Appalachian students, the company includes six actors, one stage manager and one tour manager. The students prepare everything for the production, including creating the sets and costumes. Lee explains, "It is a wonderful opportunity for students to apply theatre, collaboration and group problem-solving skills that we teach here in the Department of Theatre and Dance. It is exciting to be able to bring the show back to campus and share it with our own community after they have been performing for school audiences around the region."
This year's AYPT performance company includes theatre majors Rachel Bammel, Caleb Byerly, Grace Goldston, Emily Robinson, Courtney Wahlers and Cody Watkins. Robinson is also the stage manager with Lauren Thefaine serving as tour manager.
From modest beginnings, AYPT has grown into a highly successful outreach program of Appalachian's Department of Theatre and Dance. Since its inception in 1972, AYPT has reached an estimated 162,500 children with some 65 different productions and continues to serve over 6,500 students a year. AYPT is committed to bringing high quality, low-cost live theatre experiences to young audiences in North Carolina. In recent years, AYPT has been showcased at the Children's Arts Festival on Roanoke Island and has performed abroad in Scotland.
Tickets are available in person Monday through Friday at the Schaefer Center Box Office from 9 a.m. to 5 p.m. and the Valborg Theatre box office from 1 to 5 p.m. You may also obtain tickets by phone at 828-262-3063, and online at http://theatre.appstate.edu, or at the I.G. Greer Studio Theatre one hour prior to each performance.
I.G. Greer Studio Theatre is located on the east side of I.G. Greer Hall below the main auditorium, with a separate entrance down the stairway on the side of the building. Parking is available after 5:30 p.m. on campus in faculty lots and the College Street parking deck near Belk Library and Information Commons.
The Department of Theatre and Dance is housed in the College of Fine and Applied Arts. Its mission is to provide liberal arts educations for the B.S. degree in teaching theatre arts and the B.A. degrees in dance studies or theatre arts. The department also values the opportunity to offer coursework for integrated learning through the arts to the general university student population. Vital to the support of this mission is a dynamic co-curricular production program that provides exemplary theatre and dance experiences to departmental students, the university community and the region. The departmental philosophy is to support the university's liberal arts environment through a balanced and integrated emphasis on teaching, creative activity, scholarship and service.
About Appalachian State University
Appalachian State University, in North Carolina's Blue Ridge Mountains, prepares students to lead purposeful lives as global citizens who understand and engage their responsibilities in creating a sustainable future for all. The transformational Appalachian experience promotes a spirit of inclusion that brings people together in inspiring ways to acquire and create knowledge, to grow holistically, to act with passion and determination, and embrace diversity and difference. As one of 17 campuses in the University of North Carolina System, Appalachian enrolls about 19,000 students, has a low student-to-faculty ratio and offers more than 150 undergraduate and graduate majors.
Media contact
Keith Martin
704-608-2755
martinkt1@appstate.edu