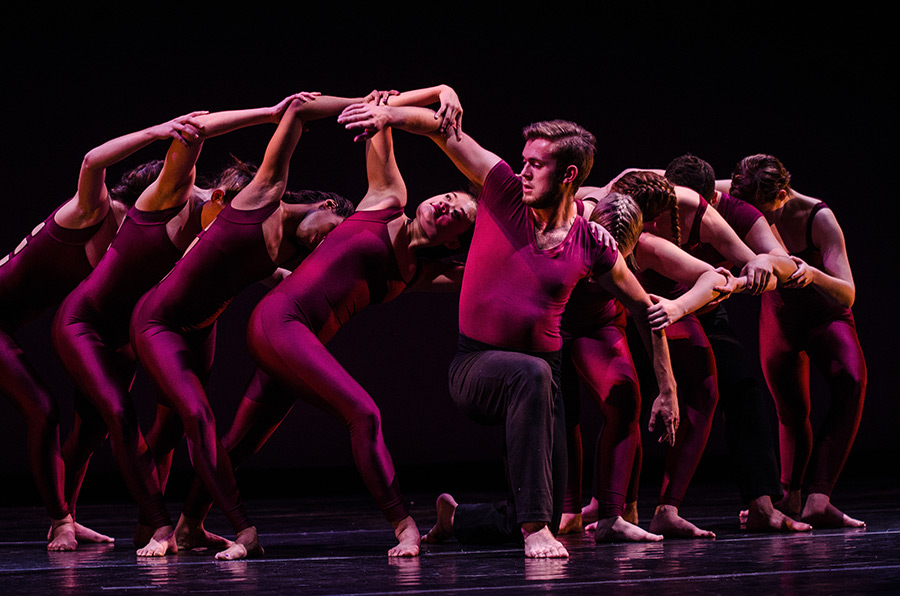 Posted Aug. 15, 2016 at 12:20 p.m.
BOONE—The Appalachian State University Department of Theatre and Dance is pleased to announce its upcoming 2016-17 season with an expanded slate of 10 offerings produced in five different venues on campus and in the community. Running from early September through the end of April, the season will take the stages of the Valborg Theatre, I.G. Greer Studio Theatre, Varsity Gymnasium, Turchin Center for Visual Arts and Daniel Boone Gardens. The highlights include over a dozen world premiere dance works and an entire season of theatre by female playwrights.
This season marks a new production schedule with 7 p.m. curtain times for evening shows. The earlier format will align more closely with other campus activities while providing a more family-friendly start time on school nights. Matinee performances will begin at 2 p.m.
As has become tradition, each season opens with the First Year Showcase, a high energy and fast-paced introduction to the department. This season, the largest incoming class in history – 60 freshmen and transfer students – will make their Appalachian debut. Under the direction of Theatre Professor Joel Williams, students quickly form an ensemble and prepare a one-act play, either from an original concept or a published work. Dance students will perform in works choreographed by faculty and guest artists under the direction of Cara Hagan, assistant professor of dance studies. The showcase will take place Sept. 22–24 in the I.G. Greer Studio Theatre.
The department's four major dance offerings begin with the American Dance Festival's "Movies by Movers" Film Festival. Founded seven years ago by Hagan, "Movies by Movers" recently merged with the American Dance Festival's International Screendance Festival. Hagan will curate and direct this film showcase, which will be presented Sept. 8–10 in the Turchin Center for the Visual Arts, Varsity Gym and the Daniel Boone Gardens. All film screenings are free of charge for audience members.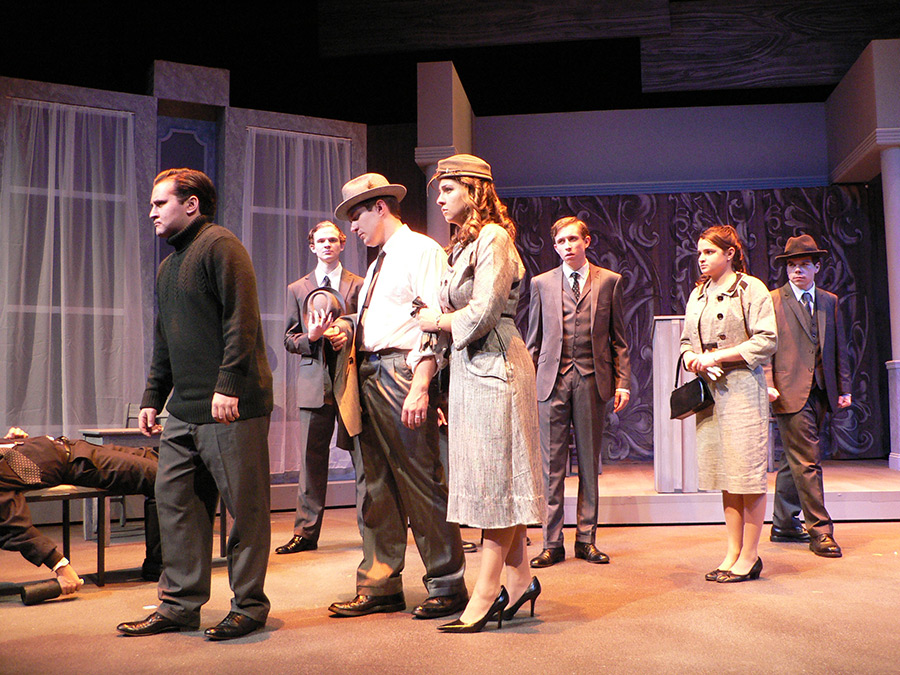 New works featuring original choreography will be presented in both the fall and spring semesters with performances by the popular Appalachian Dance Ensemble. This creative laboratory for faculty and students features six to eight different works each semester. While primarily modern in style and form, pieces chosen for the concert demonstrate dance influences from ballet, jazz and pop culture. The movement ranges from abstract to expressionistic, and rhythmic works of sheer physical energy, each exuding the joy of dance. Performances dates in the Valborg Theatre are Oct. 27–29 and March 29-April 1, 2017.
"I'm particularly excited to see what our students are creating in the studio," said Department Chair Kevin Warner. "These events demonstrate what our dance faculty are working on in their professional lives and the skills that our students acquire through their outstanding teaching."
The North Carolina Dance Festival, a three-city performance series featuring the best of modern dance choreographers and dancers in the state, will again include the High Country on its statewide tour this fall. This event is a unique opportunity for dance students to watch professional companies and artists from across North Carolina with a different repertoire at each of the festival's three evening performances. The upcoming tour dates are Oct. 27–29 their website indicates the dates of 28-29 in the Valborg Theatre.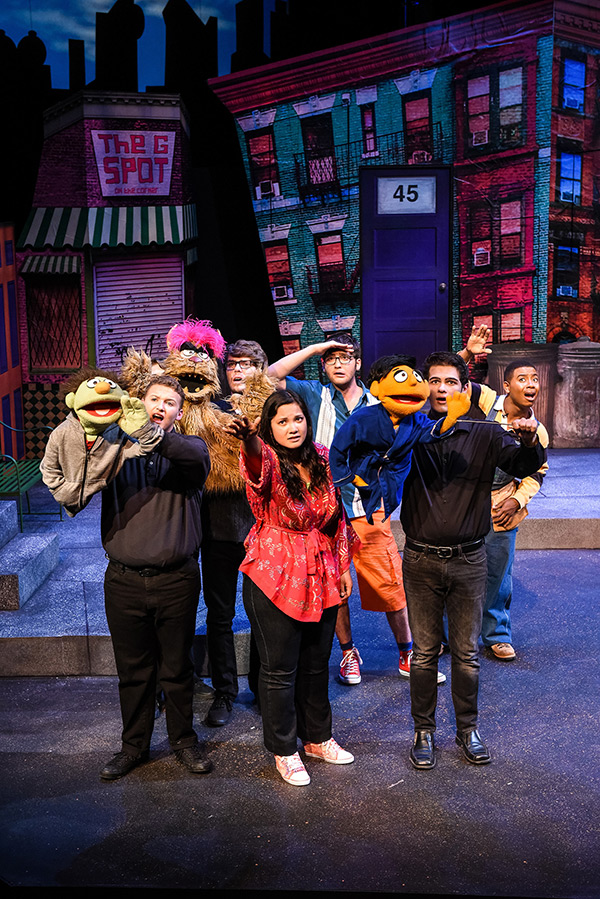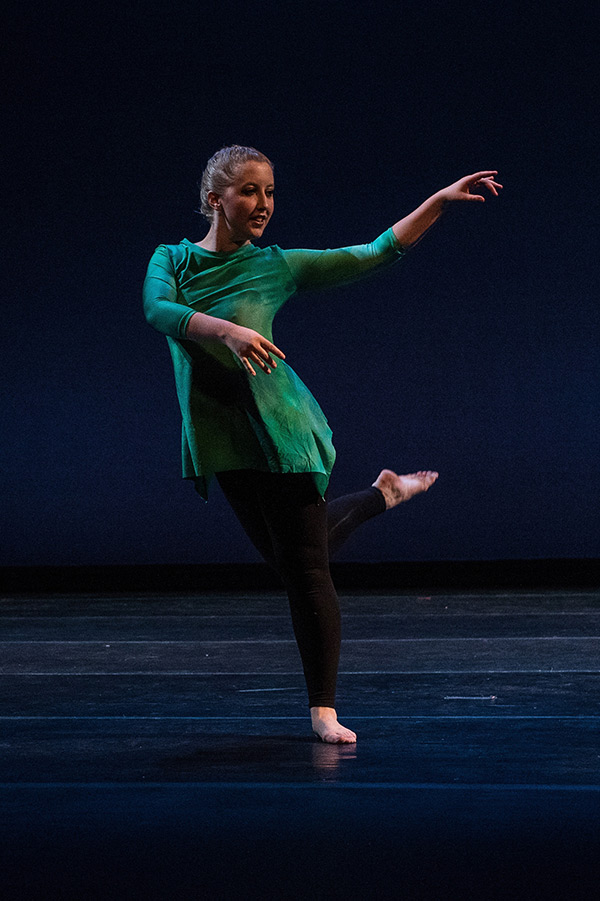 For the first time in memory, the department will produce an entire main stage season of plays written by women. Dr. Paulette Marty, chair of the play selection process, gave credit to the three students who served on the committee that helped make this innovation possible.
"This is really exciting for students and faculty alike," Marty said. "The theme of how social forces shape our personal identities runs through the season. This isn't new – many plays through time have explored this same theme. What's intriguing about this set of plays is that they explore the many clever, deceitful, cruel, loving and delightful ways people subvert those social forces in order to live as their true selves. The plays take us to mythical/historical places like a magical fishing village on the Scottish coast and a burial mound in Viking-occupied England, as well as to imagined places from the great Indian epic, 'The Mahabharata.'"
Filled with lyrical language, music and mysticism, "Selkie: Between Land and Sea" by Laurie Brooks is a coming-of-age story that will fascinate theatregoers of all ages. A young girl struggles to find a sense of belonging and identity as the secrets of her family are revealed. The action of the play takes audience members beyond the land and into the tides where protagonist Elin Jean finds that "there is more beneath the sea than you or I can imagine." The play will be directed by Theatre Professor Teresa Lee and is produced by special arrangement with Dramatic Publishing. Performance dates in the Valborg Theatre are Sept. 28 – Oct 1.
"Love and Information" is an acclaimed new work from award-winning playwright Caryl Churchill. It takes a close look at the Information Age and how it inspired obsessions, FaceTime conversations and celebrity selfies that threaten to replace human contact. Dr. Derek Davidson, senior lecturer in the Department of Theatre and Dance, will direct this fast-moving kaleidoscope with more than a hundred characters trying to make sense of what they know. "Love and Information" is licensed for production by Samuel French Inc. and will be performed Nov. 2–6 and 8–11 in I.G. Greer Studio Theatre.
Sparkling with deliberate clashes of period and style and with nimble physical comedy, "Silence," by playwright Moira Buffini, takes place "where Shakespeare's cross dressers meet Monty Python's blithering knights at the end of the first millennium." Princess Ymma of Normandy was forced by England's King Ethelred to marry a young Viking, Lord Silence of Cumbria. This 14-year-old doesn't realize that he is really a she. Bride and groom forge a pact to keep this secret and exploit Silence's male advantages, but events conspire to send them dashing through the mud of England fleeing an enraged despot's murderous rampage. "Silence" is also licensed for production by Samuel French Inc. and will be performed Feb. 22–26, 2017, in Valborg Theatre under the direction of Dr. Paulette Marty.
One of the most exciting aspects of this season is the world premiere of "Flight of the Mahabarath," written by Muthal Naidoo, a South African playwright of Indian descent. Dr. Ray Miller , a professor of dance studies and theatre arts, will direct this new work, which is based on one of the two major Sanskrit epics of ancient India. The play looks at "The Mahabharata" from a woman's point of view and the epic becomes a metaphor for the patriarchal society in which women function mainly as adjuncts. The women fly from the epic into a different genre, drama. Their new home is the stage (as opposed to a book). On stage, they are involved in the process of giving form to their new reality, that is, the play. Two men, also wishing to escape the social conditioning that denies them their identities, join the women in creating the play. This much-anticipated production will run April 26–30, 2017, in the Valborg Theatre.
In addition to the main stage season, the Appalachian Young People's Theatre (AYPT) will tour the region with children's author Lowell Swortzell's "The Mischief Makers," a family comedy with "magnificent braggadocio, wild foolery, suspense, laughter, pandemonium!" This play introduces audiences to Anansi the Spider from Africa, Reynard the Fox from Europe and the Native American trickster, Raven. As the play opens, the three are found perched together sharing a totem pole. As they argue over who among them is the best trickster, they play out stories that best demonstrate their finest acts of trickery. Directed by AYPT alumnus and Theatre Professor Gordon Hensley, "The Mischief Makers" is produced by special arrangement with Dramatic Publishing with performances scheduled April 22–23, 2017, in the I.G. Greer Studio Theatre.
To purchase tickets for a performance, contact the Valborg Theatre box office at 828-262-3063, the Schaefer Center for the Performing Arts box office toll-free at 800-841-ARTS (2787) or visit http://theatreanddance.appstate.edu.
About the Department of Theatre and Dance
The Department of Theatre and Dance is housed in the College of Fine and Applied Arts. Its mission is to facilitate transformative experiences for students and the public, which cultivate compassionate, creative and collaborative communities through theatre and dance. The department also values the opportunity to offer coursework for integrated learning through the arts to the general university student population. Vital to the support of this mission is a dynamic co-curricular production program that provides exemplary theatre and dance experiences to departmental students, the university community and the region. The departmental philosophy is to support the university's liberal arts environment through a balanced and integrated emphasis on teaching, creative activity, scholarship and service.
About Appalachian State University
Appalachian State University, in North Carolina's Blue Ridge Mountains, prepares students to lead purposeful lives as global citizens who understand and engage their responsibilities in creating a sustainable future for all. The transformational Appalachian experience promotes a spirit of inclusion that brings people together in inspiring ways to acquire and create knowledge, to grow holistically, to act with passion and determination, and embrace diversity and difference. As one of 17 campuses in the University of North Carolina System, Appalachian enrolls about 19,000 students, has a low student-to-faculty ratio and offers more than 150 undergraduate and graduate majors.
Media Contact
Keith Martin
828-262-8179
MartinKT1@appstate.edu
Appalachian State University Department of Theatre and Dance 2016-2017 Season
ADF's Movies by Movers Film Festival

Sept. 8–10, 2016
Turchin Center for the Visual Arts

First Year Showcase

Sept. 22–24, 2016 at 7 p.m., Sept. 25, 2016 at 2 p.m.
I.G. Greer Studio Theatre

Selkie: Between Land and Sea

by Laurie Brooks
Sept. 28–Oct. 1, 2016 at 7 p.m., Oct. 2, 2016 at 2 p.m.
Valborg Theatre

North Carolina Dance Festival

Oct. 27–29, 2016 at 7 p.m.
Valborg Theatre

Love and Information

by Caryl Churchill
Nov. 2–5, 8–11, 2016 at 7 p.m.; Nov. 6, 2016 at 2 p.m.
I.G. Greer Studio Theatre

Fall Appalachian Dance Ensemble

Nov.16–19, 2016 at 7 p.m.
Valborg Theatre

Silence

by Moira Buffini
Feb. 22–25, 2017 at 7 p.m.; Feb. 26, 2017 at 2 p.m.
Valborg Theatre

Spring Appalachian Dance Ensemble

March 29–April 1, 2017 at 7 p.m.
Valborg Theatre

The Mischief Makers

by Lowell Swortzell
Presented by Appalachian Young People's Theatre
April 21, 2017 at 7 p.m.; April 22–23, 2017 at 2 p.m.
I.G. Greer Studio Theatre

Flight from the Mahabharath

by Muthal Naidoo
April 26–29, 2017 at 7 p.m.; April 30, 2017 at 2 p.m.
Valborg Theatre