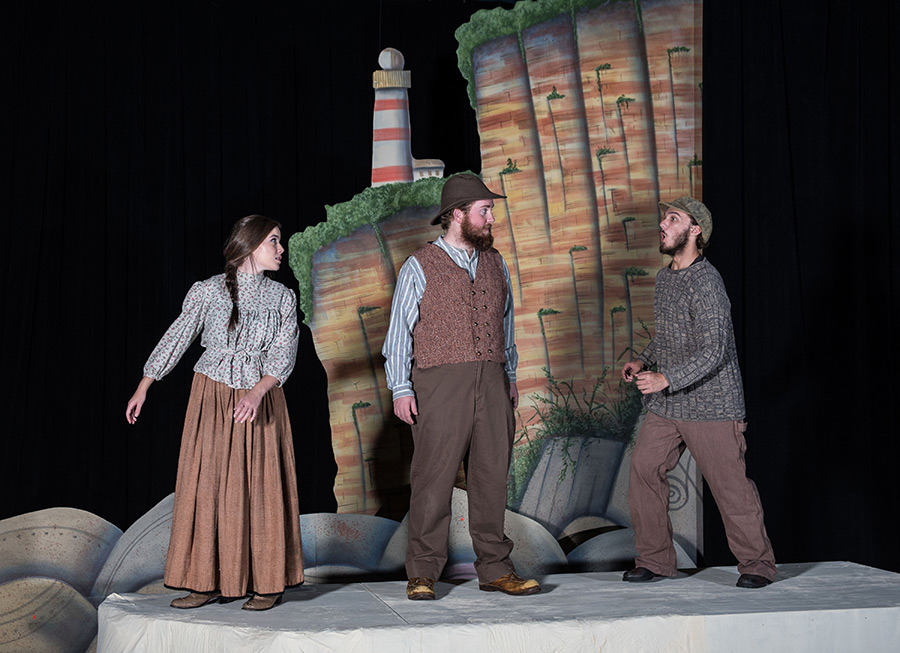 Posted Sep. 23, 2016 at 12:01 p.m.
BOONE—Appalachian State University's Department of Theatre and Dance will present "Selkie: Between Land and Sea," Laurie Brooks' award-winning drama, Sept. 28–Oct. 2 at Valborg Theatre on the Appalachian campus. The show, which continues the department's tradition of staging plays for young adults on alternating years, was produced by special arrangement with Dramatic Publishing of Woodstock, Illinois.
Performances will be at 7 p.m. Sept. 28 through Oct. 1, with a 2 p.m. matinee on Oct. 2. Ticket prices are $10 for Appalachian students and $17 for adults. For more information, call the box office at 828-262-4046 and 800-841-ARTS (2787), or visit http://theatreanddance.appstate.edu.
Filled with lyrical language, music and mysticism, "Selkie" is a coming-of-age story that aims to fascinate theatregoers of all ages. Elin Jean, a young girl living on Orkney Isle in northern Scotland, struggles to find a sense of belonging and identity as the secrets of her family are revealed. The action of the play takes audiences beyond the land and into the tides where Elin Jean finds that "there is more beneath the sea than you or I can imagine."
"This timeless myth is full of compelling imagery," stated Teresa Lee, the show's director, in her director's note. "We are looking forward to creating a world that brings together elements of mysticism with the rich elements of the place itself, Orkney Isle in northern Scotland.
"It is exciting to be able to work on this unique, award-winning play that offers themes relative to audiences of all ages inside a captivating story. I believe 'Selkie' audiences will be transported by the visual, sound, music and dance elements of storytelling in a way only live theatre can do."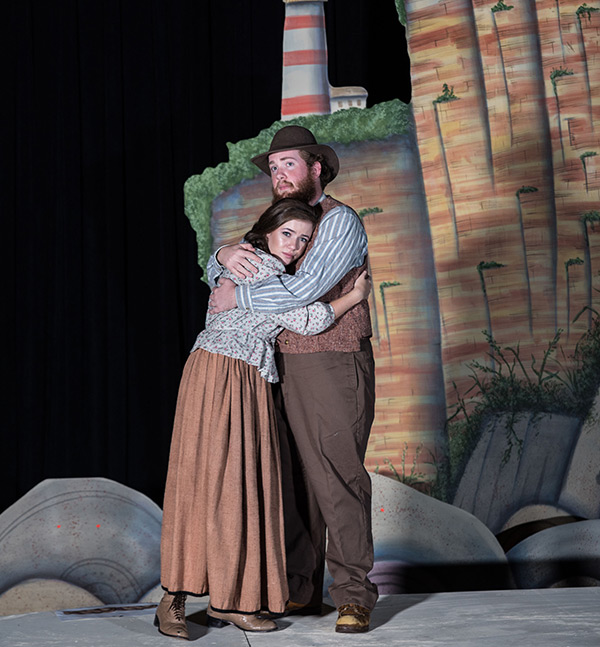 All design aspects of the performance are by Department of Theatre and Dance faculty. The scenic design is by Mike Helms, costume and makeup design is by Sue Williams and lighting and sound design is by John Marty. Kevin Warner is the choreographer, Derek Gagnier is the vocal/dialect coach and Dr. Derek Davidson is arranging and performing supplemental music. The stage manager is Rachel Scherer, a sophomore majoring in theatre arts.
The cast of seven actors includes Dylan Brown, who is playing Grandpa; he is a senior theatre performance major from Davidson. Two freshmen from Charlotte, Sophie Weiner and Devon Bucey, are playing Elin Jean and Tam, respectively. The cast's ensemble includes senior Justin McGovney, juniors Savannah Bennett and Julia Ridenhour and freshman Madeline Ferguson.
"Selkie: Between Land and Sea," from 2010, won a Distinguished Play Award from the American Alliance for Theatre & Education. Brooks' numerous other awards and honors include a stint in the Theatre Communications Group's National Theatre Artist Residency Program with the Coterie Theatre in Kansas City, Mo. She has also won the AT&T Firststage Award, three Distinguished Play Awards and the Charlotte B. Chorpenning Cup from the American Alliance for Theatre and Education (AATE).
Brooks has received grants from New York Foundation for the Arts, from Children's Foundation of America and from the Irish Arts Council (with Graffiti Theatre in Cork, Ireland). Brooks' "Lies and Deceptions Quartet" of plays for young adults includes "The Wrestling Season." This was commissioned by the Coterie Theatre and featured at the Kennedy Center's One Theatre World and printed in "American Theatre" (November 2000). It was also the winner of "Best of" awards in Kansas City, Seattle and Dallas.
Brooks served as both an assistant professor and playwright in residence at New York University for 10 years, and she has also served as literary manager for the historic Provincetown Playhouse. She was playwright-in-residence for the Houston Young Professionals Endeavor Institute at the Alley Theatre in Houston. Alfred A. Knopf published Brooks' book for young adults, "Selkie Girl," in 2008.
Please note that the 2016–17 season marks a new production schedule with 7 p.m. curtain times for evening shows in the Department of Theatre and Dance. This earlier format will align more closely with other campus activities while providing a more family-friendly start time on school nights. Matinee performances will remain at 2 p.m.
To purchase tickets, contact the Valborg Theatre box office at 828-262-3063, the Schaefer Center box office toll-free at 800-841-ARTS (2787), or visit the department website at http://theatreanddance.appstate.edu.
About Valborg Theatre
The Valborg Theatre is located on campus at the north side of Chapell Wilson Hall on Howard Street in Boone. The theatre entrance faces the back of the Turchin Center for the Visual Arts on King Street. Parking is available after 5 p.m. on campus in faculty/staff lots and after 5:30 p.m. in the College Street parking deck near Belk Library and Information Commons.
About Theatre and Dance at Appalachian State University
The Department of Theatre and Dance is housed in Appalachian's College of Fine and Applied Arts. Its mission is to facilitate transformative experiences for students and the public, which cultivate compassionate, creative and collaborative communities through theatre and dance. The department also values the opportunity to offer coursework for integrated learning through the arts to the general university student population. Vital to the support of this mission is a dynamic co-curricular production program that provides exemplary theatre and dance experiences to departmental students, the university community and the region. The departmental philosophy is to support the university's liberal arts environment through a balanced and integrated emphasis on teaching, creative activity, scholarship and service.
About Appalachian State University
Appalachian State University, in North Carolina's Blue Ridge Mountains, prepares students to lead purposeful lives as global citizens who understand and engage their responsibilities in creating a sustainable future for all. The transformational Appalachian experience promotes a spirit of inclusion that brings people together in inspiring ways to acquire and create knowledge, to grow holistically, to act with passion and determination, and embrace diversity and difference. As one of 17 campuses in the University of North Carolina system, Appalachian enrolls about 19,000 students, has a low student-to-faculty ratio and offers more than 150 undergraduate and graduate majors.