Posted Nov. 23, 2016 at 11:39 a.m.
BOONE – Appalachian State University, along with the College of Fine and Applied Arts, has leased space at 182 Howard St., across from Boone eatery The Local, that will serve as a campus-wide collaborative, interdisciplinary work and meeting space. The first project is the actual redesign of the facility by a team of Integrative Design Experience (IDEX) laboratory students.
The college hosted a "Celebration of Innovation" Friday, Nov. 4, to showcase collaborative student work. In her remarks, Chancellor Sheri N. Everts said, "This location, in the heart of downtown Boone, symbolizes the deep connection between our academic community, the town of Boone and the High Country. Appalachian is building upon faculty and staff expertise, student passion and creativity to engage our campus and community in innovative thought."
The IDEX lab team is responsible for the design, construction, budgeting and management of the facility for the 2016-17 academic year. The IDEX lab grew out of the 2011 and 2014 Solar Decathlon experiences and redefines traditional pedagogical approaches to the study of the built environment in higher education. Instead of individual lecture-based courses with exams, papers and projects on a singular subject, the curriculum consists of design/build/analysis studios that incorporate learning objectives from several courses into a collaborative project environment. IDEX is an example of the type of experiential, interdisciplinary projects the new facility will house.
According to College of Fine and Applied Arts Dean Phyllis Kloda, the Howard Street space will offer the community a place "to engage in high-level collaborative, creative and innovative practices with the campus, college and surrounding community members."
The IDEX design for the building includes adding more windows to the front of the space to showcase interdisciplinary college projects to the community. The design also allows for multiple configurations of the interior to create collaborative work space and accommodate construction and performances. A galley kitchen will expedite catering for special events.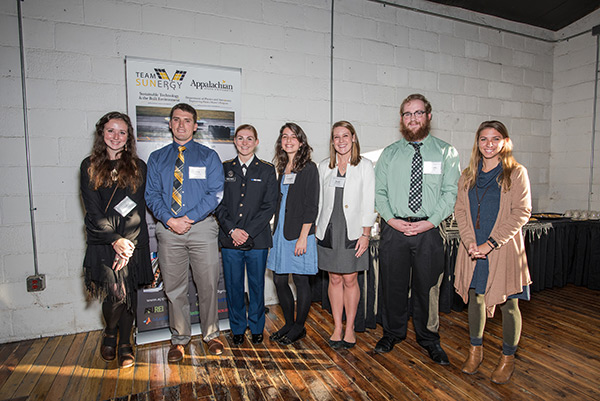 Approximately 100 local dignitaries, Appalachian leadership, faculty, staff and students attended the Nov. 4 celebration. Seven students from the college spoke briefly about their interests as they pertain to each of the college's departments. Students from the Department of Communication filmed the presentations and interviewed attendees while student artists created a wall mural during the event.
Acknowledging the work required to launch the Howard Street project, Everts recognized the students in the IDEX lab and their advisors, Lecturer Chelsea Helms and Associate Professor Jamie Russell, both from the Department of Sustainable Technology and the Built Environment. She also commended the members of the Solar Vehicle Team and "the stellar faculty, staff and students engaged in the transformational work of our academic mission through the development of innovative and strategic initiatives." She said innovative, interdisciplinary projects need support "in the form of facilities, funding and the flexibility to re-invent the present and imagine the future," and that she is "committed to working with our community to ensure this work continues and is able to flourish."
During the event, schematics of the new building design were on display as was the solar vehicle, Apperion. Parked beside Apperion was the chancellor's ride "New Bobby," a solar/electric hybrid named with a nod to "Bob," the horse Appalachian founder B.B. Dougherty rode in the late 1800s.
The facility remained open to the public from 5:30-8:30 p.m. as it will be on subsequent Boone First Fridays, with the goal of inviting the community to learn more about the college and the university through faculty and student work on display.
The space will be a showcase for projects in residence, Associate Dean Kern Maass said, with the "purpose of promoting and advancing a collaborative campus-wide faculty/student research agenda that also engages the community through creative practice."
Maass is the co-chair of the project's steering committee, former coordinator of AppLab and a professor in the Department of Applied Design. AppLab, Maass explained, "is a problem-solving through design-thinking class structured to help break down academic silos and get an interdisciplinary group of students and professors working together to solve community concerns" – another example of the type of offering that might utilize the Howard Street space.
Maass' co-chair is Clifton Meador, chair of the Department of Art. Faculty members from all departments within the college make up the committee and include professors Mike Helms, Theatre and Dance; Anatoli Ignatov, Sustainable Development; Jason Miller, Sustainable Technology and the Built Environment; Janice Pope, Communication; Tricia Treacy, Art; D.J. Weatherford, Military Science and Leadership; and Anthony Wilson, Applied Design. The committee is charged with setting usage guidelines including procedure, oversight and branding.
Members of the 2016-17 IDEX lab team, all in their senior year at Appalachian, and their respective areas of concentration are: Robert Lacasse of Holly Springs, architecture; Quint Dorner of Cedar Mountain, construction management; Madeleine McKenzie of Advance, interior design; Alexander Mott of Greensboro, construction management/sustainable building systems; Zachary Standley of Hendersonville, architecture; Eli Ingram-Edwards of Winston Salem, construction management; Gary Dittenhauser of Hartsville, South Carolina, architecture; Jonny Hoffman of Chapel Hill, sustainable technology; Kate Birdsong of Canton, Georgia, construction management; Ally Cole of Greenville, architecture; Hank Montgomery of Houston, Texas, architecture; Adam Ward of Barnsville, Maryland, sustainable technology, Prince Brahmbhatt of Morganton, architecture/construction management; Olivia Lewis of Chapel Hill, architecture; Joel Greaves of Todd, architecture; and Andrew McKinney of Cary, sustainable building systems.
About Appalachian's College of Fine and Applied Arts
Appalachian State University's College of Fine and Applied Arts is a dynamic and innovative group of seven academic departments, bringing together a variety of perspectives, experiences and real-world education to provide unique opportunities for student success. The college has more than 3,000 undergraduate and graduate majors. Its departments are Applied Design, Art, Communication, Military Science and Leadership, Sustainable Development, Sustainable Technology and the Built Environment and Theatre and Dance.
About Appalachian State University
Appalachian State University, in North Carolina's Blue Ridge Mountains, prepares students to lead purposeful lives as global citizens who understand and engage their responsibilities in creating a sustainable future for all. The transformational Appalachian experience promotes a spirit of inclusion that brings people together in inspiring ways to acquire and create knowledge, to grow holistically, to act with passion and determination, and embrace diversity and difference. As one of 17 campuses in the University of North Carolina System, Appalachian enrolls about 19,000 students, has a low student-to-faculty ratio and offers more than 150 undergraduate and graduate majors.