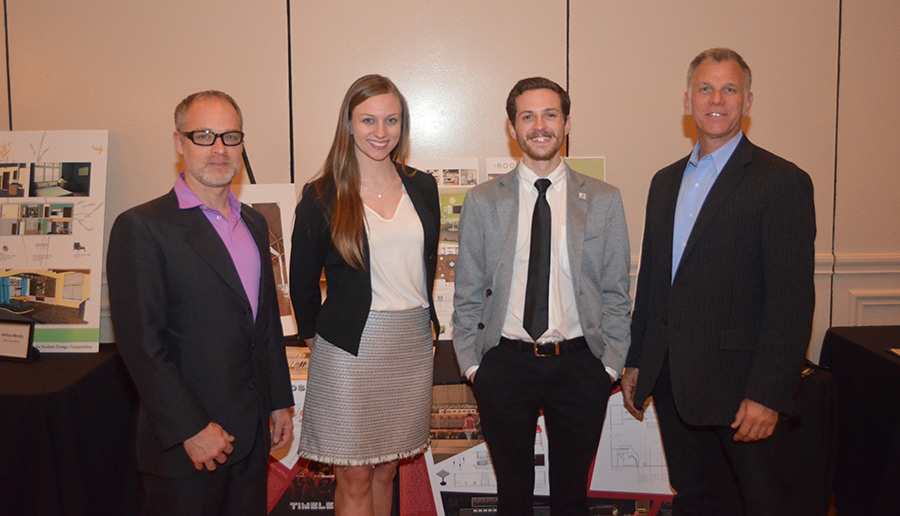 Posted Dec. 6, 2016 at 1:41 p.m.
BOONE, N.C.—Nicole Long and Ellis Frederick, both seniors in the Department of Applied Design at Appalachian State University, were recognized as "Rising Stars" by the Carolinas chapter of the International Furnishings and Design Association (IFDA). Fourteen awards were presented to students from across the Carolinas on Nov. 9 at the annual Night of Luminaries event in High Point.
Long, an interior design major from Roxboro, and Frederick, an industrial design major from Raleigh, were chosen to represent the university by Richard Prisco, professor of industrial design at Appalachian.
"Furniture students have been involved in this for the last three years," said Prisco. "I selected students based on their ability as designers, their contribution to the classroom, the quality of their portfolio and their ability to speak for the program, department and university."
"The opportunity to display a collection of my work at the IFDA Night of Luminaries event is immensely valuable to my career success," Long said. "Not only was I able to speak with other students from across the Carolinas, but I also met numerous design professionals who can connect me with future career opportunities."
Frederick said he is "always pushing to be a leader in the classroom, the wood shop and on campus, so there are a lot of eyes on me. I am hoping this award will make the other students in the program go out and raise the bar."
Department Chair Brian Davies commended faculty and students of the industrial and interior design programs on the consistently high quality of work in advance of the event. "We are proud to have you representing Applied Design, the College of Fine and Applied Arts and Appalachian at the event," he said.
Both Long and Frederick are taking this opportunity to prepare for their future. Long plans to start her interior design career working for a residential design firm in the Charlotte area, and one day hopes to open her own business. Frederick said he is motivated to work harder than ever. "As for my career path, this means I can't let up," he said. "For a title like 'Rising Star' you can't just relax. You have to get back out there and prove why you were given the award."
About the International Furnishings and Design Association's Carolinas chapter
As the voice of the furnishings and design industry, IFDA provides its members with the tools and resources to enhance their businesses, develop professional leadership skills and broaden their networking opportunities. The Carolinas Chapter is based in High Point and is a professional association for the home furnishings, decor and design industries. The chapter provides members with multi-dimensional programming, access to resources and ready-made networks valuable to today's home furnishings professional. Membership levels include professional, associate and student.
About the Department of Applied Design
One of seven departments housed in the College of Fine and Applied Arts, the Department Applied Design at Appalachian State University fosters excellence in design education, design research and professional placement. The department balances theoretical and pragmatic approaches while exploring an awareness of impact through design decisions on the global community. Faculty focus on a holistic approach to creative problem-solving by integrating sustainability and ethical responsibility in teaching and practice. The department offers bachelor's degrees in apparel design and merchandising, industrial design and interior design.
About Appalachian State University
Appalachian State University, in North Carolina's Blue Ridge Mountains, prepares students to lead purposeful lives as global citizens who understand and engage their responsibilities in creating a sustainable future for all. The transformational Appalachian experience promotes a spirit of inclusion that brings people together in inspiring ways to acquire and create knowledge, to grow holistically, to act with passion and determination, and embrace diversity and difference. As one of 17 campuses in the University of North Carolina System, Appalachian enrolls about 19,000 students, has a low student-to-faculty ratio and offers more than 150 undergraduate and graduate majors.