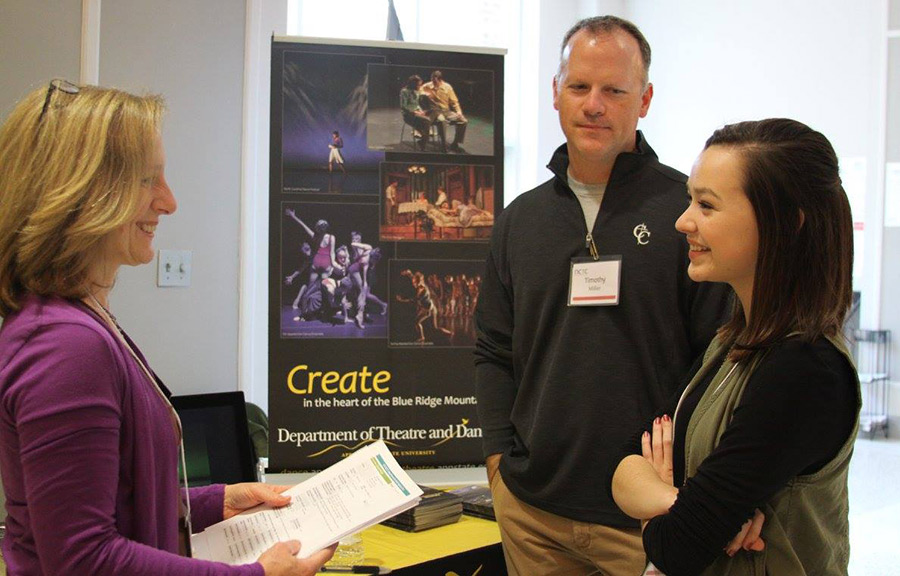 Posted Feb. 9, 2017 at 3:49 p.m.
BOONE, N.C.—Appalachian State University has received the 2016 College/University Award of the North Carolina Theatre Conference (NCTC), a Greensboro-based service organization for student, community and professional theatre across the state. The award will be presented Feb. 24 on Appalachian's campus.
On http://www.nctc.org, NCTC's website, the award's citation recognizes Appalachian's theatre program for its commitment to fostering future artists, educators and arts supporters.
"With many degree offerings, the program is most widely celebrated for their outstanding Theatre Education and Theatre for Youth programs," the citation reads. Appalachian alumni "can be seen on professional theatre stages, in administrative positions in regional theatres, and teaching in classrooms across the country."
Stacey Knight Boone '93, who earned a bachelor's degree in theatre education, will present the award to Kevin Warner, chair of the Department of Theatre and Dance and associate professor of dance studies, on Feb. 24 in Valborg Theatre on Appalachian's campus. Boone, a member of the NCTC Board of Trustees, is the theatre arts educator at Jay M. Robinson Middle School in Charlotte.
The ceremony is scheduled just before Appalachian's 7 p.m. production of Moira Buffini's play "Silence," which will be presented in Valborg Theatre Feb. 22-26; for more information, visit https://theatreanddance.appstate.edu/events/silence.
The award ceremony and the "Silence" performance will conclude Appalachian's "Theatre Student for a Day," an event for prospective students to attend theatre classes on the university campus. There will be a dessert reception with the cast and crew after the performance. Phyllis Kloda, dean of Appalachian's College of Fine and Applied Arts, will also attend.
Both the alumni and faculty of Appalachian's theatre program have reacted positively to news of the award.
Adam Faw, the vice president of NCTC's board, nominated Appalachian, his alma mater, for the award. He is now the theatre arts director at Pinecrest High School, having graduated in 2003 with a bachelor's degree in theatre education.
"I credit much of my success as an artist and an educator to the opportunities afforded to me by Appalachian," he said. "I received training as an actor, director, dancer, technical director, scenic designer, lighting operator and educator. Needless to say, the graduates from their program are well-rounded and prepared for their entry to the arts world."
Keith Martin is the John M. Blackburn Distinguished Professor of Theatre at Appalachian, and he served on NCTC's board for 15 years beginning in 1981.
"NCTC is our venerable statewide service organization in theatre and has recognized excellence in the field since their founding in 1970," he said.
"This is not the first time that Appalachian has received the NCTC College/University Award; in 1988, I had the privilege of presenting the plaque to then-chair Dr. Susan Cole at our annual convention. It is noteworthy that our Department of Theatre and Dance has maintained that excellence for more than 30 years. The award is a testament to the dedicated staff, faculty and students who have worked hard to establish that tradition with the continued support of the university community. Bravo!"
About the Department of Theatre and Dance
The Department of Theatre and Dance is one of seven departments housed in Appalachian's College of Fine and Applied Arts. Its mission is to facilitate transformative experiences for students and the public, which cultivate compassionate, creative and collaborative communities through theatre and dance. The department also offers coursework for integrated learning through the arts to the general university student population. Its dynamic co-curricular production program provides exemplary theatre and dance experiences to departmental students, the university community and the region.
About Appalachian State University
Appalachian State University, in North Carolina's Blue Ridge Mountains, prepares students to lead purposeful lives as global citizens who understand and engage their responsibilities in creating a sustainable future for all. The transformational Appalachian experience promotes a spirit of inclusion that brings people together in inspiring ways to acquire and create knowledge, to grow holistically, to act with passion and determination, and embrace diversity and difference. As one of 17 campuses in the University of North Carolina System, Appalachian enrolls about 19,000 students, has a low student-to-faculty ratio and offers more than 150 undergraduate and graduate majors.