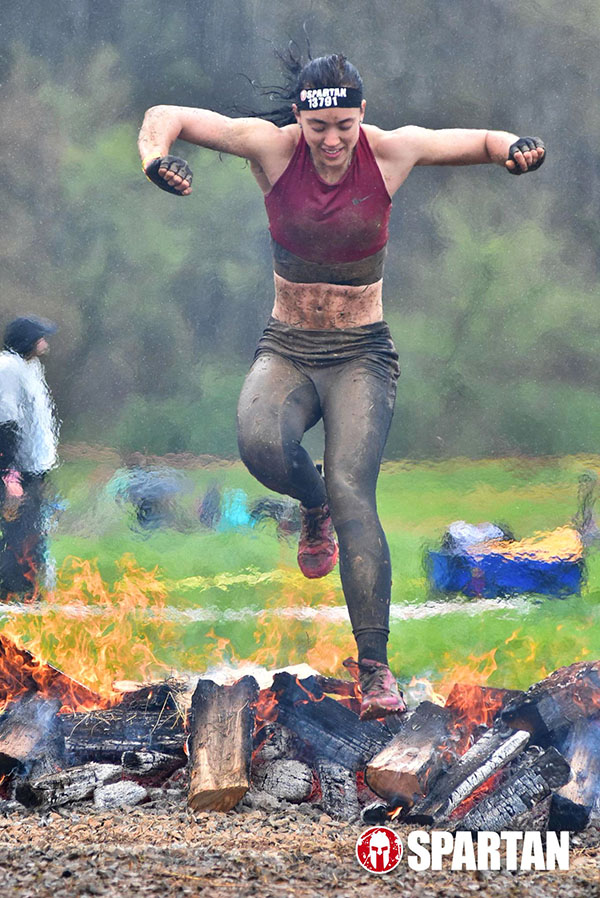 Posted April 20, 2018 at 8:54 a.m.
As a third-generation Appalachian State University graduate, Carmen Lowe '15 '16 can't remember missing a university homecoming when she was growing up.
"I didn't apply anywhere else," she said. "I don't think there's anything like App State on the planet."
Lowe, who is currently a special agent trainee at the NC Alcohol Law Enforcement (ALE) Special Agent Academy, received her Bachelor of Science degree in criminal justice and her Master of Public Administration from Appalachian's Department of Government and Justice Studies. The department is part of Appalachian's College of Arts and Sciences.
Her time at Appalachian helped the Salisbury native channel her interest in obtaining a job with lots of variety and activity toward the proper agency, Lowe said.
"With ALE, you're constantly moving and doing something different all the time. One night you may be addressing violent and problematic events occurring at ABC-licensed outlets," she said. "The next night, you could be investigating illegal outlets or conducting source investigations."
A $5,000 grant from the State Employees' Credit Union (SECU) Public Service Fellows Internship program helped Lowe bridge her classroom work with an internship at the North Carolina State Bureau of Investigation (SBI) her senior year.
Internships are required in Appalachian's criminal justice program. "That's one of the draws," she said. "Internships are a great way to get a feel for the work outside of the classroom. The SBI is where I made my initial contact with ALE."
Dr. Tammatha Clodfelter, an assistant professor of criminal justice who had worked in the field as a crime analyst, offered Lowe real-world wisdom on the challenges she'd face in a male-dominated field, Lowe said. She also helped Lowe develop her master's thesis on recruiting and retaining female law enforcement officers.
In addition, Clodfelter encouraged Lowe, a snowboarder and adrenalin junkie, to get involved in obstacle course racing.
"Being physically fit is a huge part of this job, as is being able to handle challenges and solve problems by acting and reacting as quickly as possible," Lowe said. "I see obstacle course racing and snowboarding as fun ways of keeping healthy and sharp for whatever comes my way."
About the State Employees' Credit Union (SECU) Public Service Fellows
Funded by the SECU Foundation, the State Employees' Credit Union (SECU) Public Service Fellows Internship program is for undergraduate residents of North Carolina studying full time at Appalachian State University and other schools in the University of North Carolina System. The program is designed to connect students with local leadership in order to obtain meaningful, on-the-job experience with a local agency or organization while providing a learning opportunity that allows the intern to give back to that community. At Appalachian, the program is administered by the Career Development Center. Learn more at https://www.ncsecufoundation.org/SECUInternProgram.html.
About the College of Arts and Sciences
The College of Arts and Sciences is home to 16 academic departments, one stand-alone academic program, two centers and one residential college. These units span the humanities and the social, mathematical and natural sciences. The College of Arts and Sciences aims to develop a distinctive identity built upon our university's strengths, traditions and unique location. The college's values lie not only in service to the university and local community, but through inspiring, training, educating and sustaining the development of its students as global citizens. There are approximately 6,100 student majors in the college. As the college is also largely responsible for implementing Appalachian's general education curriculum, it is heavily involved in the education of all students at the university, including those pursuing majors in other colleges. Learn more at https://cas.appstate.edu.
About Appalachian State University
As the premier public undergraduate institution in the state of North Carolina, Appalachian State University prepares students to lead purposeful lives as global citizens who understand and engage their responsibilities in creating a sustainable future for all. The Appalachian Experience promotes a spirit of inclusion that brings people together in inspiring ways to acquire and create knowledge, to grow holistically, to act with passion and determination, and to embrace diversity and difference. Located in the Blue Ridge Mountains, Appalachian is one of 17 campuses in the University of North Carolina System. Appalachian enrolls more than 19,000 students, has a low student-to-faculty ratio and offers more than 150 undergraduate and graduate majors.
What do you think?
Share your feedback on this story.