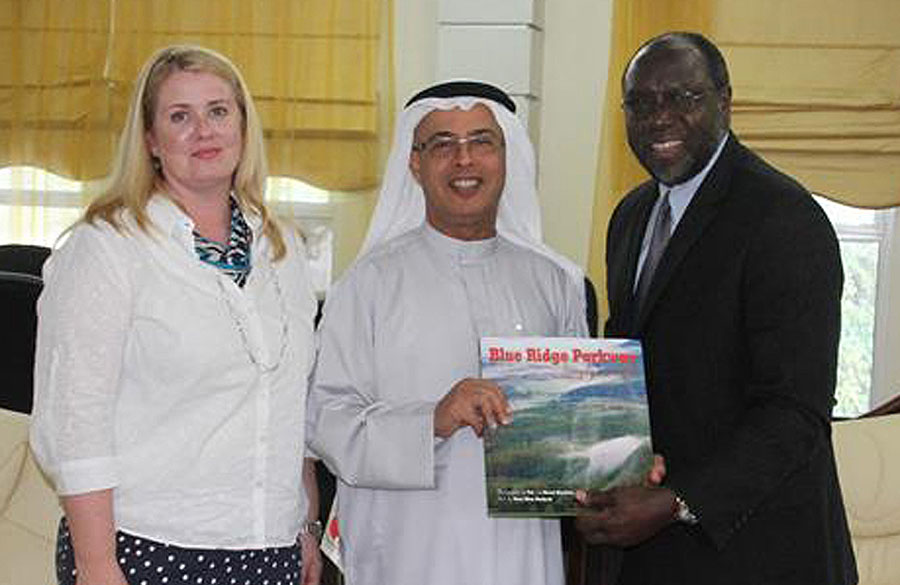 Posted March 3, 2015 at 12:55 p.m.
BOONE—Appalachian State University has signed a formal agreement with the American University of Ras Al Khaimah (AURAK) in the United Arab Emirates (UAE) that paves the way for student, faculty and staff exchanges at both institutions. The agreement was signed by Dr. Stan Aeschleman, interim provost and executive vice chancellor at Appalachian, and Prof. Hassan Hamdan Al Alkim, president of AURAK.
"The relationship with AURAK opens new opportunities for Appalachian students, faculty and staff in a region where we did not yet have a formal relationship," said Dr. Jesse Lutabingwa, associate vice chancellor for international education and development, who visited the university in Ras Al Khaimah in February.
AURAK follows the American educational model. Students there are required to take 31 to 34 credits of general education courses in six knowledge areas: effective communication; creative and aesthetic understanding; cross-cultural and ethical understanding; social and global perspectives; science of the natural and physical worlds; and empirical and mathematical reasoning.
Opportunities for students
"AURAK offers two unique opportunities for Appalachian State students: an intensive Arabic language program and a Middle Eastern studies program," said Prof. John Ryder, provost and deputy vice chancellor for academic affairs at AURAK. Either program can be accomplished during fall and spring terms or in the summer for an accelerated short-term program of six weeks. All courses at AURAK are offered in English.
While the university's language program focuses on acquiring written and spoken Arabic, the Middle Eastern studies program allows for studies in history, economic development, religion, culture and customs, and conversational Arabic.
Appalachian students will also have the opportunity to participate in internships arranged by AURAK in the hospitality industry as well as through the Sheikh Saud bin Saqr Al Qasimi Foundation for Policy Research. The foundation bridges the research and policymaking communities in the areas of education, urban planning and development, public health, economics and environment.
Even though Appalachian's relationship with AURAK is new, one Appalachian student is planning to study there for a year beginning fall 2015.
According to Heather McGann, manager of the Office of International Programs at AURAK, "the benefits of study at AURAK include opportunities for a more genuine connection with local Arabic cultural in a small university setting with individual attention, and in a safe environment in an area absent of regional conflict and with a low crime rate. Student can focus on learning a new culture and making long-term relationships with students, faculty, staff, as well as locals. Ras Al Khaimah is an incredibly welcoming emirate."
Common research opportunities
Opportunities for faculty exchanges between the two universities are particularly strong in areas related to alternative energy research, Lutabingwa said.
AURAK is conducting research in the area of renewable energy through its Ras Al Khaimah Research and Innovation Center. The center serves as a bridge between academics and industries' new product development. Even though most of the energy demand in the UAE is being met with fossil fuel resources, a strong desire for a sustainable future has recently shifted the focus towards renewable energy sources. AURAK colleagues at the RAK Research and Innovation Center are interested in collaborative work with Appalachian faculty in the areas that match the kind of work occurring there, especially in renewable energy.
Additionally, the university has started the process of seeking accreditation by the Southern Association of Colleges and Schools Commission on Colleges (SACSCOC), the same body that accredits Appalachian.
About AURAK
Established in 2009 and located in the northern city of Ras Al Khaimah, AURAK is an independent co-education institution of higher education that provides an integrated American-style, undergraduate and graduate education with a strong focus on local indigenous culture. The university has a very diverse student body of more than 600 students, which is projected to grow to 3,000 students.
AURAK offers 22 degree programs and has four graduate programs. More information about the university is online at http://www.aurak.ac.ae.
About Appalachian State University
As the premier public undergraduate institution in the Southeast, Appalachian State University prepares students to lead purposeful lives as global citizens who understand and engage their responsibilities in creating a sustainable future for all. The Appalachian Experience promotes a spirit of inclusion that brings people together in inspiring ways to acquire and create knowledge, to grow holistically, to act with passion and determination, and to embrace diversity and difference. Located in the Blue Ridge Mountains, Appalachian is one of 17 campuses in the University of North Carolina System. Appalachian enrolls nearly 21,000 students, has a low student-to-faculty ratio and offers more than 150 undergraduate and graduate majors.
What do you think?
Share your feedback on this story.