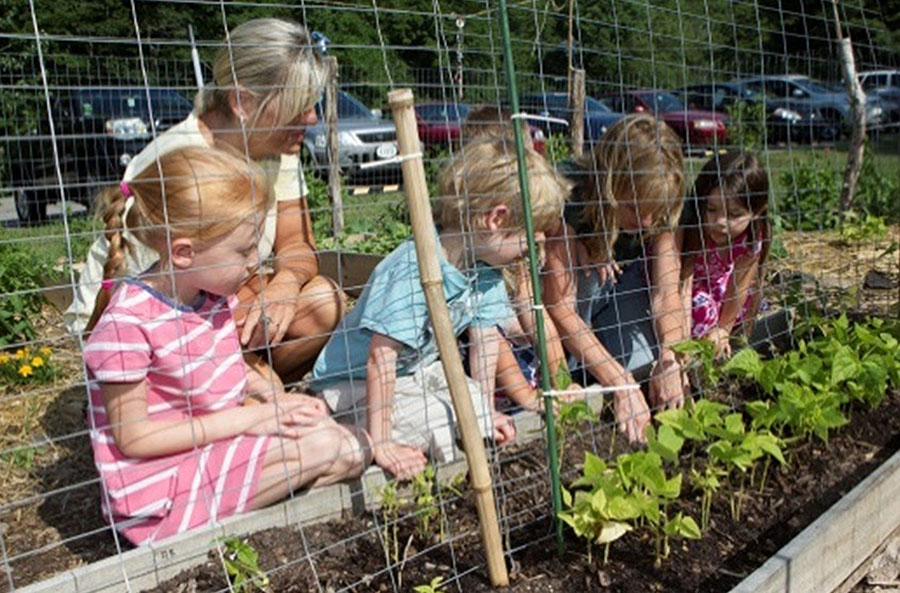 Posted June 11, 2015 at 2:55 p.m.
BOONE—Appalachian State University and a Boone-based organization are offering a three-day workshop to help educators incorporate gardening into their curriculum. From July 21-23, the Lettuce Learn Project and the Goodnight Family Sustainable Development Department will host elementary teachers and child care professionals, introducing them to the benefits and basics of garden-based sustainability education as well as provide opportunities to design and practice garden-based lesson ideas.
Pre-registration is required and is open to informal and formal educators in the elementary and early childhood setting. The cost is $25 for three days. To register or learn more about this event, visit http://www.LettuceLearn.org/2015pd. To learn more about or get involved with the Lettuce Learn Project, visit http://LettuceLearn.org.
Courtney Baines Smith, founder and director of Lettuce Learn, said, "Gardens can serve as a platform to teach a variety of important academic lessons from math, science, language arts, social studies, nutrition and art to broader goals such as sustainability education, holistic and systems thinking, teamwork, patience, food system complexities and community citizenship."
The training will feature two tracks with 20 spots available for those who work with elementary-aged children and 20 spots for early childhood educators. The early childhood track will feature multiple learning garden tours including Appalachian's Child Development Center, Edible Schoolyard and Lucy Brock Child Development Lab Program, as well as a one-day workshop with Growing Minds, a program of the Appalachian Sustainable Agriculture Project (ASAP).
The elementary school track will feature science education professors Leslie Bradbury and Rachel Wilson from Appalachian's Reich College of Education. Wilson and Bradbury will focus on creating and implementing garden-based units that integrate Common Core ELA and NC Essential Science Standards, introducing participants to classroom-tested garden units and allowing them to practice creating their own integrated garden-based unit for their classrooms.
"Lettuce Learn believes it is imperative to offer students an opportunity to learn such lessons in an outdoor, experiential setting that is intimate with place," Baines Smith said, "and we are excited to share this strategy with educators who are eager to dig in."
Sponsors of the event include the Children's Council of Watauga County, and Appalachian's Southern Appalachian Environmental Research and Education Group, Goodnight Family Sustainable Development Department, Math and Science Education Center, Sustain Appalachian and the Research Institute for Environment, Energy and Economics.
About Appalachian State University
As the premier public undergraduate institution in the state of North Carolina, Appalachian State University prepares students to lead purposeful lives as global citizens who understand and engage their responsibilities in creating a sustainable future for all. The Appalachian Experience promotes a spirit of inclusion that brings people together in inspiring ways to acquire and create knowledge, to grow holistically, to act with passion and determination, and to embrace diversity and difference. Located in the Blue Ridge Mountains, Appalachian is one of 17 campuses in the University of North Carolina System. Appalachian enrolls more than 20,000 students, has a low student-to-faculty ratio and offers more than 150 undergraduate and graduate majors.
What do you think?
Share your feedback on this story.