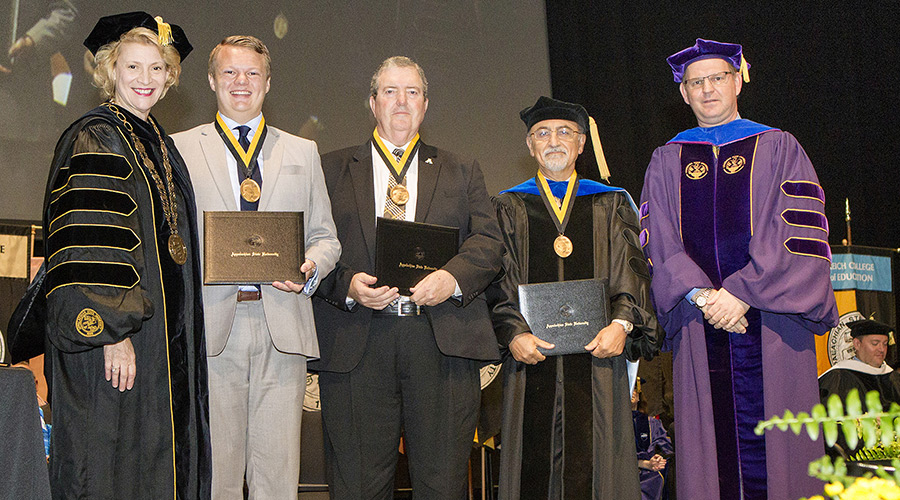 Posted Sep. 4, 2015 at 3:30 p.m.
BOONE—Four individuals known for their service to others have received the W.H. Plemmons Medallion from Appalachian State University. The 2015 honorees are May graduates Merrick Marquie and Zoe Deloglos, faculty member Unal Boya and chief legal officer Dayton Cole.
They were honored at convocation held Sept. 3 in the Holmes Convocation Center on campus.
Merrick Marquie

Marquie was a triple major at Appalachian, earning degrees in economics, marketing and management in May. He was president of the Appalachian Popular Programing Society, which brings entertainment to campus. He also was a Plemmons Leadership Fellow, recipient of a William Holland Fellowship for business study in Asia, and a student government senator. He now works in the technology sector in business development with 5S Technologies in Cary.

Zoe Deloglos

Deloglos graduated in May with a bachelor's degree in communication/public relations. While at Appalachian, she was active in student leadership. Deloglos was a member of the student/university conduct board and served on the search committee for a director of student conduct. She was a member of the vice chancellor for student development's student advisory council, a member of the student activities budget council and served as chair of the club council board. She also participated in the Emerging Leaders Program in 2011 and helped coordinate the program in 2012.

Unal Boya

Boya is chairman of the Department of Marketing in the Walker College of Business. He was a leader of the Holland Fellows Program for Business Study in Asia more than 14 years. His contributions to international education and exchanges in the business college include identifying potential international partner universities and helping build solid relationship with those institutions, such as universities in Turkey and Denmark. He also has been instrumental in sponsoring visiting scholars to the business college and organizing collaborations between Appalachian and international universities, further providing rich cross-cultural experiences to students.

Dayton Cole

Cole has served as the chief legal officer at Appalachian since 1988. He has provided legal services to the chancellor, board of trustees and other institutional offices and employees on a range of legal matters, including governance, employment, intellectual property, real estate, state and federal constitutional issues, civil rights, administrative law and regulatory compliance. Cole has been praised for guiding the university through an increasingly complex landscape in a calm reflective manner, bringing unquestioned integrity to his work. He also is known for working long hours considering how a decision will impact students, faculty and staff and the reputation and function of the university. He devotes countless hours to thoughtful conversation with every constituent group, ensuring that every voice is heard and understood.
About Appalachian State University
As the premier public undergraduate institution in the state of North Carolina, Appalachian State University prepares students to lead purposeful lives as global citizens who understand and engage their responsibilities in creating a sustainable future for all. The Appalachian Experience promotes a spirit of inclusion that brings people together in inspiring ways to acquire and create knowledge, to grow holistically, to act with passion and determination, and to embrace diversity and difference. Located in the Blue Ridge Mountains, Appalachian is one of 17 campuses in the University of North Carolina System. Appalachian enrolls more than 20,000 students, has a low student-to-faculty ratio and offers more than 150 undergraduate and graduate majors.
What do you think?
Share your feedback on this story.