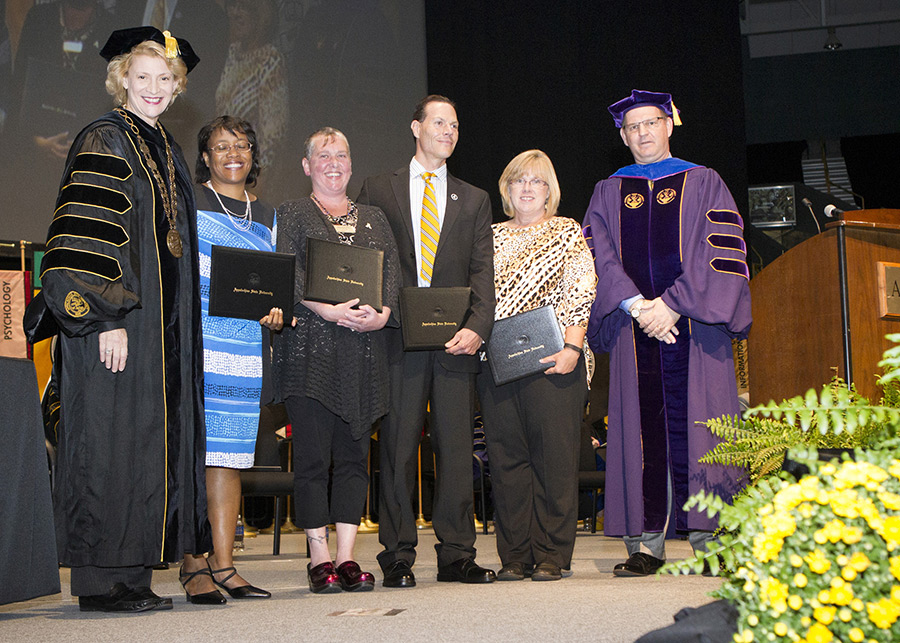 Posted Sep. 9, 2015 at 5:14 p.m.
BOONE—Four employees at Appalachian State University have received a Staff Award for 2015 for their service to the university. The employees who were honored during convocation Sept. 3 are Sandi Jones, Russell Paige, Lynn Patterson and Tracey Tardiff.
The annual award, presented by Human Resource Services, recognizes individuals who have made an outstanding contribution to campus life, for innovation that improves campus operations, or for dedication and service to the university. The recipients received a cash award and a certificate.
Sandi Jones

Jones is the business service coordinator in the Office of Academic Affairs. She has worked at Appalachian for 11 years. Nominators praised Jones for the assistance she provides to faculty, staff and students, and for her work to digitize paper files and improved the office's work flow and processes. She also was praised for her interactions with her co-workers.

"Her attitude and spirit has taken our team to a higher level of collaboration," a nominator wrote. "While we were a great team prior to her coming to Academic Affairs, she has brought us to a higher spirit of cooperation and morale. She lifts us up, encourages, gives exemplary leadership and friendship in our office."

Russell Paige

Paige is coordinator of learning and research services in Belk Library and Information Commons. He has worked in the library for nearly seven years. His service to the university includes membership on Staff Senate since 2010 and chairman of the annual Staff Senate Coat/Blanket Drive and Staff Assembly "Have a Heart Food Drive." He has served on and chaired the Chancellor Advisory Board, and he has been active in the annual Freshman Move In and the APP Kids fundraiser.

When asked what he liked about working in the library and at Appalachian, he told his nominator that helping students daily – from being a good mentor, to writing job recommendations for student workers or referring students in crisis to appropriate campus resources – is among the highlights of his job.

Lynn Patterson

Patterson is a staff member in Belk Library and Information Commons. She has worked at Appalachian for 24 years, more currently as a university program specialist in the office of the Dean of Libraries. Patterson was praised for her customer service, human relations and collegiality.

Patterson oversees 120 student workers in the library and helps students on probation find community service placements in the community. She is a member of the university's Early Intervention Team that assists students who are exhibiting signs of difficulty. Patterson also is secretary for the Black Faculty and Staff Association, and she works with the Black Student Association and National Pan Hellenic Council.

"Lynn touches everyone within our community in a positive way," a nominator wrote. "Lynn stands above others because of her involvement with students for many years and the breadth of activities and opportunities she uses to make the lives of students and their experience at Appalachian outstanding."

Tracey Tardiff

Tardiff is the pre-enrollment coordinator in the North Carolina Appalachian Collaborative for Higher Education (NCACHE). The collaborative supports area students, teachers and school districts in promoting access to higher education.

Tardiff has worked with NCACHE for six years. She was praised for her customer service, collegiality and public service.

A nominator wrote, "Tracey works across campus to provide college experiences to a large number of students visiting campus every year. The biggest of these events is the STEAM Expo. She works closely with the Department of Physics and Astronomy to host more than 2,500 students to campus for an introduction to science, technology, engineering and mathematics, and arts programming."

Through her work in NCACHE, last year Tardiff provided outreach to over 7,000 public school students who were introduced to the idea of going to college.
About Appalachian State University
As the premier public undergraduate institution in the Southeast, Appalachian State University prepares students to lead purposeful lives. App State is one of 17 campuses in the University of North Carolina System, with a national reputation for innovative teaching and opening access to a high-quality, affordable education for all. The university enrolls more than 21,000 students, has a low student-to-faculty ratio and offers more than 150 undergraduate and 80 graduate majors at its Boone and Hickory campuses and through App State Online. Learn more at https://www.appstate.edu.
What do you think?
Share your feedback on this story.