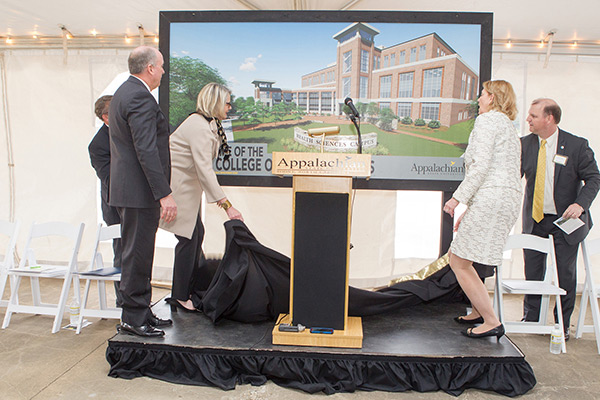 Posted April 14, 2016 at 6:29 p.m.
BOONE—Chancellor Sheri N. Everts and more than 150 invited guests welcomed University of North Carolina President Margaret Spellings at a Connect NC bond celebration and site dedication for the Appalachian State University Beaver College of Health Sciences building, Monday, April 11.
Spellings thanked the leaders and advocates from the Boone and Appalachian communities, crediting them with helping make the recently approved Connect NC bond a success. Spellings was visiting Appalachian as part of her listening tour of UNC's 17 campuses scheduled over the first 100 days of her presidency.
Opening the ceremony, Chancellor Sheri N. Everts noted proudly the bond passed by a significant margin in the region and said she recognized "the many ways our state will benefit from an investment in one of the best education systems in the world." Her announcement that "…our project is shovel ready and work will begin in July" was met with hearty applause.
Everts welcomed Spellings, inviting her "to share in our celebration and experience firsthand the students, faculty, staff, alumni and friends who make our campus and community so very special."
Spellings said the new 203,000 square foot facility "will be a catalyst to enhance health and economic development by revitalizing and expanding the proposed medical health district. It will be a home for academic departments and disciplines that are currently scattered all over the campus, which will facilitate more collaboration and therefore enrich the learning environment and create new opportunities for discoveries."
She cited the partnership with Wake Forest School of Medicine to educate physician assistants at Appalachian "as a model of efficiency, collaboration and creativity… and as a solution" in improving rural access to quality health care.
"We face difficult health care challenges in this country and this region," she said. "With the advent of this facility, Appalachian will be able to continue to tackle these challenges in thoughtful ways."
Joining Spellings and Everts at the site dedication were Richard Sparks, president and chief executive officer of Appalachian Regional Healthcare System, Appalachian Provost Darrell Kruger, and Beaver College of Health Sciences Dean Frederick K. Whitt. Together they unveiled a large photograph of the proposed building.
Spellings recognized former Chancellor Kenneth E. Peacock who was in the audience, for "many years of consistent effort ….and for his diligent advocacy of this project."
Sparks, a two-time Appalachian alumnus and recipient of the university's Distinguished Alumni Award, and the Appalachian Regional Healthcare System donated 10 acres of land adjacent to Watauga Medical Center on which the facility will be built.
Spellings thanked Sparks saying, "By providing this perfectly positioned site for the Beaver College of Health Sciences building, Richard and Appalachian Regional Healthcare System have proved once again that partnerships are the way forward and we're all much better off when we work together."
Sparks, who said he had always dreamed of being a college president handing out certificates, presented Everts and Spellings with a mock deed to the land, urging them "to go forth and do well."
In comments before the ceremony, Sparks said the facility "has been a long time coming. So many have worked diligently for the past 10 years. It couldn't be a more wonderful day."
Amy Crabbe, Appalachian Regional Healthcare System's senior vice president for people services, added: "We are excited about this partnership because it means we will secure an adequate supply of health care professionals in the High Country for years and years to come."
Boone Town Manager John Ward said, "We're excited for the potential lift it will do for economic development and for what it will mean in the new wellness district and also for the entire town of Boone."
Boone Town Council member Jeannine Underdown Collins, an Appalachian alumna and former Appalachian trustee, said the facility is "a dream come true and will impact our town in ways we can't even imagine." Boone Mayor Rennie Brantz added the college "will add to the wellness of our community, help students gain professional healthcare training and make Boone a regional center for wellness in North Carolina. This is a major step forward."
About Appalachian State University
As the premier public undergraduate institution in the state of North Carolina, Appalachian State University prepares students to lead purposeful lives as global citizens who understand and engage their responsibilities in creating a sustainable future for all. The Appalachian Experience promotes a spirit of inclusion that brings people together in inspiring ways to acquire and create knowledge, to grow holistically, to act with passion and determination, and to embrace diversity and difference. Located in the Blue Ridge Mountains, Appalachian is one of 17 campuses in the University of North Carolina System. Appalachian enrolls more than 19,000 students, has a low student-to-faculty ratio and offers more than 150 undergraduate and graduate majors.
Related links
What do you think?
Share your feedback on this story.