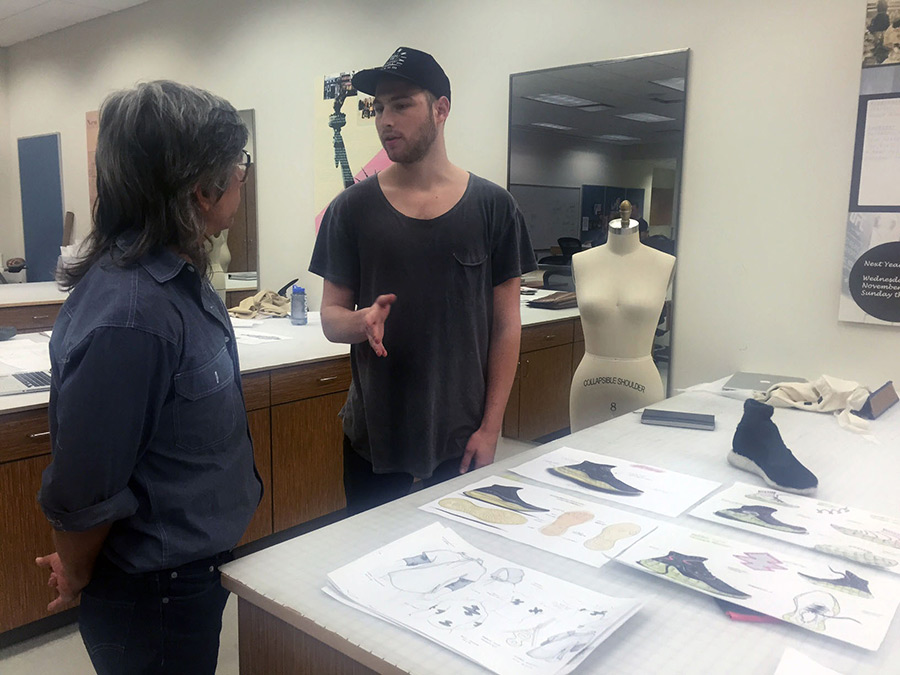 Posted June 6, 2016 at 10:45 a.m.
BOONE—Rider Evans, a 2016 graduate of Appalachian State University, competed against more than 2,000 students and recent graduates to become a footwear designer at the Adidas Design Academy in Herzogenaurach, Germany. He will spend two years perfecting the art of shoe design while learning best practices from senior designers in studios around the world.
Evans, a graduate of Appalachian's industrial design program with a minor in apparel design, hails from Stokesdale, North Carolina. He found his passion for design early in life. "Being the son of a woodworker and furniture maker, I've always enjoyed creating and learned how to use my dad's tools at an early age," he said. "We made all sorts of things like skateboards, ramps, push cars, tree houses, and I even helped him build a wood shop on our property at the age of 10."
By the time he was a junior in high school, Evans was using 3D modeling programs to create objects with exact dimensions and researching major options at different universities. The industrial design program, housed in the Department of Applied Design within Appalachian's College of Fine and Applied Arts, fit well with his interests and skills, and he began exploring how to combine his love of product design and fashion.
"I did my best to take a broad range of classes that would allow me to work with multiple forms of media – from plastics to fabric to wood – that eventually led me to footwear design," he said. "This is what appeals to me about design – the opportunity to design without boundaries, combining different mediums to create something entirely new."
His senior studio also played a role in his decision to pursue the apprenticeship with Adidas. Evans worked with a fellow student on a capstone project, which included two full outfits, footwear and a backpack. "After diving headfirst into fashion and footwear, I fell in love with shoes and I even began collecting," he shared. "After this course, I found myself not being able to think – or sketch – anything but shoes."
When Evans noticed the apprenticeship on the Adidas job board, he knew he had to apply. The apprenticeship application was rigorous; first a written submission followed by a design project in the semi-final round. Evans was one of six finalists invited to Germany to present his work to a committee of Adidas designers and recruiters, and one of just three selected for the apprenticeship position.
Associate Professor Richard Elaver, who taught Evans' senior studio class, noted that he is an excellent student. Elaver said Adidas made the right choice. "Rider has focused on footwear for over a year, bringing together his skills in product design and apparel construction to make exceptional prototypes of his shoes," he said. "He has the initiative to figure things out on his own, has passionately pursued his interests and has been willing to share his knowledge and experience with those around him."
Evans' goals are to stay on with Adidas as a footwear designer after the two-year apprenticeship, and ultimately to become a creative director. He also has aspirations to develop his own fashion apparel brand one day. He advises other students to take advantage of everything Appalachian has to offer while in school. "Be a sponge; soak up everything you can from professors, other students and even blogs," he recommends. "Work hard, sleep a little less, stay focused and never abandon your true passions."
About the industrial design program at Appalachian State University
The industrial design program at Appalachian State University is housed in the Department of Applied Design and includes concentrations in furniture and product design.
Concentrations focus on design inquiry, creative problem solving, user research, social and environmental concerns and manufacturing requirements. Through industry collaborations and studio projects, students are challenged to develop a comprehensive knowledge base allowing them to compete as professionals.
The Department of Applied Design also includes the Apparel Design and Merchandising program and the Interior Design program, and is one of seven departments housed in Appalachian's College of Fine and Applied Arts.
About Appalachian State University
As the premier public undergraduate institution in the state of North Carolina, Appalachian State University prepares students to lead purposeful lives as global citizens who understand and engage their responsibilities in creating a sustainable future for all. The Appalachian Experience promotes a spirit of inclusion that brings people together in inspiring ways to acquire and create knowledge, to grow holistically, to act with passion and determination, and to embrace diversity and difference. Located in the Blue Ridge Mountains, Appalachian is one of 17 campuses in the University of North Carolina System. Appalachian enrolls more than 19,000 students, has a low student-to-faculty ratio and offers more than 150 undergraduate and graduate majors.
What do you think?
Share your feedback on this story.