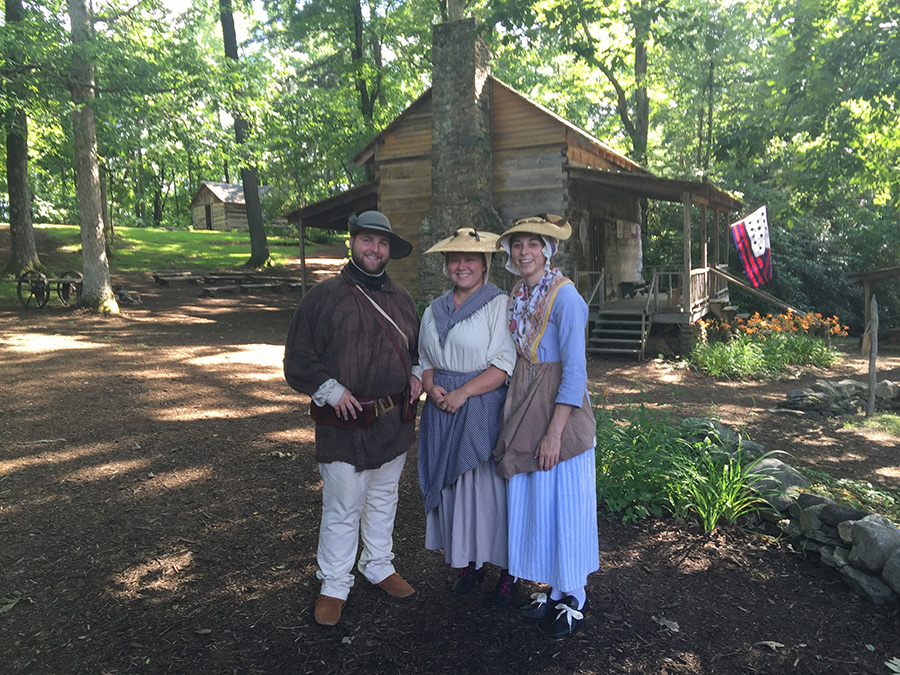 Posted July 13, 2016 at 11:22 a.m.
BOONE—The outdoor theatre Horn in the West and the Hickory Ridge Living History Museum are undergoing revitalizations beginning this year thanks in part to Carson Sailor, a public history graduate student at Appalachian State University.
Owned and operated by the Southern Appalachian Historical Association, a nonprofit organization whose mission is to preserve the cultural heritage of the Blue Ridge Mountain region through education and entertainment, Horn in the West was designed and built in 1952 by John Lippard and four students from N.C. State University's School of Design. It is the oldest Revolutionary War outdoor drama space in the United States. Hickory Ridge Living History Museum was created in 1980 to foster a better understanding of the life of the European settlers depicted in the outdoor drama. Both the museum and the theatre are located in Daniel Boone Park in Boone.
"For 65 years we have told the story of the intrepid people of North Carolina who decided to rise up and fight against the British," said Sailor. "The living history museum portrays what is going through the people's minds…a lot of people up here were running from something… Either they were in some legal trouble and they found themselves up here, or they had finally found a way to work themselves out of the rigged indentured servitude system."
Sailor came to Appalachian from Flagler College, a small liberal arts college in St. Augustine, Florida, where he studied public history and worked for the National Park Service doing reenactments as well as serving as tour guide and historical consultant for the Ponce de Leon Hotel, a Gilded Age site in St. Augustine. Sailor chose to pursue a master's degree at Appalachian because he found the university's character and strong public history program appealing.
Looking for a summer job before he graduates in December, Sailor reached out to the Southern Appalachian Historical Association to see if he could obtain a job that had relevance to his degree. "I said 'I don't care if I am a janitor, I want to work for a museum, I want to work for a history organization.' And they said 'Oh, do you want more or less to be our man on the ground for everything?' and I said 'Ok!' So they hired me as an executive administrator."
As executive administrator, Sailor works between the museum director and the theater director, while also writing historical programming, developing new initiatives and fundraising.
One of his new initiatives is a major overhaul of the Hickory Ridge Living History Museum, including expanded museum hours. With approval from the Horn in the West Board of Directors, operating hours have been extended from six weeks a year to eight months a year – early April through November. Horn in the West is also creating new positions that can be filled by Appalachian students.
"My first thought was we need to hire Appalachian students and we need to hire Appalachian public history students in undergrad, so we can snag them as freshmen or sophomores and give them the skills necessary to help them work on a site," he said.
Horn in the West has hired senior Cameron Clark, senior Grayson Butler and recent Appalachian graduate Cole Holiday as historical interpreters and educators. They will be trained in period tasks, such as open hearth cooking and black powder weaponry, to demonstrate how North Carolina's colonial settlers lived at that time.
Sailor's final goals for Horn in the West are to bring the museum up to code with the American Alliance of Museums' Best Standards and Practices by this time next year, as well as develop a corps of dedicated reenactors and volunteers of all ages.
Sailor said he hopes within five years the museum will see all administrative improvements made and can hire a full-time staff that is paid competitively.
In the next few years, Sailor also hopes the museum and Horn in the West can partner more with Appalachian, opening the site up for workshops and as an outdoor classroom, and invite more students, community members and visitors.
For more information, visit http://www.horninthewest.com.
About Appalachian State University
As the premier public undergraduate institution in the state of North Carolina, Appalachian State University prepares students to lead purposeful lives as global citizens who understand and engage their responsibilities in creating a sustainable future for all. The Appalachian Experience promotes a spirit of inclusion that brings people together in inspiring ways to acquire and create knowledge, to grow holistically, to act with passion and determination, and to embrace diversity and difference. Located in the Blue Ridge Mountains, Appalachian is one of 17 campuses in the University of North Carolina System. Appalachian enrolls more than 19,000 students, has a low student-to-faculty ratio and offers more than 150 undergraduate and graduate majors.
What do you think?
Share your feedback on this story.