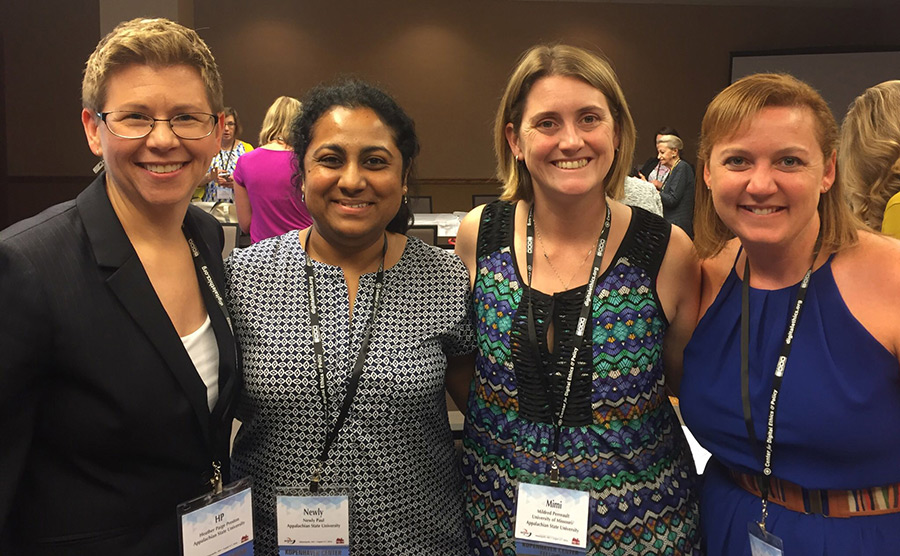 Posted Oct. 4, 2016 at 3:44 p.m.
BOONE—Three faculty members in the Department of Communication at Appalachian State University and one of the department's alumna are now enjoying the benefits of two organizations advocating for them and other early- and mid-career women working in communication fields.
They were designated Lillian Lodge Kopenhaver Fellows for 2016 just after a special pre-convention workshop at the Association for Education in Journalism and Mass Communication's annual convention, which was held this past August in Minneapolis. As such, they'll be able to participate in webinars and other activities of both the AEJMC's Commission on the Status of Women and the Lillian Lodge Kopenhaver Center for the Advancement of Women in Communication at Florida International University.
They will each have a chance to forge a relationship with a mentor drawn from the more senior academics at the conference, and they will continue networking with fellows during reunions for them at future conferences. Additionally, they will receive the two organizations' publications throughout the year.
The three faculty are Heather Paige Preston, a senior lecturer; Dr. Newly Paul, an assistant professor of communication; and Dr. Mildred "Mimi" Perreault, an instructor of PR principles, crisis communication and social media strategies. The alumna is Dr. Jennifer Brannock Cox, an assistant professor of communication arts at Salisbury University in Maryland.
The pre-convention workshop, titled "Empowering Junior Faculty: Pathways to Success in the Academy," drew junior faculty from universities across the United States. The workshop's speakers, all senior female academics, addressed such issues such as negotiating the tenure process, balancing life and work and teaching diversity issues. There were also ample opportunities to network.
"The conference helped me connect with other fellow academics who are either at the same career stage as I am and are navigating the same challenges, or are senior and have already faced those issues," Paul said. "It helped me get valuable insights from them. I especially enjoyed the small networking groups that helped participants speak openly about the unique challenges women face in academia. We talked about work life balance, battling stereotypes and preparing to get tenure."
Perreault said that a professor she met at the conference has become her mentor.
"I'm not alone," Perreault said. "There are lots of people out there who can encourage and support me."
The Kopenhaver center aims to "empower both women professionals and academics in all the fields of communication, in order to develop visionaries and leaders who can make a difference in their communities and their profession." It also provides the latest news, research and events about women and mass communication. See http://kopenhavercenter.fiu.edu for more information.
As for the Commission on the Status of Women, its purpose is "to advocate for the improvement of the status of women in journalism and mass communication education as well as in the journalism and mass communication workforce." The commission also promotes feminist scholarship in journalism and mass communication. See http://aejmc.us/csw for more information.
About the Department of Communication
One of seven departments housed in the College of Fine and Applied Arts, the Department of Communication at Appalachian State University focuses on preparing students to succeed in the varied fields within the communication industry. The department offers five majors – advertising, communication studies, electronic media/broadcasting, journalism and public relations – and a minor in communication studies. Graduates work in a wide range of positions in media, corporate, agency, government and nonprofit organizations.
About Appalachian State University
As the premier public undergraduate institution in the state of North Carolina, Appalachian State University prepares students to lead purposeful lives as global citizens who understand and engage their responsibilities in creating a sustainable future for all. The Appalachian Experience promotes a spirit of inclusion that brings people together in inspiring ways to acquire and create knowledge, to grow holistically, to act with passion and determination, and to embrace diversity and difference. Located in the Blue Ridge Mountains, Appalachian is one of 17 campuses in the University of North Carolina System. Appalachian enrolls more than 19,000 students, has a low student-to-faculty ratio and offers more than 150 undergraduate and graduate majors.
What do you think?
Share your feedback on this story.