Posted Jan. 20, 2017 at 10:18 a.m.
BOONE, N.C.—At several Chinese universities, instruction in writing English has taken on a distinctly American character, and Appalachian State University deserves much of the credit.
As part of a recent project of Appalachian's American Cultural Center at Northeastern University (NEU) in Shenyang, China, three Appalachian professors developed instructional videos and other online materials for a website on academic writing in English, the mastery of which is critical for the many Chinese aiming to study or work abroad and/or publish scholarship for an international audience. The faculty then worked with 29 Chinese teachers to incorporate this content into their graduate-level courses on writing English. Appalachian's center at NEU, which opened in 2012, was funded with a $100,000 grant by the U.S. Department of State, which also provided seed money for the center's reading room collection.
The content on academic writing could be of pivotal importance for the future of China's education system. It comes at a time when most English courses at China's universities, even for English majors, pay little attention to writing, focusing instead on the mastery of English for such general purposes as speaking and reading. Before the Appalachian content was introduced, a few classes on writing English had been offered at NEU, but only a small number of students took them each year. In general, the conventions of academic writing at American universities, which revolve around supporting an argument, are not taught in China.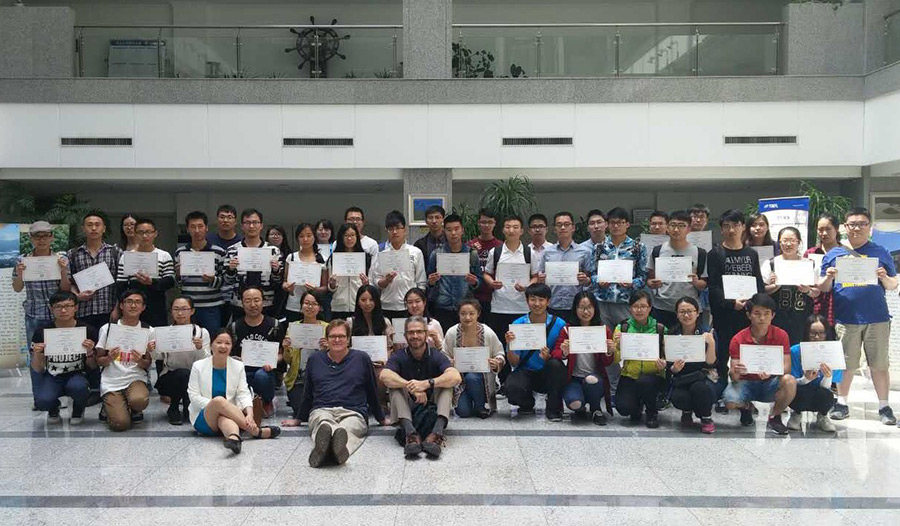 The courses, taken by about 2,000 graduate students, were offered this past spring at three Chinese universities: NEU, Shanghai University (SHU) and Beijing International Studies University (BISU). NEU's graduate students will use the courses' Appalachian content again when they receive instruction in writing English beginning in March. In addition, Dr. Bret Zawilski, an assistant professor in Appalachian's Department of English, is developing most of the instructional videos for a more basic course on academic writing that undergraduates at NEU and two other Chinese universities will take beginning in March. The videos will also become part of a website. The two other universities have yet to be named.
The Appalachian content on academic writing illuminated "basic procedures" as practiced in the United States for writing a research paper in English; these included everything from locating and reviewing source materials to fashioning persuasive thesis statements, claims and conclusions. See http://library.appstate.edu/acc to learn more about the content.
Jianhua Cai, a graduate student of materials sciences and engineering at NEU, found the online content's sections on reading literature and taking notes particularly helpful.
"I (now) know how to read literature and take notes more efficiently," he said. "For example, I could use a few words writing what the paragraph is about in the left column and writing a key point or fact related to the argument in the right column."
The Appalachian professors who created the academic writing materials were Dr. Xiaorong Shao, an associate professor in Appalachian's Belk Library and Information Commons; Allan Scherlen, a professor in Belk Library and Information Commons; and Dr. Matthew Robinson, a professor in Appalachian's Department of Government and Justice Studies. Shao, a native of China, also co-directs the center along with Dr. Wen Zhao of NEU. Shao and Scherlen submitted the grant proposal that resulted in the $50,000 the U.S. Department of State provided for the writing project.
Shao said that 3,000 people viewed the website that stores the content on academic writing. So presumably, many universities across China will come to view it as a welcome resource.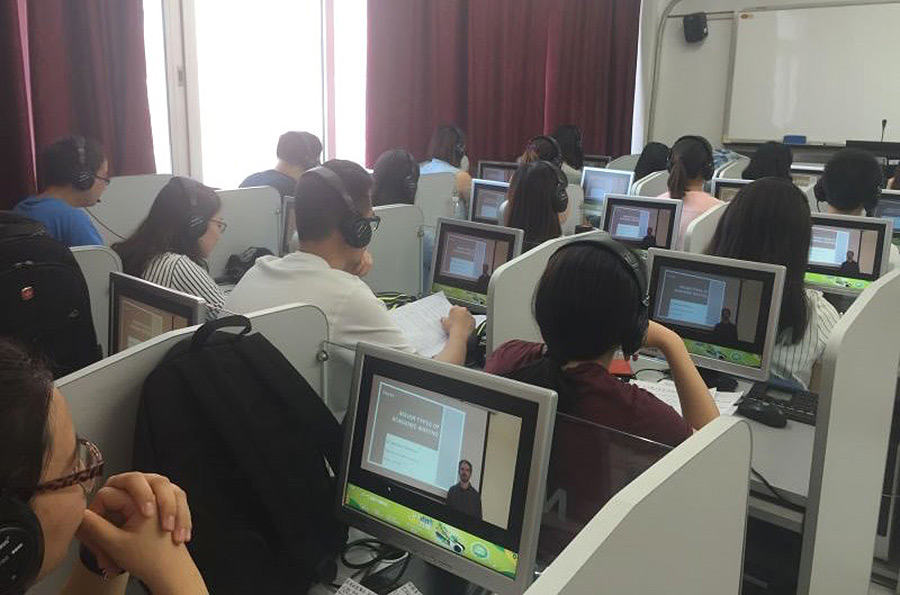 "Students are less prepared to write an academic paper at U.S. standards," Shao said. "Students at Chinese universities, especially graduate students, will be in great need of this content as they prepare for entering their profession and writing for publication."
The Appalachian content went over well with the Chinese teachers who taught the graduate courses on writing English, Shao said.
"They commented that the blending of online and in-person teaching enhanced student learning," she said. "They preferred it over just online or just in-person teaching. I concur: Online access provides students flexibility, and they can study the instructional videos and materials at their own pace and on their own time.
"The website connects students directly with Appalachian professors, so they can ask them questions directly through emails. And during the face-to-face sessions with students, local teachers can address questions students might have and guide them through during their studying of the online materials. The local teachers can also select the online content they wish to use."
The online content highlighted a multifaceted effort featuring other Appalachian contributions. For example, Shao, Scherlen and Robinson traveled this past May to China to conduct workshops on such topics as developing strategies for writing a research paper, conducting a literature review and learning the basics of citations. More than 200 students from NEU, SHU and BISU participated in a writing contest; the writers of the top 24 papers were awarded scholarship money ranging from $50 to $300.
Appalachian added several books on academic writing to the growing collection of titles in the center's reading room. And over the summer, it hosted a visit to Appalachian's campus by Xin Li, a professor who teaches the writing of English at NEU. Xin sat in on a business writing course and conducted research on the financing of U.S. graduate programs.
All this activity was part of a center project called "Academic Writing Project at American Cultural Center, Northeastern University, Shenyang." The project's title recalls the fact that Appalachian is one of 19 U.S. universities to open an American Cultural Center at a Chinese university.
The centers, each of which partners a United States school with one in China, are a response to China-financed Confucius Institutes at American universities. They foster mutual understanding between Chinese and Americans through various exchange programs, and they seek to educate future generations of Chinese leaders about American culture, history, values and beliefs.
Each year since the center at NEU opened in 2012, Appalachian has applied for and received a supplementary grant from the State Department to fund a center project designed to deepen the Chinese people's understanding of various aspects of American culture. Academic writing is one such aspect. The sustainability movement, of which Appalachian is a leader, has been another.
A State Department grant of $50,000 underwrote "Academic Writing Project." A State Department grant of $75,000, awarded for a yearlong period that began this past December, is underwriting "English Writing for College and Communication." This is the official project name of the afore-mentioned effort that entails developing instructional videos for a more basic course on academic writing that undergraduates at NEU and two other universities will take beginning in March.
"English Writing" reflects a work-in-progress mentality that Appalachian is bringing to the instruction of writing in English at NEU and elsewhere: During "Academic Writing," the three Appalachian professors who conducted workshops in China also collected feedback and suggestions for improving the online content. Along the way, they also discovered that many students lacked writing skills that they should have mastered as undergraduates.
The new "English Writing" project will address this situation in a way that keeps academic writing the focus but emphasizes such writing basics as mechanics, style and grammar. There will also be a writing contest.
About Northeastern University and Shenyang, China
Founded in 1923, NEU enrolls more than 20,000 students. It offers 46 undergraduate programs, 53 master's degree programs and 23 doctoral degree programs, as well as an adult education program. It is considered one of China's top 50 universities.
Located in northeast China's Liaoning province, Shenyang is the largest city in northeast China. It has a population of 8.1 million. The city has been a leader in China's move to modernize its manufacturing industry and reduce air and other pollution. It was named a National Environmental Protection Model City and one of China's most "Economically Dynamic" cities in 2004.
About Appalachian's relationship with Northeastern University and the American Cultural Center
Appalachian State University has had a relationship with Northeastern University since 1981 when former Chancellor John E. Thomas initiated an exchange program with Northeast Institute of Technology, now Northeastern University. Appalachian was the first university in the United States to develop a bilateral relationship with a Chinese university that was not initiated at a government level following China's Open Door Policy of the late 1970s.
The American Cultural Center (ACC) jointly operated by Appalachian and Northeastern University is one of 19 ACCs in China. It has an office and a reading room that houses approximately 8,200 books in English, 3,500 books in Chinese, 68 magazines and journals in Chinese, 89 magazines and journals in English, and 1,400 films and music CDs. Since its inception, the center has successfully implemented 19 major programs and more than 70 activities in collaboration with Appalachian, Ping Pong Productions, Fulbright Scholars as well as the U.S. Embassy in Beijing and the U.S. Consulate General in Shenyang, other ACCs and universities in both China and the U.S.
Under the center's auspices, Appalachian has sent 19 faculty members to China to share their expertise of American culture, and more than 10 Appalachian faculty members were involved in teaching and hosting NEU faculty visitors. One hundred and twenty Appalachian students have participated in ACC-related programs through study abroad, the ACC student leaders program and the Global Understandings course. Over 5,000 students, faculty and staff members from six universities in China have attended ACC programs. ACC grants have enabled 14 teachers from Northeastern University to visit Appalachian for their professional development and cultural experience.
About Appalachian State University
As the premier public undergraduate institution in the Southeast, Appalachian State University prepares students to lead purposeful lives. App State is one of 17 campuses in the University of North Carolina System, with a national reputation for innovative teaching and opening access to a high-quality, affordable education for all. The university enrolls more than 21,000 students, has a low student-to-faculty ratio and offers more than 150 undergraduate and 80 graduate majors at its Boone and Hickory campuses and through App State Online. Learn more at https://www.appstate.edu.
What do you think?
Share your feedback on this story.