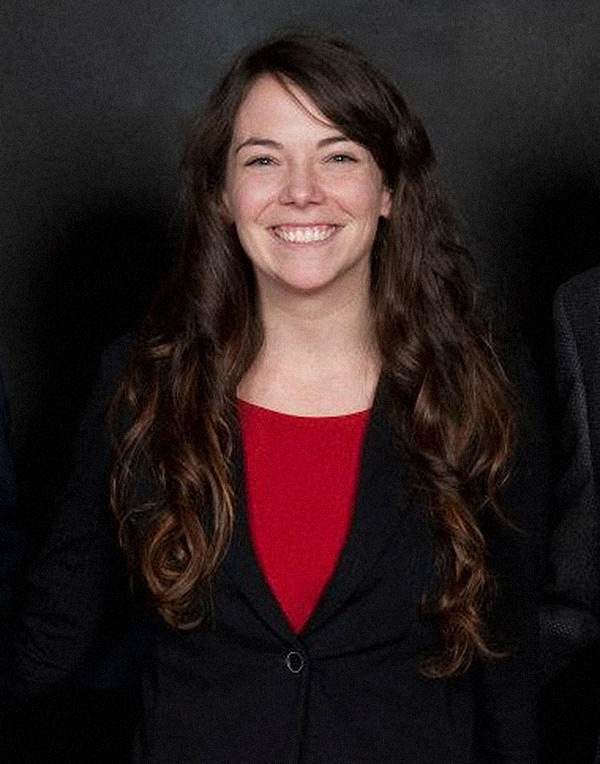 Posted Feb. 3, 2017 at 4:06 p.m.
BOONE, N.C.—Appalachian State University anthropology alumna Caroline Federal '12 has been busy over the past four years. Most recently, she was recognized by the London School of Economics for the quality of her Masters of Science dissertation. And, she has had the privilege of working for both President Jimmy Carter and President Bill Clinton.
Federal was awarded the prize for "Best Dissertation" in the Masters of Science in Comparative Politics (MSc) program at the London School of Economics for her thesis, "Mind the Gap: Gender in National Elections in Varieties of Capitalism." The MSc in Comparative Politics program prepares students for research and work in political consultancy and public administration, and for careers with international organizations. The LSE comparative politics program is ranked globally with institutions such as Harvard University, Princeton University and the University of Oxford.
In a note to Appalachian's Department of Anthropology about the recognition for her thesis, she wrote: "[This] achievement [was] made possible in large part by your teaching, mentorship, words of wisdom, encouragement and support."
Using her training in anthropology and politics, she is now working at the Massachusetts Institute of Technology (MIT) in Cambridge, Massachusetts. As a team member of Solve, she is working on economics in the digital age, establishing cross sector partnerships to address issues like inequality, changing markets, circular economies and post capitalism.
Before attending the London School of Economics, Federal put her interests and skills into action, working to help improve the lives of people all over the world through her involvement and experience with two prominent non-profit organizations – first at the Carter Center in Atlanta, and later the Clinton Global Initiative in New York City.
"I can say with confidence that the anthropology department prepared me for my work in international development, and that my experiences there will continue to benefit and inform me as I further pursue my goals," she wrote.
Carter Center for Human Rights
From January through August 2013, Federal was a part of a prestigious internship program at the Carter Center, an international organization founded by President Jimmy Carter that is committed to human rights and alleviating human suffering. As an intern in the center's Americas Program, she engaged in projects that focused on promoting and strengthening human rights and democracy throughout the region. This involved working on high profile issues such as the reform process of the Inter-American Commission on Human Rights and the study mission of Venezuela's 2013 presidential elections. It was through this experience, Federal said, that she came to appreciate the value of a background in anthropology when working in international relations and development, and began to explore ways the fundamental principles and theories she learned in university could be applied outside of academia to help facilitate positive change. She continued in this vein, moving on to another opportunity at the Clinton Global Initiative as a directors intern.
Clinton Global Initiative
The Clinton Global Initiative convenes global leaders to devise and implement innovative solutions to the world's most pressing problems. As an intern in the Commitments Department, Federal had the opportunity to assist in the oversight of the development of innovative solutions as part of the Commitments to Action program. Through the facilitation of the Commitments to Action program, the Clinton Global Initiative helps its members – primarily corporations, NGOs and government leaders – maximize their efforts to create positive change. Following her internship at the Clinton Foundation, Federal was hired by the foundation as logistics coordinator responsible for working with high-ranking diplomats from around the world and at the United Nations.
Federal, a Charlotte native, attributes her accomplishments to hard work, tenacity, and the opportunities offered at Appalachian – especially those in the Department of Anthropology. "I know that as an anthropology student at Appalachian I had opportunities unique to undergraduate students," she wrote. "I was encouraged by the professors in the department and by their willingness to help me succeed. Working as a research assistant, assisting with the instruction of courses, and experiences in the field all benefitted me and helped qualify me when I pursued competitive programs."
About the Department of Anthropology
The Department of Anthropology offers a comparative and holistic approach to the study of the human experience. The anthropological perspective provides a broad understanding of the origins as well as the meaning of physical and cultural diversity in the world – past, present and future. The department offers numerous research opportunities for students including field schools, internships, lab projects and independent studies at home and abroad. Students may earn B.A. and B.S. degrees with concentrations in sociocultural anthropology, archaeology, biological anthropology, and social practice and sustainability.
About the College of Arts and Sciences
The College of Arts and Sciences is home to 16 academic departments spanning the humanities, social sciences, and the mathematical and natural sciences. The college is dedicated to providing instruction and research essential to the university's mission and seeks to cultivate the habits of inquiry, learning and service among all its constituents. There are approximately 5,700 student majors. As the college is also largely responsible for implementing Appalachian's general education curriculum, it is heavily involved in the education of all students at the university, including those pursuing majors in other colleges.
About Appalachian State University
As the premier public undergraduate institution in the state of North Carolina, Appalachian State University prepares students to lead purposeful lives as global citizens who understand and engage their responsibilities in creating a sustainable future for all. The Appalachian Experience promotes a spirit of inclusion that brings people together in inspiring ways to acquire and create knowledge, to grow holistically, to act with passion and determination, and to embrace diversity and difference. Located in the Blue Ridge Mountains, Appalachian is one of 17 campuses in the University of North Carolina System. Appalachian enrolls more than 19,000 students, has a low student-to-faculty ratio and offers more than 150 undergraduate and graduate majors.
What do you think?
Share your feedback on this story.