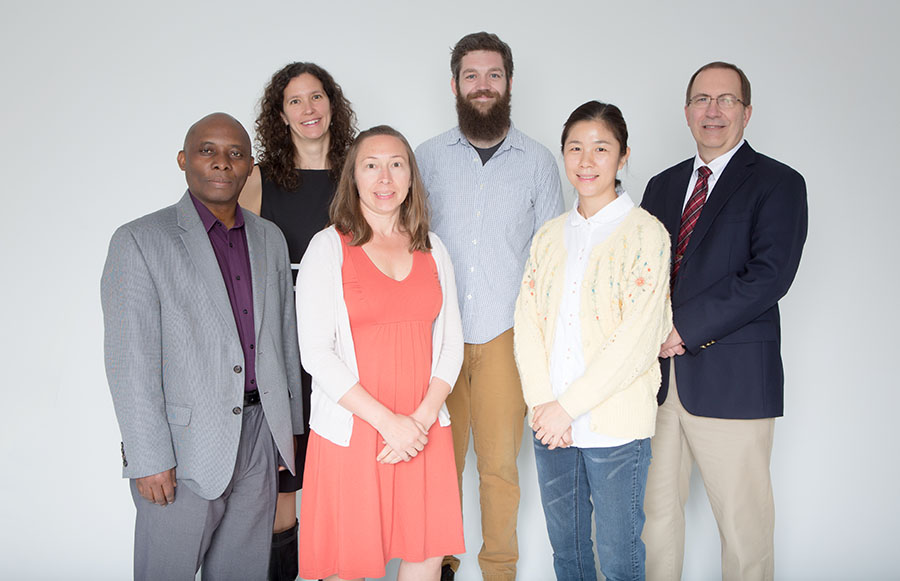 Posted April 20, 2017 at 9 a.m.
BOONE, N.C.—Appalachian State University leadership in the Research Institute for Environment, Energy and Economics and the College of Arts and Sciences announced funding of four additional faculty scholarships for Chancellor Sheri N. Everts' Appalachian Innovation Scholars Program (AISP).
The scholars are Kevin Gamble, Department of Sustainable Technology and the Built Environment; Dr. Rajat Panwar, Department of Management; Dr. Steve Seagle, Department of Biology; and Dr. Chishimba "Nathan" Mowa, Department of Biology.
In February, five scholars were chosen to receive $10,000 each for programs described by Everts as "original and collaborative" and that reflect one or more of the university's strategic initiatives: sustainability in the areas of economics, equity and the environment; diversity; student research; global learning; wellness and safety; and community and civic engagement.
With additional funds, Everts said, the committee could have easily funded all 40 of the proposals on ingenuity, scholarship and merit.
Dr. Nicole Bennett, RIEEE director and review committee member, agreed. Working with Dean Neva Specht of the College of Arts and Sciences (CAS), she found a mechanism to use supplemental funds for four additional faculty research awards of $5,000 each.
"The original budget limited us to funding only five of the proposals," Bennett said. "RIEEE and the College of Arts and Sciences had some available funds and several of the proposals fell within our purview – environment, energy and economy. They were highly rated, already had passed review and the RIEEE management team, the center directors, thought it a good idea."
Bennett said she asked the review committee for "permission to look again at some of the proposals that were highly rated and, in the campus spirit of innovation, they said 'Yes.'" Funds must be used in this fiscal year, Bennett added, so the projects chosen were underway or close to being so.
The projects – sustainability a common thread
Gamble's project is designed to gather data around food waste management. Using national averages, food waste generation in Watauga County is estimated to be 5,800 tons per year. Gamble plans to develop a database of local businesses' food recovery and food waste management practices to inform community food waste diversion strategies and their associated business models. Nationally, the primary reason for concern about food waste and loss are wasted resources such as water, gasoline, energy, labor and land for overproduction of food; food insecurity caused by uneven distribution of food; and the potential impact on greenhouse gas (GHG) emissions that contribute to climate change. His collaborators are Hei-Young Kim, research assistant, and Grace Plummer, program specialist, both in the Appalachian Energy Center.
Panwar's project seeks to offer entrepreneurial solutions to forest conservation. Specifically, the project will focus on biodiversity banking which is a market-based solution to halt deforestation and biodiversity loss. Also known as mitigation banking, it allows landowners to generate "biodiversity credits" by enhancing and protecting biodiversity values on their land. But, Panwar states, banking firms seem to be taking a reactive approach instead of proactively creating demand for biodiversity credits. He argues that "biodiversity banks are lacking entrepreneurialism that could greatly expand the market for biodiversity credits market." His project seeks to examine why, with an aim to offer recommendations to foster change.
Seagle's project will focus on land use planning that will lead to sustainable production of ecosystem services throughout the highly impacted Catawba River watershed. Ecosystem services fall broadly into four categories: provisioning services (food, water, fiber); regulating services (purification of air and water, regulation of climate, floods and diseases); cultural services (recreational, spiritual, religious and other non-material benefits); and supporting services (soil formation, primary production and nutrient cycling.) By expanding the landscape and climate databases that his lab has developed to examine determinants of disease distributions, Seagle's team of students and faculty collaborators will focus on mapping water production, nutrient retention, carbon sequestration and disease control within the watershed and also estimating the economic value of these ecosystem services. These results will be used for outreach to public and private stakeholders within the Catawba River watershed to develop long-term collaborations for sustainable land use planning.
Pre-term labor in African-Americans is almost double the national average of the U.S. and some African countries likely due to "food deserts" leading to disease-causing microbiota. Mowa and collaborator Associate Professor Suzanna Brauer, Department of Biology, are using a superfood and medicinal herb, Moringa, to test its effectiveness in replacing hostile gut and vagina microbiota with health-promoting microbiota in heavy meat-eaters. This proposed work will "bring health equity to disadvantaged individuals," Mowa writes, "potentially reducing rates of pre-term labor. The work has the added economic benefit of helping to reduce the tremendous annual cost ($26 billion USD) associated with pre-term births." Future opportunities include volunteer and outreach efforts to help bring supplements to individuals living in food deserts in the U.S. and the development and marketing of a probiotic (Lactobacillus spp.) and prebiotic (Moringa) supplement.
All of the projects will be managed financially by RIEEE, with the College of Arts and Sciences funding Mowa's project.
About the Research Institute for Environment, Energy and Economics
Since 2008, Appalachian State University's Research Institute for Environment, Energy, and Economics (RIEEE) has fostered interdisciplinary research on the environment, energy and economics, especially the areas in which these subjects intersect. The institute serves as an umbrella organization for three centers: the Appalachian Energy Center, Center for Economic Research and Policy Analysis (CERPA) and the Southern Appalachian Environmental Research and Education Center (SAEREC). The work supported by RIEEE is integrated into Appalachian's academic programs, used to facilitate discovery among K-12 student students and teachers, and employed in the region's economic development. Learn more at https://rieee.appstate.edu
About the College of Arts and Sciences
The College of Arts and Sciences is home to 16 academic departments, three stand-alone programs, two centers and one residential college. These units span the humanities, social sciences, and the mathematical and natural sciences. The College of Arts and Sciences aims to develop a distinctive identity built upon our university's strengths, traditions and unique location. Our values lie not only in service to the university and local community, but through inspiring, training, educating and sustaining the development of our students as global citizens. There are approximately 5,850 student majors in the college. As the college is also largely responsible for implementing Appalachian's general education curriculum, it is heavily involved in the education of all students at the university, including those pursuing majors in other colleges.
About Appalachian State University
As the premier public undergraduate institution in the Southeast, Appalachian State University prepares students to lead purposeful lives. App State is one of 17 campuses in the University of North Carolina System, with a national reputation for innovative teaching and opening access to a high-quality, affordable education for all. The university enrolls more than 21,000 students, has a low student-to-faculty ratio and offers more than 150 undergraduate and 80 graduate majors at its Boone and Hickory campuses and through App State Online. Learn more at https://www.appstate.edu.
What do you think?
Share your feedback on this story.