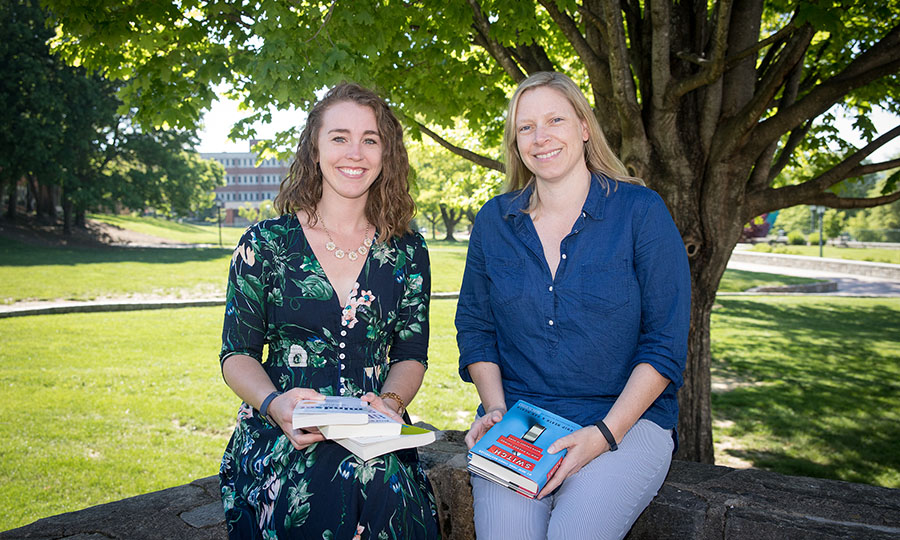 Posted May 17, 2017 at 11:44 a.m.
BOONE, N.C.—Book clubs have had resurgence ever since Oprah launched one 20 years ago, and a program at Appalachian State University that helps students with learning differences has adopted the format with great success. The program supports two clubs, one for faculty and one for students.
A component of the University of North Carolina system's overarching program College STAR (Supporting Transition, Access and Retention), Appalachian's As-U-R focuses on supporting students with executive function challenges (EFCs). Skills related to academic success such as organization, planning and setting priorities, starting and completing tasks, monitoring progress on tasks, and decision-making are referred to as executive function skills.
University College and As-U-R Director Jamie Inlow leads a book club each semester with As-U-R student participants taking an active role in leading the discussion.
First Year Seminar lecturer Lillian Goudas, director of AppStar – the faculty component of College STAR – organized a virtual book club which serves as a jumping off point for faculty members interested in redesigning their classes to make them more accessible to students, particularly those with learning differences.
The student book club "has been a great way to build community," Inlow said. "The students get comfortable with each other, discuss ideas in a group setting and then transfer some of those skills to their other classes."
To date, books that have been included in the student program are: "Learning Outside the Lines" by Jonathan Mooney and David Cole; "Mindset: The New Psychology of Success" by Carol Dweck; and "The Upside of Stress" by Kelly McGonigal. As-U-R students get academic credit for the seminar and are required to lead at least one of the discussions.
Sophomore Lianna Malawski of Chapel Hill said she really enjoyed the mindset book. "Coming in as a transfer student is never easy and at the beginning I did have a somewhat negative view of my life at the time," she said. "After reading the book, I tried to be more optimistic about everything."
Junior Ella Brody of Raleigh also gained an interesting perspective by reading the book. "Through taking classes and reading 'Mindset,' I realized that it is important for me to go outside of my comfort zone and grow," said Brody. "I might end up finding something else I am passionate about that I never knew if I kept my fixed mindset."
Goudas and 11 other faculty members read the book "Switch: How to Change Things When Change is Hard" by Chip and Dan Health. Goudas said the book had clear tie-ins to the Universal Design for Learning goals of enhancing student motivation and learning.
The book deals with a person's logical brain, emotions and barriers to change. Faculty members checked in with each other through a virtual discussion group, Google Hangouts, as they were reading the book. "The book has a lot of vignettes and was easy to read and easy to do in small chunks," Goudas said.
Goudas said she has accepted that one of the learning goals of all of her courses needs to be helping students learn how to manage their time. "I started 'shaping the path' by giving them little email reminders just before every class about the discussion or what was due," she said.
About College STAR
College STAR (Supporting Transition, Access and Retention) is a project of the University of North Carolina system designed to support students with learning differences and faculty members interested in teaching methods that can facilitate student success. The program is being implemented at East Carolina University, Appalachian State University and Fayetteville State University. The College STAR program is funded by the Oak Foundation of Geneva, Switzerland and the N.C. GlaxoSmithKline Foundation.
About Appalachian State University
As the premier public undergraduate institution in the state of North Carolina, Appalachian State University prepares students to lead purposeful lives as global citizens who understand and engage their responsibilities in creating a sustainable future for all. The Appalachian Experience promotes a spirit of inclusion that brings people together in inspiring ways to acquire and create knowledge, to grow holistically, to act with passion and determination, and to embrace diversity and difference. Located in the Blue Ridge Mountains, Appalachian is one of 17 campuses in the University of North Carolina System. Appalachian enrolls more than 19,000 students, has a low student-to-faculty ratio and offers more than 150 undergraduate and graduate majors.
What do you think?
Share your feedback on this story.