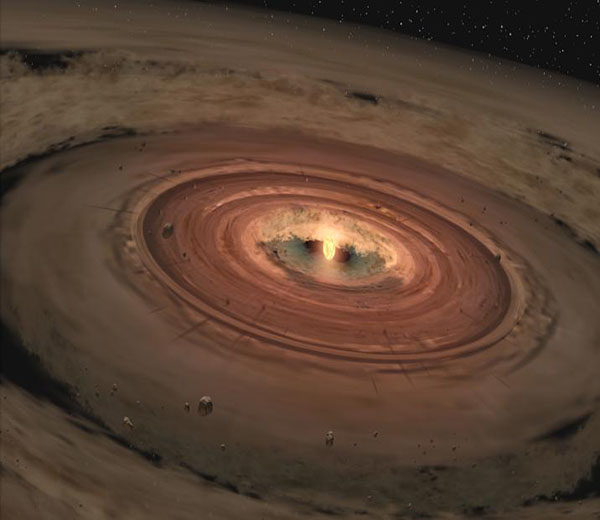 Members of research team by institution
Posted April 5, 2018 at 2:05 p.m.
BOONE, N.C. — An interdisciplinary team of professors and scientists has received $132,000 in funding from NASA Mission Directorates to support their research project titled "Investigating Carbon Inheritance in the Early Solar Nebula: An Interdisciplinary Approach." The team's research findings will contribute to NASA's Emerging Worlds program.
The three-year project — currently in its second year — examines the astrochemistry of disk-shaped clouds of gas and dust around forming stars in the Milky Way. A total of $462,000 in funding will be awarded for the project.
Dr. Rachel Smith, assistant professor in Appalachian's Department of Physics and Astronomy and director of the university's Astronomy and Space Observation Research Laboratory, is the team's lead researcher.
She described the project as "an interdisciplinary effort that includes astronomical observations, laboratory experiments and theoretical modeling to investigate carbon chemistry in forming planetary systems, with direct applications to understanding the formation of planets and prebiotic molecules."
Smith uses two telescopes at the W.M. Keck Observatory in Hawaii, she said, to lead the observations of young stars and is currently analyzing a large dataset of massive young stellar objects, including, most recently, objects at the center of the Milky Way.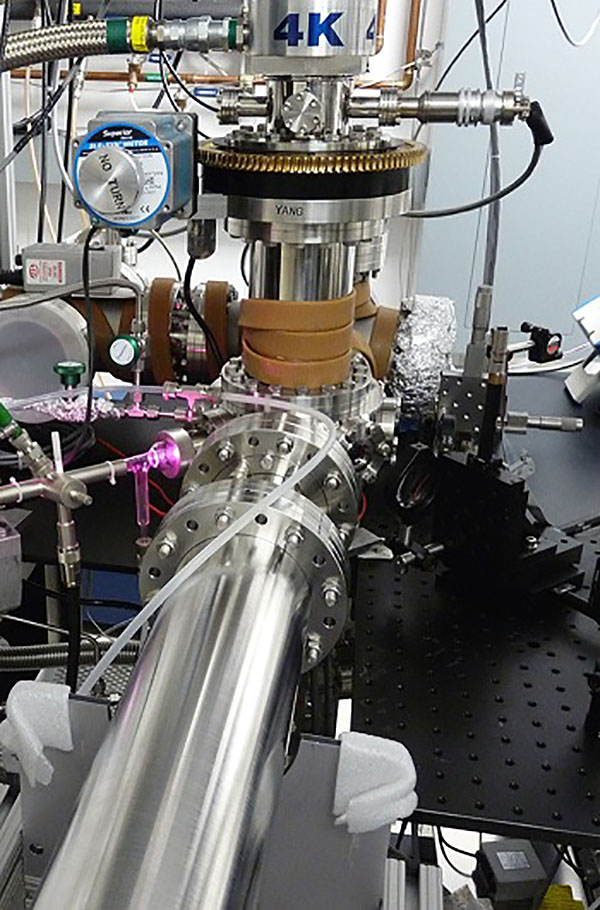 According to Smith, experiments on interstellar ice analogues are led by Dr. Murthy Gudipati, principal scientist and director of the state-of-the-art Ice Spectroscopy Laboratory (ISL) at the NASA Jet Propulsion Laboratory (JPL) in Pasadena, California. These experiments, which are performed in the ISL, are designed to help interpret astronomical observations of young stellar systems that "have shown unusual heterogeneity in the 12CO/13CO in protoplanetary gas, with possible influence on the gas by CO ice," she said.
"Theoretical models, led by Dr. Karen Willacy (research scientist at JPL), are helping parameterize and further define chemical pathways, as well as track changes in carbon-containing gas and ice," Smith said. "We aim for this multifaceted approach to help create a comprehensive understanding of carbon evolution in the solar nebula, and help put the solar system into a meaningful context with respect to other protoplanetary systems."
The project's research team consists of Smith, Gudipati, Willacy and additional professors and scientists at the California Institute of Technology (Caltech), the University of Hawaii's Institute for Astronomy and the Space Telescope Science Institute.
The grant supports the research of several Appalachian undergraduate students during each year of the project and provides the opportunity for three students to complete 10-week summer internships. These internships include working with Smith at the W.M. Keck Observatory to analyze data and completing research at the JPL with Gudipati. Additionally, one student will analyze Keck data during the spring and fall semesters at Appalachian.
Members of research team by institution
About the Department of Physics and Astronomy
The Department of Physics and Astronomy's curriculum has an applied nature that includes a core of fundamental physics courses and laboratory experiences. The department prepares graduates for a variety of scientific, teaching or engineering professions, as well as future educational endeavors. Learn more at https://physics.appstate.edu.
About Appalachian State University
As the premier public undergraduate institution in the Southeast, Appalachian State University prepares students to lead purposeful lives as global citizens who understand and engage their responsibilities in creating a sustainable future for all. The Appalachian Experience promotes a spirit of inclusion that brings people together in inspiring ways to acquire and create knowledge, to grow holistically, to act with passion and determination, and to embrace diversity and difference. Located in the Blue Ridge Mountains, Appalachian is one of 17 campuses in the University of North Carolina System. Appalachian enrolls nearly 21,000 students, has a low student-to-faculty ratio and offers more than 150 undergraduate and graduate majors.
What do you think?
Share your feedback on this story.