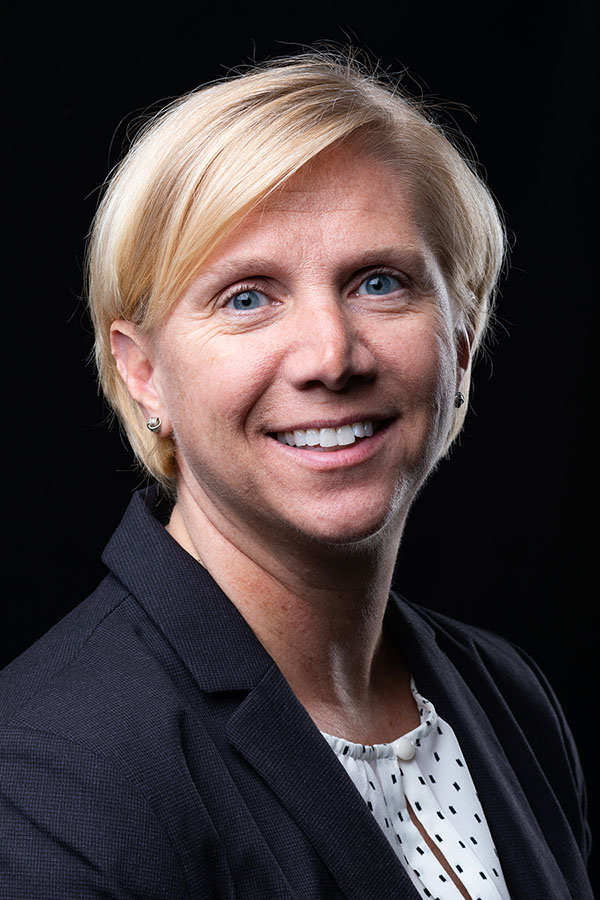 Posted June 6, 2018 at 4:29 p.m.
BOONE, N.C. — The Division of Academic Affairs at Appalachian State University has announced that Dr. Jacqueline "Jacqui" Z. Bergman, associate professor in Appalachian's industrial-organizational psychology and human resource management (IOHRM) program and chair of the university's Department of Management, will be joining the division as interim vice provost for faculty affairs. Her appointment begins July 30.
Bergman has served as chair of Appalachian's Department of Management since 2013. She came to the university as a visiting assistant professor in 2005 and was tenured and promoted to associate professor in 2012. Effective July 1, Bergman will be promoted to full professor.
Bergman has had a breadth of leadership and industrial-organizational experiences during her years at Appalachian, said Dr. Darrell P. Kruger, provost and executive vice chancellor at Appalachian. "Her insights into faculty, curriculum, human resource management, employment law and student issues will serve her well in this position. Her trusted experience and management skills will make her a valuable addition to the Division of Academic Affairs," he said.
As interim vice provost, Bergman will lead policy development, implementation and assessment, particularly in relation to faculty matters. She will also provide oversight and support for revision and interpretation of the Faculty Handbook; work with the provost, faculty, departmental chairs and deans; provide clear understanding of promotion, tenure and reappointment and other faculty personnel policies; and serve as Academic Affairs' liaison on all personnel matters, working closely with the Office of Equity, Diversity and Compliance and the Office of the General Counsel.
In addition, she will work with Faculty Senate and represent the provost on the Faculty Governance Committee and oversee faculty development programs, which enhance teaching, research, creative and service activities, as well as help faculty to sustain rewarding personal lives while advancing their careers.
Bergman will also oversee Appalachian's Center for Academic Excellence; serve as liaison to the University of North Carolina System Office regarding academic affairs issues; and represent the provost and Division of Academic Affairs on various university committees.
"I am genuinely excited to be able to serve the faculty and the institution in this new role, and I look forward to working with everyone in Academic Affairs and across the university," Bergman said.
Prior to coming to Appalachian, Bergman received her Ph.D. in industrial-organizational psychology from the University of Tennessee, Knoxville. She also holds an M.S. in industrial-organizational psychology from the University of Tennessee at Chattanooga, and a B.A. in liberal arts from Dickinson College in Carlisle, Pennsylvania.
She has taught courses in organizational behavior, human resource management, leadership and employment law. Her research has focused on teamwork, leadership and personality, with an emphasis on narcissism.
Bergman currently serves on the editorial board of the Journal of Social Psychology. She has also served on numerous university and college committees, including the Executive Council of the Council of Chairs and the Chancellor's Scholarship Selection Committee.
About the Division of Academic Affairs
The Division of Academic Affairs is responsible for student learning and success at Appalachian State University, including oversight of the university's challenging academic curriculum, active classroom environments, and close collaboration between faculty members and students on scholarly activities. Academic Affairs encompasses the degree-granting College of Arts and Sciences, College of Fine and Applied Arts, Beaver College of Health Sciences, Reich College of Education, Walker College of Business and Hayes School of Music; as well as the Cratis D. Williams Graduate School, the Honors College, University College and 12 other units that support the innovative, interdisciplinary and integrative academic experience for which Appalachian is known. Learn more at http://academicaffairs.appstate.edu.
About Appalachian State University
As the premier public undergraduate institution in the Southeast, Appalachian State University prepares students to lead purposeful lives. App State is one of 17 campuses in the University of North Carolina System, with a national reputation for innovative teaching and opening access to a high-quality, affordable education for all. The university enrolls more than 21,000 students, has a low student-to-faculty ratio and offers more than 150 undergraduate and 80 graduate majors at its Boone and Hickory campuses and through App State Online. Learn more at https://www.appstate.edu.
What do you think?
Share your feedback on this story.