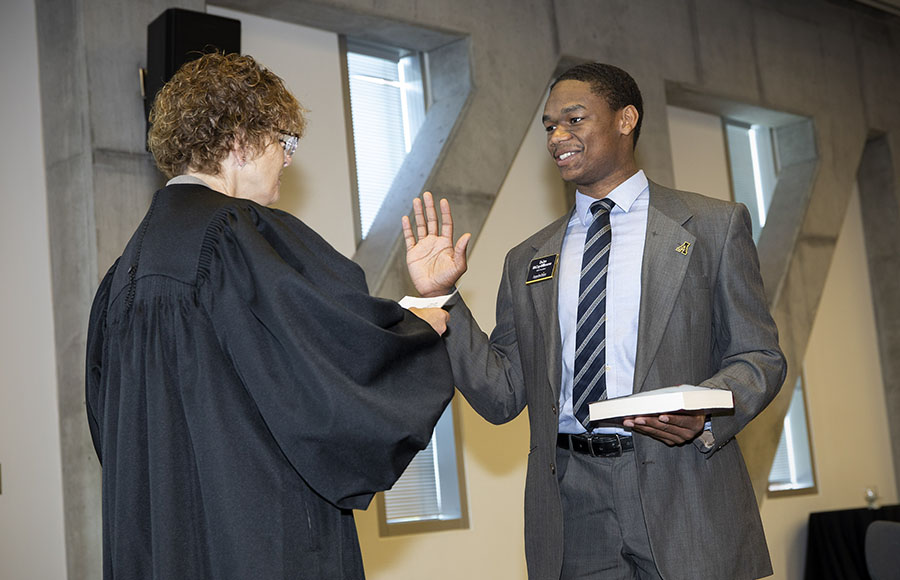 Posted June 29, 2018 at 9:52 a.m.
BOONE, N.C. — In her remarks at the June 22 meeting of Appalachian State University's Board of Trustees, Chancellor Sheri Everts provided updates on various campus improvement projects and key initiatives. During the meeting, the Board of Trustees approved a parking permit fee increase recommended by the university's Business Affairs Committee.
Everts announced the University of North Carolina Board of Governors approved a choice to move forward with a private developer, Georgia-based RISE, on a major housing project that will renovate or replace seven residence halls and add a new parking deck.
The project is funded through a public-private partnership, or P3, which Everts said will allow Appalachian to replace nearly 1,800 beds — and add between 200 to 400 more — with better, more efficient parking, while saving more than $73 million over the cost of developing the property on its own. Three hundred to 400 beds will be ready for occupancy in the fall of 2020.
The Board of Trustees approved updates to the parking and traffic manual that include a parking permit fee increase. The fee increase is $3 a month for most parking categories.
In addition to the major housing project, Everts provided an update on the Leon Levine Hall of Health Sciences, which will house the Beaver College of Health Sciences. She said the new facility is on budget and on schedule, and that plans to renovate Sanford Hall — the building that accommodates every Appalachian student for at least one class before graduating — have made it past the final step of the approval process and are on track to begin in May 2019, with an estimated completion in fall 2020.
Everts announced the Board of Governors also approved $2.5 million to enter the design phase for the north end zone project at Kidd Brewer Stadium, planned to open for the fall 2020 football season. The mixed-use facility will provide 80 to 100,000 square feet of space designed to accommodate various athletics and academic uses, including athletic training and nutrition science research, as well as conference and continuing education training space, an orthopedic clinic, dining facilities, a team store, hydrotherapy, more than 1,000 club seats and offices for coaches and athletics staff.
Everts shared accomplishments of Appalachian students, faculty, staff and alumni and provided updates on key university initiatives, including retention.
"Our Early Intervention Team, Upward Bound program and services supported by the Student Learning Center are just a few of the programs that have led to Appalachian's impressive overall retention rate to reach sophomore status," Everts said. "At 89 percent, Appalachian is performing 20 percent above the national average! I applaud the dedication to success our faculty and staff demonstrate every day."
Student Government Association President DeJon McCoy-Milbourne was sworn in to the Board of Trustees by North Carolina District Judge Rebecca Eggers-Gryder. McCoy-Milbourne is a senior quadruple major in finance and banking, risk management and insurance, accounting and economics from Fayetteville.
Read Chancellor Everts' full remarks at http://chancellor.appstate.edu/messages/id/146.
The next meeting of Appalachian's Board of Trustees is scheduled for Thursday and Friday, Sept. 20–21. Agendas and supporting materials are posted at https://bot.appstate.edu.
About Appalachian's Board of Trustees
The Appalachian State University Board of Trustees is a 13-member body that promotes the development of the institution within the functions prescribed by the UNC Board of Governors. The board serves as advisor to the Board of Governors on matters pertaining to the university and also serves as advisor to the chancellor concerning the management and development of Appalachian. The powers and duties of the Board of Trustees are primarily defined and delegated by the Board of Governors. Individuals are appointed to four-year terms by the President Pro Tempore of the Senate, the Speaker of the House of Representatives, and the UNC Board of Governors. Included as a voting member of the board is the president of Appalachian's Student Government Association. The president of Appalachian's Alumni Council and chairs of the Faculty Senate and Staff Senate serve as ex officio constituency representatives to the board. Learn more at http://chancellor.appstate.edu/bot.
About Appalachian State University
As the premier public undergraduate institution in the Southeast, Appalachian State University prepares students to lead purposeful lives as global citizens who understand and engage their responsibilities in creating a sustainable future for all. The Appalachian Experience promotes a spirit of inclusion that brings people together in inspiring ways to acquire and create knowledge, to grow holistically, to act with passion and determination, and to embrace diversity and difference. Located in the Blue Ridge Mountains, Appalachian is one of 17 campuses in the University of North Carolina System. Appalachian enrolls nearly 21,000 students, has a low student-to-faculty ratio and offers more than 150 undergraduate and graduate majors.
What do you think?
Share your feedback on this story.