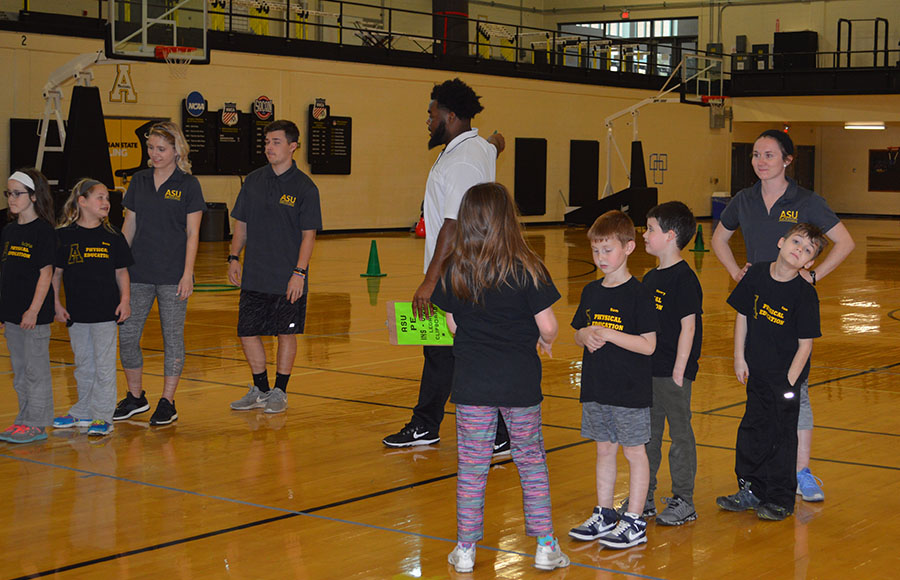 Posted Aug. 20, 2018 at 2:19 p.m.
BOONE, N.C. — Local kindergartners through middle schoolers will once again have the opportunity to flex their physical — as well as social — muscles through Appalachian State University's 2018–19 Home School Physical Education (PE) Program. Additionally, two new components of the program will allow pre-K children and parents of children in the Home School PE Program to be active as well.
Classes begin Sept. 11 and will meet every Tuesday and Thursday from 1–1:50 p.m. The annual cost for the program, which is designed for children ages 3–12 and is held on Appalachian's campus, is $30 per child.
The Home School PE Program is part of the Beaver College of Health Sciences' health and physical education, K-12 degree program at Appalachian and is overseen by Dr. Brooke Towner, lecturer in the college's Department of Recreation Management and Physical Education. She has many years of experience working with children in both academic and recreational settings.
"Regular participation in physical education classes can provide significant benefits for children in all the developmental stages of life," Towner said. "Some of the amazing benefits students can experience through this quality physical education experience are physical improvements in physical fitness and fundamental motor skills, mental improvements in confidence and well-being, and behavioral improvements in attention and interacting with peers."
The Home School PE Program uses the innovative SPARK (Sports, Play, and Active Recreation for Kids) physical education curriculum, which has been shown in a variety of research studies to improve students' motor skills and fitness, and to be enjoyable for students.
According to its website, SPARK "strives to improve the health of children, adolescents, and adults by disseminating evidence-based Physical Education, After School, Early Childhood, and Safe and Healthy Students programs to teachers and recreation leaders serving Pre-K through 12th grade students."
This year, two additional physical activity programs will be offered in association with the Home School PE Program:
The Play Pen — Play Pen activities are designed for children ages 3 and 4 and will be structured using the SPARK early childhood curriculum. The curriculum is designed to provide children with high activity, including academically integrated, enjoyable movement opportunities that foster social and motor development.
The Parent Pack: Parents Walking Program — Parents are encouraged to be active, too, while their children are involved in the Home School PE program. This parent-centered physical activity program will consist of a structured walking program led by a junior-level health and physical education major at Appalachian. During the walks, participants will have the opportunity to discuss various physical activities and health topics with these student leaders.
For more information about the Home School PE program, contact Dr. Benjamin Sibley at sibleyba@appstate.edu or 828-262-6300, and/or Towner at townerbc@appstate.edu.
About the Beaver College of Health Sciences
Appalachian's Beaver College of Health Sciences opened in 2010 as the result of a strategic university commitment to significantly enhance the health and quality of life for individuals, families and communities in North Carolina and beyond. In 2015, the college was named for an Appalachian alumnus and pioneer in the health care industry — Donald C. Beaver '62 '64 of Conover. The college offers nine undergraduate degree programs and seven graduate degree programs, which are organized into six departments: Communication Sciences and Disorders; Health and Exercise Science; Nursing; Nutrition and Health Care Management; Recreation Management and Physical Education; and Social Work. Learn more at https://healthsciences.appstate.edu.
About the Department of Recreation Management and Physical Education
The Department of Recreation Management and Physical Education in Appalachian State University's Beaver College of Health Sciences is an innovative, diverse and forward-thinking academic unit consisting of two undergraduate programs. The recreation management program prepares students for careers as professionals in three concentrations: commercial recreation and tourism management, outdoor experiential education, and recreation and park management. The health and physical education program prepares students for careers as K-12 health and physical educators, school-based activity directors and coaches. Learn more at https://rmpe.appstate.edu.
About Appalachian State University
As the premier public undergraduate institution in the state of North Carolina, Appalachian State University prepares students to lead purposeful lives as global citizens who understand and engage their responsibilities in creating a sustainable future for all. The Appalachian Experience promotes a spirit of inclusion that brings people together in inspiring ways to acquire and create knowledge, to grow holistically, to act with passion and determination, and to embrace diversity and difference. Located in the Blue Ridge Mountains, Appalachian is one of 17 campuses in the University of North Carolina System. Appalachian enrolls more than 19,000 students, has a low student-to-faculty ratio and offers more than 150 undergraduate and graduate majors.
What do you think?
Share your feedback on this story.