Posted Sep. 7, 2018 at 5:52 p.m.
BOONE, N.C. — Some people sat in wooden chairs, others perched on hay bales; baskets were filled to the brim with apples for the taking; attendees congregated on a stone plaza as if it were the first day of classes. It might well have been a scene at Watauga Academy in 1899, but the B.B. Dougherty proudly presiding over the proceedings was only a statue, and next to the plaza wasn't farmland but a vibrant campus.
Sept. 5 marked Founders Day at Appalachian State University — a day recognizing and commemorating the history of the university.
Appalachian Chancellor Sheri Everts was joined by more than 25 members of the Dougherty family, former chancellors and the Appalachian Community past and present on Wednesday for Founders Day, which featured a dedication and ribbon-cutting for Appalachian's new Founders Plaza.
"We've come a long way from the 53 students enrolled in the Watauga Academy in 1899," Everts said to the crowd of around 250 people, many of whom were dressed in black and gold.
"Today, Appalachian enrolls more than 19,000 students, and many Appalachian values have lasted over time: a life-changing educational experience, an appreciation of our surroundings, preservation of our resources and the enduring qualities of generosity and mutual respect that bind the Appalachian Community."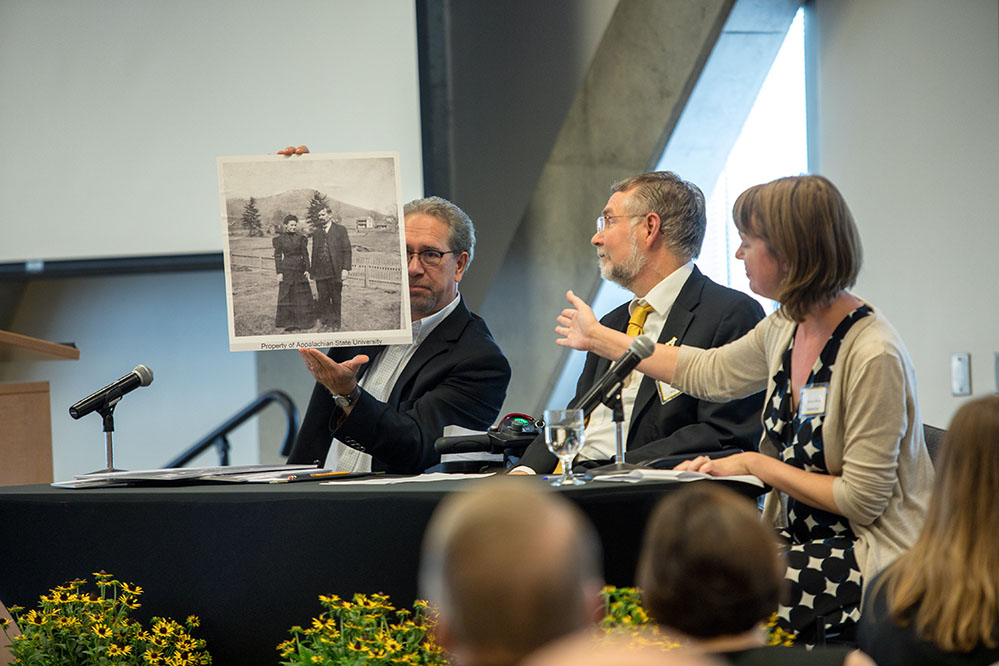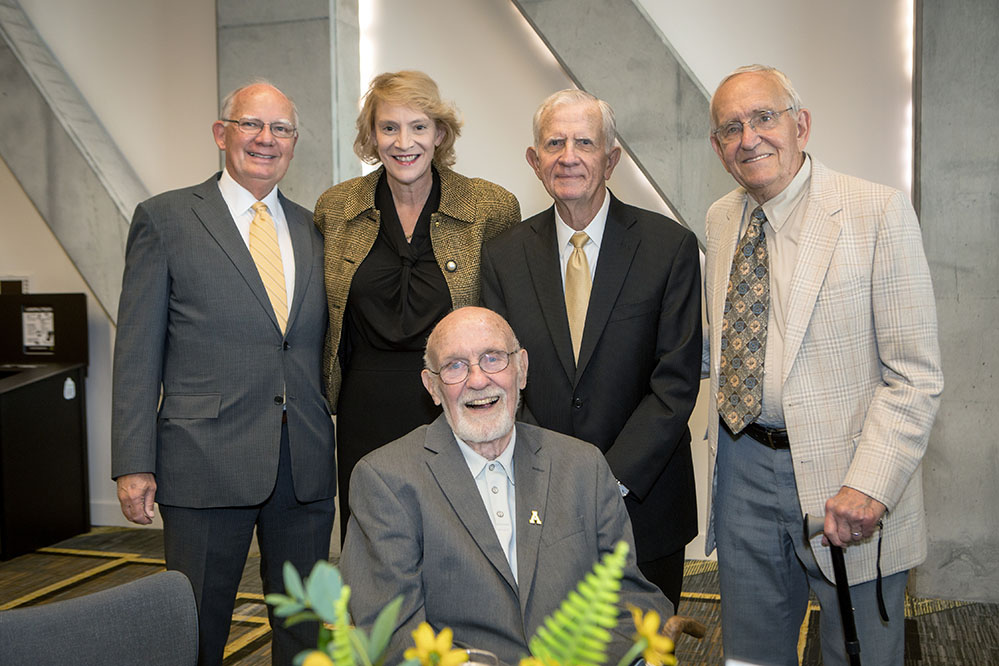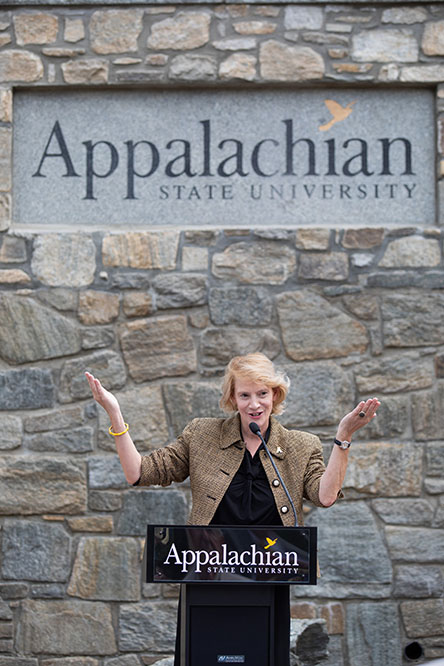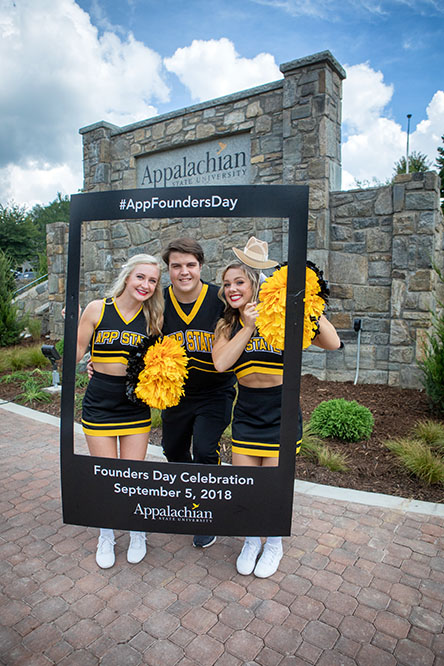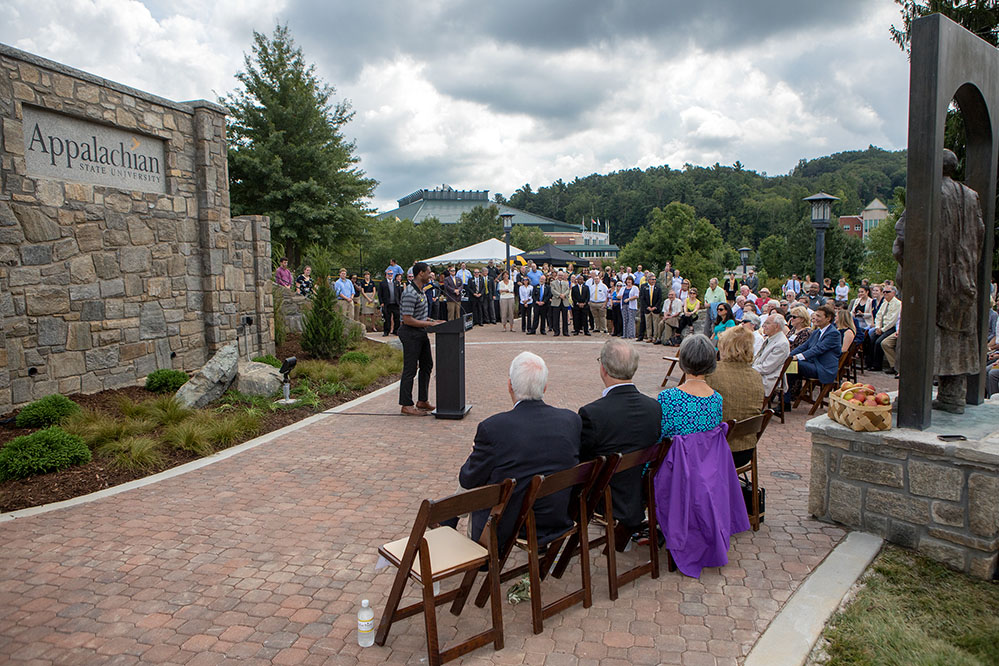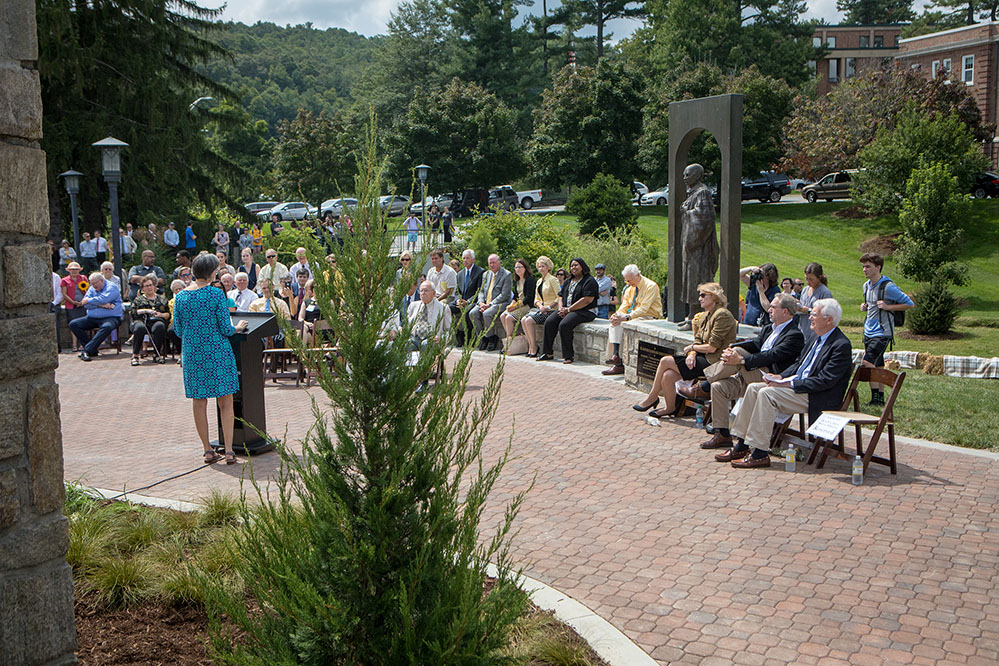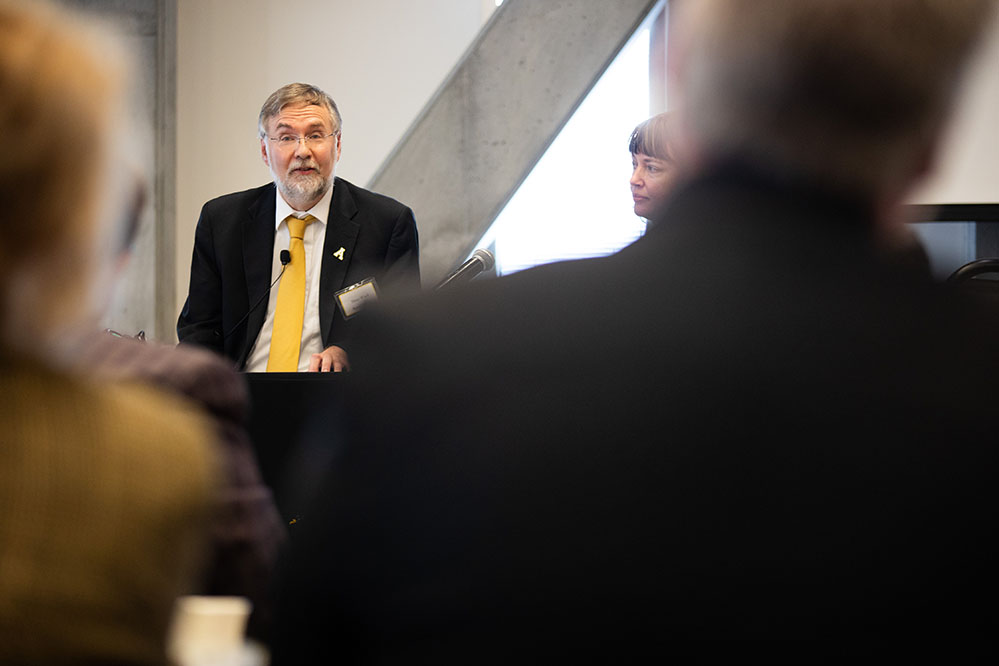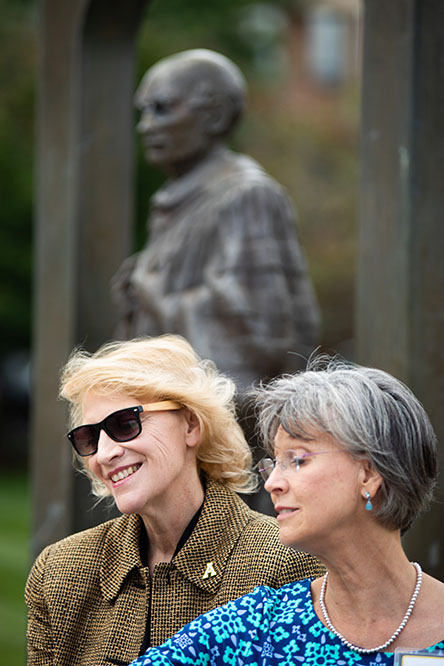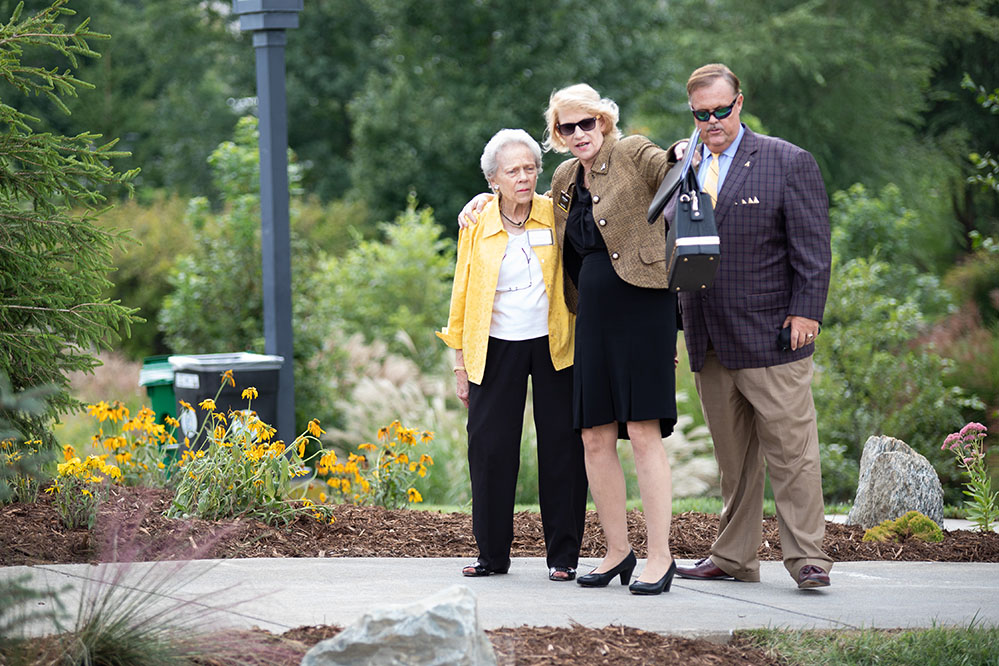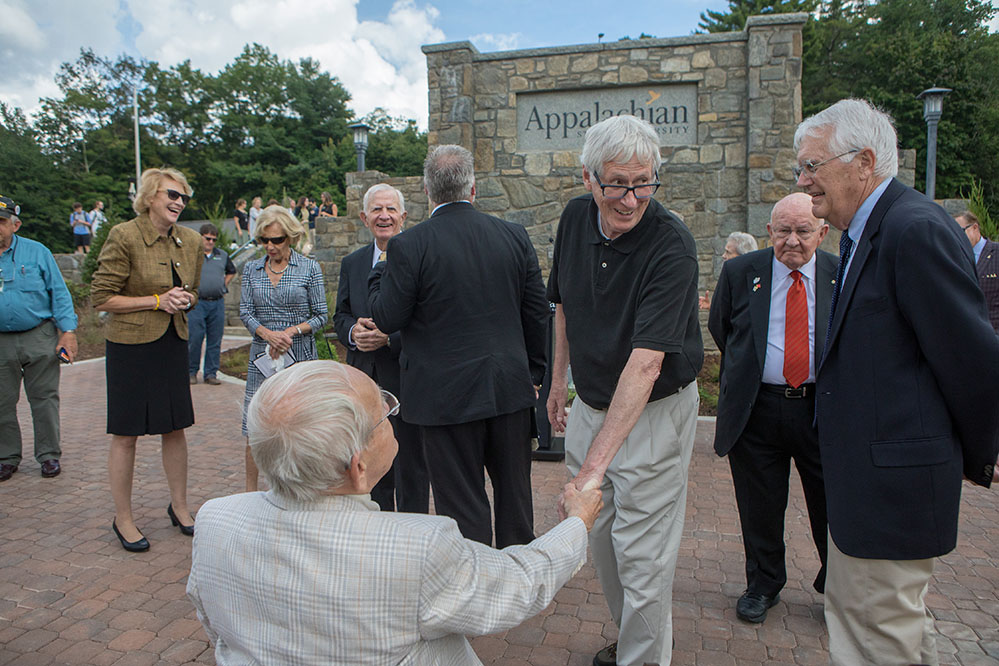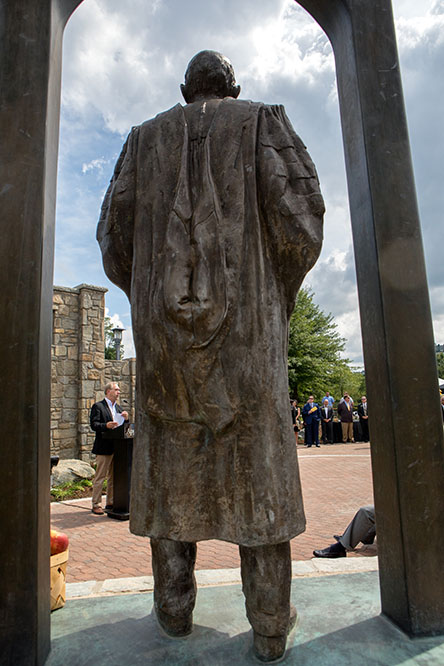 The Founders Day tradition will be celebrated each fall to honor Appalachian's founders — B.B. and D.D. Dougherty and Lillie Shull Dougherty — and the first day of classes at Appalachian in 1899, then known as Watauga Academy.
The new Founders Plaza, located at the campus entrance on Hardin Street, provides an outdoor setting for studying, small gatherings and scheduled campus events, as well as a prominent home for the university's sculpture of B.B. Dougherty. The plaza features a new stone university sign that can be viewed from both sides of the plaza — making photograph-taking easier at the popular backdrop.
Four former chancellors returned to Appalachian for the Founders Day festivities. Dr. Francis T. Borkowski and Dr. Harvey R. Durham attended the Founders Plaza dedication, and they were joined by Dr. Kenneth E. Peacock and Dr. John E. Thomas at a Founders Day luncheon held prior to the dedication, which also included members of the Dougherty family.
Doris Stam, great-granddaughter of D.D. and Lillie Shull Dougherty and author of a book about the history of Appalachian, spoke at the dedication. She said the Founders Plaza "will help us all remember the humble beginnings and personal cost of three people that were the foundation for the magnificent and extensive Appalachian State University that we see today in 2018."
Other speakers at the dedication were Dr. Karl Campbell, associate professor in Appalachian's Department of History, Boone Mayor Rennie Brantz and DeJon Milbourne, president of Appalachian's Student Government Association (SGA). Campbell spoke of the importance of Appalachian's history and Milbourne thanked everyone at the event for their dedication to the students of Appalachian.
"The university's continuing commitment to the town of Boone has strengthened and enriched our community," Brantz said. "Students and faculty have contributed to the vibrant social, economic and cultural life of our town through membership on town boards and committees, and through student sponsored service activities. New ideas of sustainability, public service and adult learning have expanded community life. And the university's commitment to international education has diversified our community in positive ways."
Attendees enjoyed refreshments and desserts from Food Services, the singing of the alma mater by Enharmonix, an a cappella vocal ensemble of students from Appalachian, giveaways of Black-eyed Susan seed packets — Appalachian's official flower — and music performances by Hayes School of Music students.
In addition to Founders Plaza, more Appalachian tradition and history is on display in the B.B. Dougherty Administration Building. Among the artifacts presented is the original academy bell, which was housed in the steeple of the Watauga Academy built in 1899. Hanging banners show the evolution of Appalachian's name, and the Department of History has put together an exhibit of photos and documentation.
About Appalachian State University
As the premier public undergraduate institution in the Southeast, Appalachian State University prepares students to lead purposeful lives. App State is one of 17 campuses in the University of North Carolina System, with a national reputation for innovative teaching and opening access to a high-quality, affordable education for all. The university enrolls more than 21,000 students, has a low student-to-faculty ratio and offers more than 150 undergraduate and 80 graduate majors at its Boone and Hickory campuses and through App State Online. Learn more at https://www.appstate.edu.
What do you think?
Share your feedback on this story.