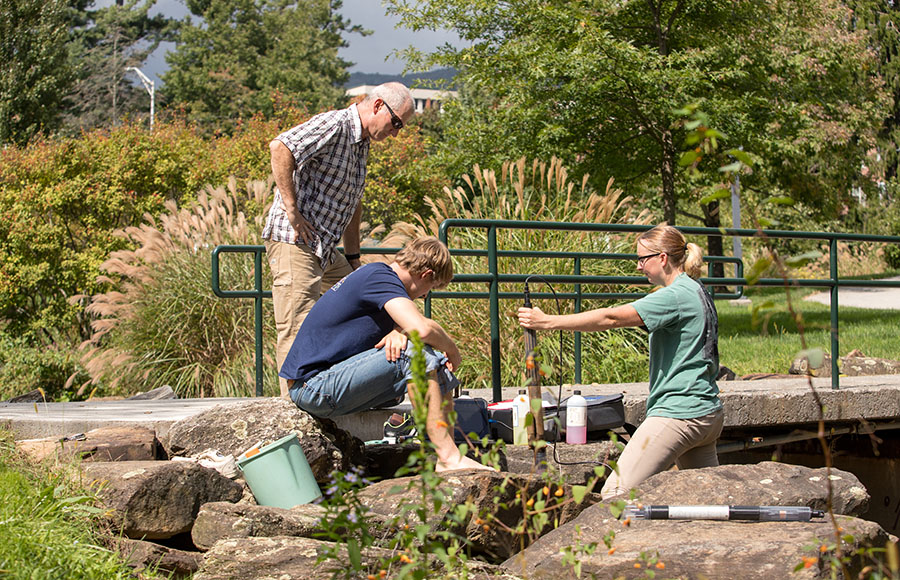 Posted Oct. 24, 2018 at 5:06 p.m.
BOONE, N.C. — Rain from recent back-to-back hurricanes put flood control measures to the test at Appalachian State University.
While the installment of sandbags and barriers on Appalachian's campus were the most visible signs of preparation for the impact of rain from Hurricane Florence, then again for Hurricane Michael, research collaborations and preplanning measures have been taking place behind the scenes for more than a decade to enable a strategic approach to handle heavy rain events on campus.
Jason Marshburn, director of Appalachian's Department of Environmental Health, Safety, and Emergency Management (EHS&EM), said his department will be working with faculty, staff and students to update a mitigation plan for storms, thanks in part to a grant awarded to the University of North Carolina System.
"Flooding is one of our top priorities. We're working with Dr. William Anderson, professor in and chair of the Department of Geological and Environmental Sciences (GES), using their water monitoring systems. We're working with the Physical Plant to determine long-term projects to put in place to mitigate and manage the flood risk," Marshburn said.
Appalachian's Physical Plant is charged with response to impending flood events.
For immediate flood threats, EHS&EM and the campus Physical Plant rely on high water alerts from one of the stream monitoring systems installed in Appalachian's campus creeks and maintained by faculty, students and staff of GES. The funding and continued support of these systems have been provided by GES, Appalachian's College of Arts and Sciences, the Office of Student Research and the University Research Council.
Anderson said, "We currently have four real-time stream gauges that measure flow, with alarms built in that send alerts (to key flood management people) and me so that we can respond to flooding at Rankin West."
Anderson currently has three undergraduate students working on data analysis from flooding events, studying contamination and preventive measures in response to flooding: Emily Fedders, a Chancellor's Scholar and senior geology major, Carly Maas, a junior geology major, and Andrew Barringer, a senior geology major.
A 'living laboratory'
Dr. Shea Tuberty, professor in and assistant chair of Appalachian's Department of Biology, also monitors the streams on campus and, along with other faculty, uses them as teaching tools.
"Boone Creek originates from the west side of Boone and collects water from a half dozen or so little creeks," he said. "Since it's so convenient, various departments use this as an outdoor classroom to demonstrate to students different techniques and to measure short- and long-term trends in water quality and quantity. This has evolved over the last 10 years, and now there is a lot of instrumentation sitting in that stream, collecting data constantly."
Tuberty, along with many other faculty members in the social and natural sciences at Appalachian, use this "living laboratory" to provide recommendations and direction for re-routing and managing water.
Over the past decade:
A buffer zone was created around Boone Creek near Cafe Portofino to stabilize the bank, shade the creek and provide a natural habitat.
Boone Creek was shifted about 15 feet to prevent it from undercutting Rivers Street.
A retaining pond was constructed between Rivers Street and the Appalachian's Roess Dining Hall, providing a natural solution to collect runoff, filter toxins and cool water before returning it to the creek.
"We continue to monitor the quality of the stream and the effectiveness of the retaining pond," Tuberty said. "There is evidence that the number of flooding events are going up. As far as resiliency, we need to reconstruct the areas in the flood plains so they're more capable of handling flooding. When buildings are being torn down and reconstructed, that is being done.
"A good example is the Beasley Media Complex at the corner of Depot and Rivers streets," he continued. "The first floor is dedicated to parking, so when it floods, all you have to do is move the cars."
Dr. Greg Taylor, assistant director of the Physical Plant, said, "We've identified key flood areas and have put in preventative measures that are working."
For the recent storms, the Physical Plant took an aggressive stance to clean out drains and retention basins before the rain began, and installed sandbags and Jersey barriers — modular concrete or plastic barriers often employed to separate lanes of traffic — to prevent water intrusion into vulnerable campus buildings.
Taylor said, "We had engineers in last week to look at what we've done, and they felt we were right on path for addressing the flooding issues."
About the Department of Geological and Environmental Sciences
Located in Western North Carolina, Appalachian State University provides the perfect setting to study geological and environmental sciences. The Department of Geological and Environmental Sciences provides students with a solid foundation on which to prepare for graduate school or build successful careers as scientists, consultants and secondary education teachers. The department offers six degree options in geology and two degree options in environmental science. Learn more at https://earth.appstate.edu.
About the Department of Biology
The Department of Biology is a community of teacher-scholars, with faculty representing the full breadth of biological specializations — from molecular genetics to landscape/ecosystem ecology. The department seeks to produce graduates with sound scientific knowledge, the skills to create new knowledge, and the excitement and appreciation of scientific discovery. Learn more at https://biology.appstate.edu.
About the College of Arts and Sciences
The College of Arts and Sciences is home to 16 academic departments, one stand-alone academic program, two centers and one residential college. These units span the humanities and the social, mathematical and natural sciences. The College of Arts and Sciences aims to develop a distinctive identity built upon our university's strengths, traditions and unique location. The college's values lie not only in service to the university and local community, but through inspiring, training, educating and sustaining the development of its students as global citizens. There are approximately 6,100 student majors in the college. As the college is also largely responsible for implementing Appalachian's general education curriculum, it is heavily involved in the education of all students at the university, including those pursuing majors in other colleges. Learn more at https://cas.appstate.edu.
About Appalachian's Facilities Operations
Facilities Operations at Appalachian State University manages operations of campus buildings, systems and utilities, as well as water treatment and steam plants that serve the campus. Services provided by Facilities Operations include housekeeping, landscaping, moving furniture and other items, and managing motor pool fleet rentals. The campus unit employees over 275 skilled technicians — including engineers, locksmiths, electricians, painters, plumbers, carpenters, roofers, welders, controls programmers, housekeepers, landscapers, mechanics and HVAC technicians. Learn more at https://facilitiesoperations.appstate.edu.
About EHS&EM at Appalachian
The Department of Environmental Health, Safety, and Emergency Management (EHS&EM) at Appalachian State University works in coordination with other departments across campus to build a safe and prepared campus in support of the university's commitment to campus safety. The department's primary responsibility is environmental health, safety and emergency management functions across campus. Learn more at https://ehsem.appstate.edu.
About Appalachian State University
As the premier public undergraduate institution in the state of North Carolina, Appalachian State University prepares students to lead purposeful lives as global citizens who understand and engage their responsibilities in creating a sustainable future for all. The Appalachian Experience promotes a spirit of inclusion that brings people together in inspiring ways to acquire and create knowledge, to grow holistically, to act with passion and determination, and to embrace diversity and difference. Located in the Blue Ridge Mountains, Appalachian is one of 17 campuses in the University of North Carolina System. Appalachian enrolls more than 19,000 students, has a low student-to-faculty ratio and offers more than 150 undergraduate and graduate majors.
What do you think?
Share your feedback on this story.