Posted Nov. 29, 2018 at 11:50 a.m.
BOONE, N.C. — Dr. Kurt Michael says he got "a front-seat view of human suffering" while volunteering for a crisis line for three years as a psychology major at the University of Colorado at Boulder.
"It was harrowing. But it also showed me there are things you can do to be helpful," said Michael, Appalachian State University's Aeschleman Distinguished Professor of Psychology.
That early glimpse into people's despair, as well as family and friends' experiences with mental health issues, moved him to explore the science that can help bring about healing. Jobs in addictions counseling and juvenile corrections further fueled his curiosity and led him to pursue advanced degrees in psychology.
The result is a career aligned with the "scientist–practitioner model" — a philosophy of integrating science and psychology practice initially developed during a national meeting of psychologists in 1949.
"It's my love. My ability to go into the community and do this work is why I got into this profession," said Michael, who continues to serve weekly in a school-based treatment program he founded in 2006 for adolescents at Watauga High School.
The Assessment, Support and Counseling (ASC) program, which expanded to Ashe and Alleghany counties, has been associated with positive outcomes and significant reductions in distress among teens struggling with depression, suicidality, anxiety and the associated academic impairments, and has become a national model for sustainable, school-based mental health treatment initiatives.
ASC, and the related suicide prevention protocols he has helped to develop, are needed in rural areas, Michael said, where rates of suicide are two to three times the national average and access to licensed mental health professionals is low or nonexistent.
"At its foundation, ASC is designed to provide ready access to effective mental health care that is so hard to find in rural communities," he said.
"It's all dependent on the university allowing me to do this, though. They see the value in it, and I'm not sure that's typical. That's unique to Appalachian."
How ASC Centers work
The idea is straightforward, Michael explained: Provide high-quality mental health intervention where adolescents are — in schools. And, do it with graduate students who are supervised by university-affiliated licensed mental health providers.
In the ASC Centers, graduate students from psychology, marriage and family therapy, and social work take on small caseloads of referred adolescents as part of the internships and practica required to complete their degrees.
The graduate students provide mental health services during regular school hours. They also meet weekly with the high schools' social workers, counselors, school administrators, and licensed, doctoral-level faculty at Appalachian to discuss the teens' issues and progress.
Adolescents benefit from easily accessible care, while the counseling profession is strengthened by graduate students' practical experience, Michael said.
"If you can't get access in the community, we as a university could provide that service under supervision and as part of training. These kids wouldn't normally get this kind of health care, and by marrying our job as educators to educate the workforce and in the K–12 landscape help educators educate their students by removing impediments to success — such as depression and anxiety — then we're serving our students, the K–12 students and their families, and the mission of Appalachian," Michael said.
Locally, ASC data show:
At Ashe County High School, 92 percent of students seeking treatment during the 2017–18 academic year showed significant improvement by the end of treatment, which generally lasted two to three months. The rate of suicide attempts requiring medical attention dropped from 6.6 percent of students in 2014 to 3.3 percent in 2017. The national average was 2.8 percent in 2015.
At Watauga High School, 70 percent of those seeking treatment in 2017–18 were significantly improved by the end of treatment, which also lasted two to three months. Between 2011 and 2016, the adolescent-reported suicide attempts requiring medical attention dropped from 4.3 percent of students to 1 percent.
"The services are designed to affect the whole person and the real-world things that occur with depression: (students becoming) less productive workers, paying less attention, having changes in appetite," Michael said.
"We've shown not only an effect in improving mental health impairment, but also a positive impact on academic outcomes and attendance."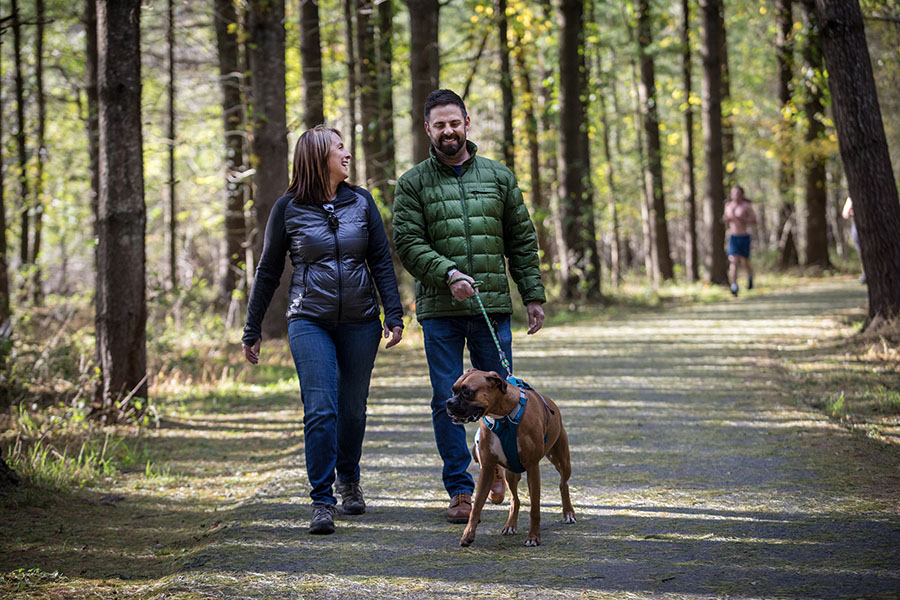 Tearing down barriers to mental health support
Michael says there is "nothing particularly remarkable that I'm doing — it's helping people get out of their own way and to help themselves."
Former students, though, say otherwise.
"He stands up for the rights of students to get these services. I'm not sure they'd get them without (this type of intervention)," said Carissa Orlando '12, who is now working on her doctorate in psychology at the University of South Carolina.
"He's tearing down the barriers to mental health support. Reaching them in the schools seems to be what works long term, and that's what Kurt instilled in all of us. We saw his passion for this work and also became passionate," alumnus Cameron Massey '10 said.
"The model has worked on multiple levels — for the youths I worked with, and for the overall school climate and culture," said Massey, who helped expand the ASC Center model into Ashe and Alleghany counties, first as a graduate student and later as a licensed clinician, and has started similar programs in South Carolina with other Appalachian alumni.
Among them is Dr. Abby Bode '13, who worked as a research assistant for Michael and interned at Watauga ASC. She said the interdisciplinary team approach that combined school, university and community knowledge is part of why she has seen adolescents benefit.
"How a psychologist can arrive at change is different from the marriage and family therapist's and social worker's perspective," said Bode, who now counsels children and adolescents in private practice in Charlottesville, Virginia. "Exposure to these different approaches is what I think made each of our work with the kids more flexible and ultimately more effective."
Michael has a passion to serve kids, Bode said, "and he creates a team of quirky personalities to do it. He realizes that working with kids takes that."
Through Michael's teaching and her work at ASC, Orlando said she learned that school mental health is an important niche to fill and it is underscored by a variety of environmental issues: poverty, homelessness, underemployment and family substance abuse, among others.
All must be considered as therapists offer diagnoses and develop innovative interventions in a rural culture, Orlando added. "I can't praise the ASC Centers and Appalachian enough — they get us ready to be professionals in the world. I felt like I was well-equipped to practice, especially in a school setting," she said.
Sustainable infrastructures
Based on the program's success, both Watauga and Ashe high schools now employ full-time coordinators of their ASC Centers, including alumna Whitney Van Sant '16 at Ashe. The centers are sustained by renewed grants.
The collaborative relationship with Appalachian's Department of Psychology also supports training of school professionals through two other grant-supported protocols led by Dr. J.P. Jameson, associate professor of psychology at Appalachian, and Michael:
The Counseling on Access to Lethal Means (CALM) program, which trains educators how to ask teens and their families about access to guns, opioids or other means of carrying out a suicide attempt.
Prevention of Escalating Adolescent Crisis Events (PEACE), a comprehensive risk assessment designed for use by licensed clinicians working collaboratively with school personnel.
Much of the stigma around mental health care in rural areas is being reduced, Michael said, as young people and their families become more comfortable acknowledging and dealing with personal issues and increasingly refer their friends to ASC Centers.
Michael's other accomplishments in advocating for rural mental health and sustaining its support:
"Rural mental health has been my priority for a long time and now it's becoming other people's priority as graduates of our program carry forth the idea," Michael said.
As a member of The Appalachia Initiative: A Bipartisan Approach for the 21st Century — a task force co-chaired by senators from Virginia, West Virginia, Georgia and North Carolina dedicated to finding pragmatic, bipartisan solutions to Appalachia's challenges — Michael has spoken twice in Washington, D.C., impressing on others the need for greater attention to rural mental health.
"Rural school mental health hasn't been a top priority, and I think that is changing," he said.
Meet some Mountaineers who are living intentional lives, and making a difference for others.
Related links
About the Dr. Wiley F. Smith Department of Psychology
Appalachian State University's Dr. Wiley F. Smith Department of Psychology serves more than 1,400 undergraduate majors seeking the Bachelor of Arts or Bachelor of Science degree in psychology, as well as 90 graduate students across four graduate programs: experimental psychology (MA), industrial-organizational psychology and human resource management (MA), school psychology (MA/SSP) and clinical psychology (PsyD). Learn more at https://psych.appstate.edu.
About the College of Arts and Sciences
The College of Arts and Sciences (CAS) at Appalachian State University is home to 17 academic departments, two centers and one residential college. These units span the humanities and the social, mathematical and natural sciences. CAS aims to develop a distinctive identity built upon our university's strengths, traditions and unique location. The college's values lie not only in service to the university and local community, but through inspiring, training, educating and sustaining the development of its students as global citizens. More than 6,400 student majors are enrolled in the college. As the college is also largely responsible for implementing App State's general education curriculum, it is heavily involved in the education of all students at the university, including those pursuing majors in other colleges. Learn more at https://cas.appstate.edu.
About the Department of Social Work
The Department of Social Work in Appalachian State University's Beaver College of Health Sciences offers both undergraduate and graduate programs, and is accredited by the Council on Social Work Education. The undergraduate social work program prepares students for generalist social work practice, and graduates can be found in social service agencies, hospitals, schools, hospices, criminal justice systems and mental health facilities. The graduate program teaches students advanced clinical skills for their work as social service managers and leaders, or clinicians who provide services to individuals, families and communities. Learn more at https://socialwork.appstate.edu.
About the Beaver College of Health Sciences
Appalachian State University's Beaver College of Health Sciences (BCHS), opened in 2010, is transforming the health and quality of life for the communities it serves through interprofessional collaboration and innovation in teaching, scholarship, service and clinical outreach. BCHS offers nine undergraduate degree programs and seven graduate degree programs, which are organized into six departments: Nursing, Nutrition and Health Care Management, Public Health and Exercise Science, Recreation Management and Physical Education, Rehabilitation Sciences, and Social Work. The college's academic programs are located in the Holmes Convocation Center on App State's main campus and the Leon Levine Hall of Health Sciences, a state-of-the-art, 203,000-square-foot facility that is the cornerstone of the Wellness District. In addition, the college supports the Blue Cross NC Institute for Health and Human Services and has collaborative partnerships with the Wake Forest School of Medicine's Physician Assistant Program, the Appalachian Regional Health System and numerous other health agencies. Learn more at https://healthsciences.appstate.edu.
About the Reich College of Education
Appalachian State University offers one of the largest undergraduate teacher preparation programs in North Carolina, graduating about 500 teachers a year. The Reich College of Education enrolls more than 2,000 students in its bachelor's, master's, education specialist and doctoral degree programs. With so many teacher education graduates working in the state, there is at least one RCOE graduate teaching in every county in North Carolina. Learn more at https://rcoe.appstate.edu.
About Appalachian State University
As the premier public undergraduate institution in the Southeast, Appalachian State University prepares students to lead purposeful lives. App State is one of 17 campuses in the University of North Carolina System, with a national reputation for innovative teaching and opening access to a high-quality, affordable education for all. The university enrolls more than 21,000 students, has a low student-to-faculty ratio and offers more than 150 undergraduate and 80 graduate majors at its Boone and Hickory campuses and through App State Online. Learn more at https://www.appstate.edu.
What do you think?
Share your feedback on this story.