Posted March 6, 2019 at 11:22 a.m.
BOONE, N.C. — Appalachian State University's Scholars with Diverse Abilities Program (SDAP) — a program designed to prepare college-age students with intellectual disabilities for personal growth and occupational success — has partnered with Boone-based technology firm ECR Software Corporation (ECRS) to create a mutually beneficial training program for SDAP students. The ECRS–SDAP collaboration is now in its second semester.
The training program is part of an SDAP community access course, in which students learn both life and career skills.
"Empowering independence is a core value at ECRS," said Melanie Marshall, lead trainer and database integrity manager for ECRS. "We strive to put our values into action, in business and in our community. Working with SDAP students enables us to do just that."
ECRS develops point-of-sale systems for retail outlets. Its showroom displays live systems, including scanners with payment terminals and self-checkout stations.
"The pieces really come together in our showroom: We're able to provide a low-stress environment for these students to train and gain critical hands-on experience for future employment in a retail environment," Marshall said.
Mary Strong '16 '17, transition and career coordinator for SDAP, said, "Practicing in real-life is how students learn. The setup at ECRS allows us to teach skills that the students can use.
"A lot of students who have intellectual disabilities struggle with money, being able to count. Our students are able to go and practice, using real money, without the pressure of being on the job."
Work and life skills
Each month, SDAP instructors and students travel to the ECRS showroom for training sessions. Students take turns acting as customer, cashier and bagger, progressively learning the following skills over the course of the semester:
Counting and handling money.
Scanning groceries.
Operating a cash register.
Accepting different forms of payment.
Using self-checkout stations.
However, training goes beyond the use of the machines — ECRS and SDAP trainers instruct students in customer service skills, interview skills and budgeting for grocery purchases.
Appalachian's SDAP focuses on allowing students to explore their goals in four categories: career, personal, social and academic.
"Our model is like the overall Appalachian model, where students come in and explore what they want to do, what kind of classes they want to take," Strong explained.
The required community access course for SDAP students includes career exploration. "That's where we dovetail in the ECRS program," Strong said. "The hope is to have this as a regular part of their curriculum, where students will have cashier training as part of job exploration."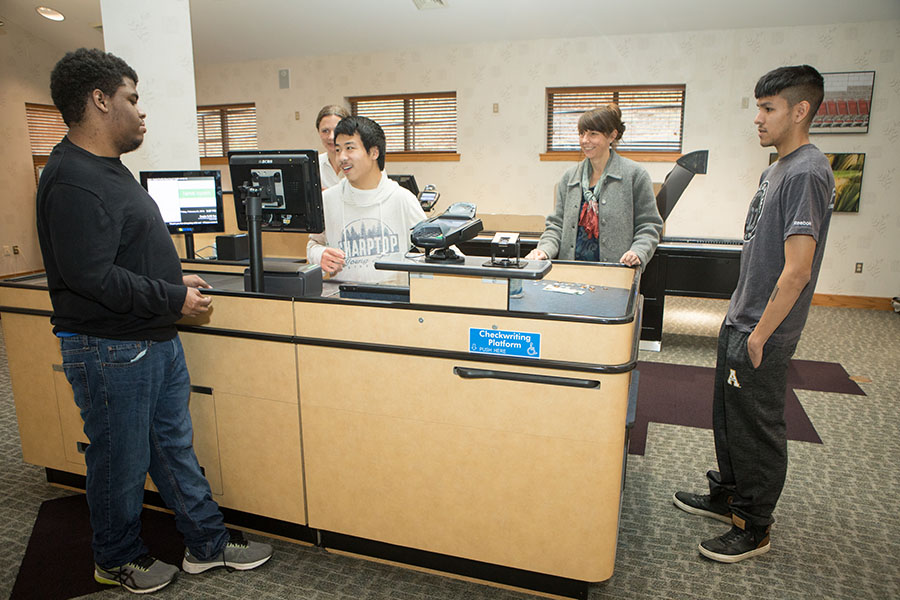 Mutually beneficial
This community and campus collaboration benefits ECRS as well, Strong said. "More and more individuals with intellectual and developmental disabilities (IDD) are entering the workforce. This is in part due to the Workforce Innovation and Opportunity Act and the current cultural awareness of the importance and benefits of inclusion in the work environment," she explained.
"Having our students learning on the ECRS system could reveal ways their clients could better train and support individuals with IDD."
Marshall said, "The partnership between SDAP and ECRS creates a lot of opportunity. I'm grateful to be able to work directly with these students. It's important to empower their independence so they can succeed in the workplace."
What do you think?
Share your feedback on this story.
About ECR Software Corporation (ECRS)
ECR Software Corporation (ECRS), headquartered in Boone, North Carolina, was started in 1989 by young entrepreneur and Appalachian alumnus Pete Catoe '92. ECRS is an award-winning, innovative company bringing together retail software, hardware and services to create solutions in retail automation. Since its inception, ECRS has grown into a leading provider of retail automation systems to merchants in North America and beyond. Learn more at https://www.ecrs.com.
Many Appalachian students benefit from having peers with intellectual challenges on campus
Feb. 20, 2017
About the Reich College of Education
Appalachian State University offers one of the largest undergraduate teacher preparation programs in North Carolina, graduating about 500 teachers a year. The Reich College of Education enrolls more than 2,000 students in its bachelor's, master's, education specialist and doctoral degree programs. With so many teacher education graduates working in the state, there is at least one RCOE graduate teaching in every county in North Carolina. Learn more at https://rcoe.appstate.edu.
About Appalachian State University
As the premier public undergraduate institution in the Southeast, Appalachian State University prepares students to lead purposeful lives as global citizens who understand and engage their responsibilities in creating a sustainable future for all. The Appalachian Experience promotes a spirit of inclusion that brings people together in inspiring ways to acquire and create knowledge, to grow holistically, to act with passion and determination, and to embrace diversity and difference. Located in the Blue Ridge Mountains, Appalachian is one of 17 campuses in the University of North Carolina System. Appalachian enrolls nearly 21,000 students, has a low student-to-faculty ratio and offers more than 150 undergraduate and graduate majors.