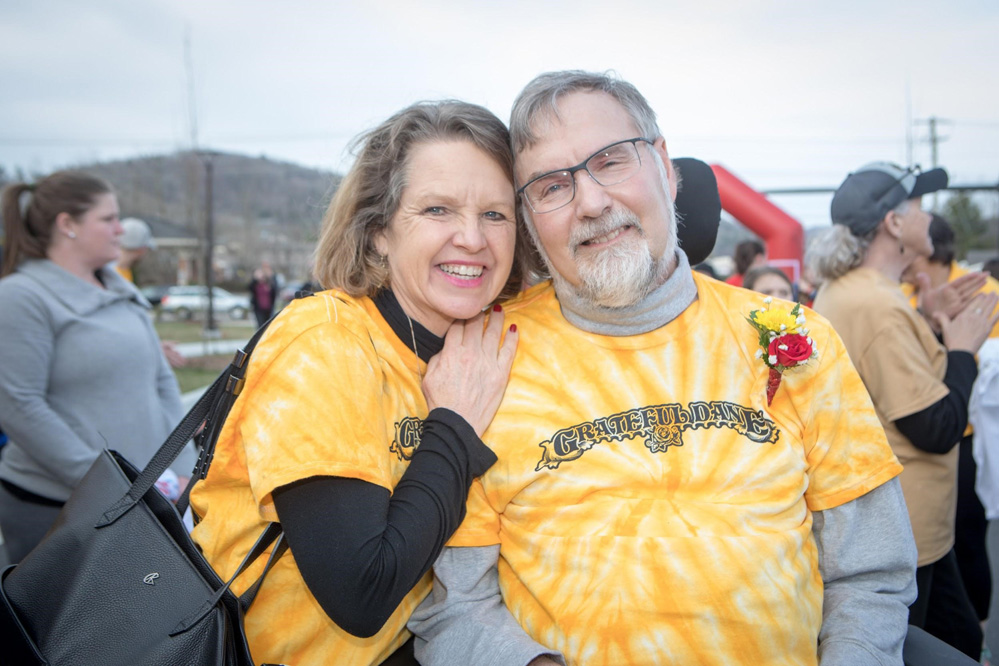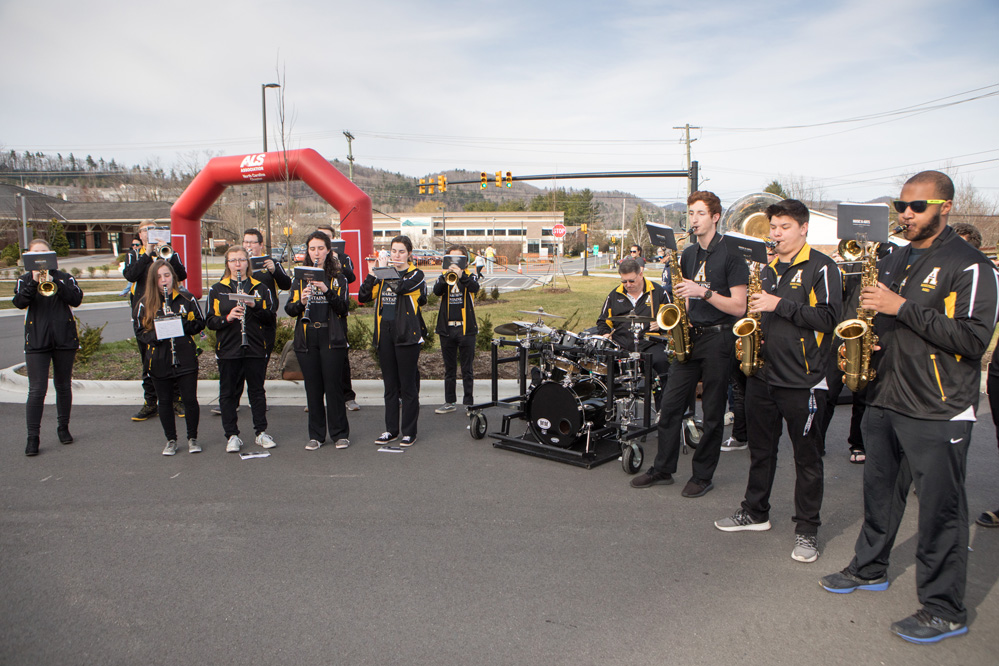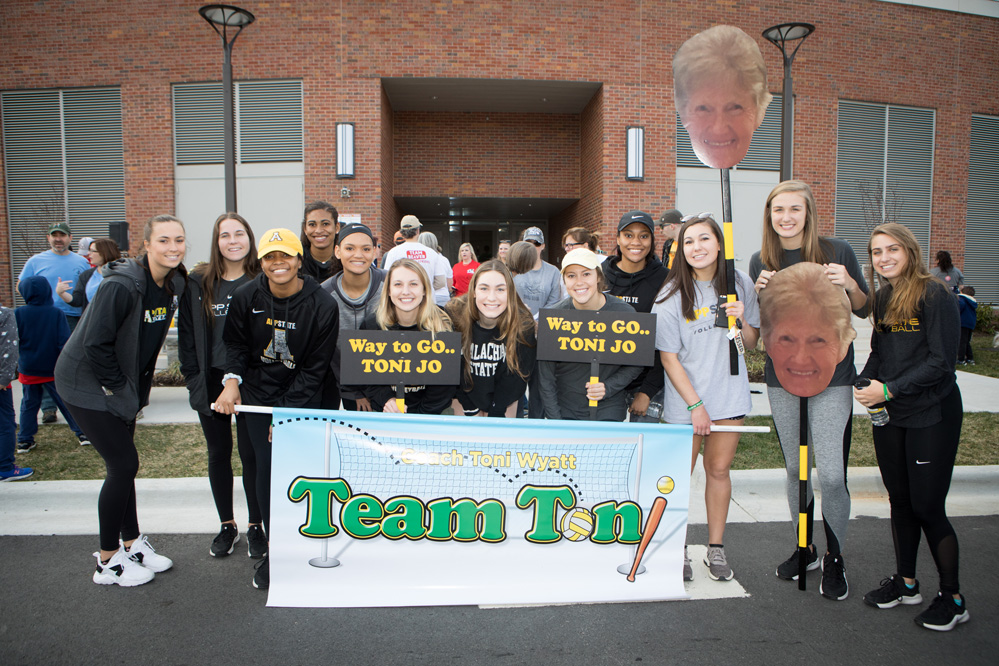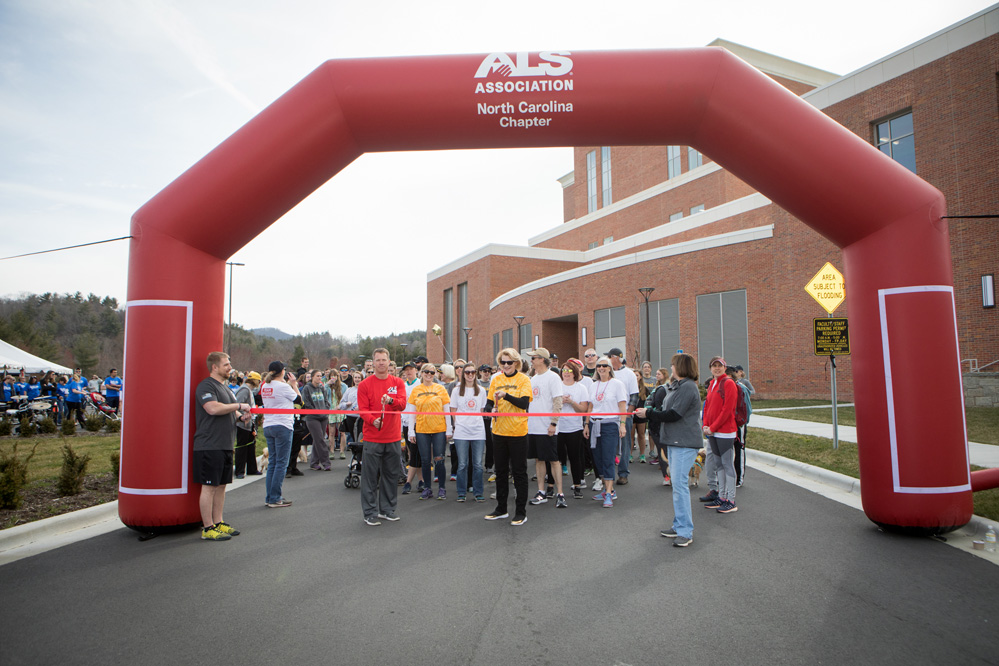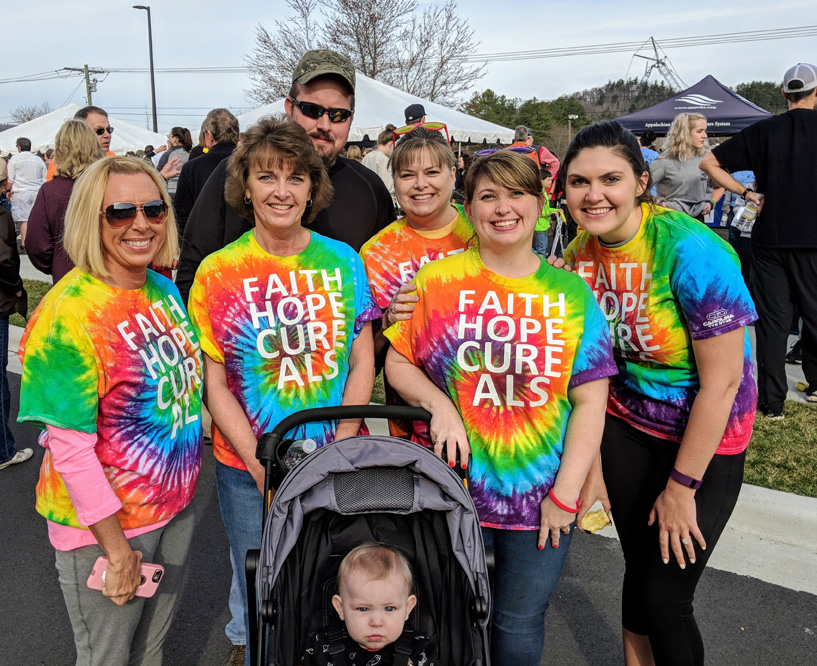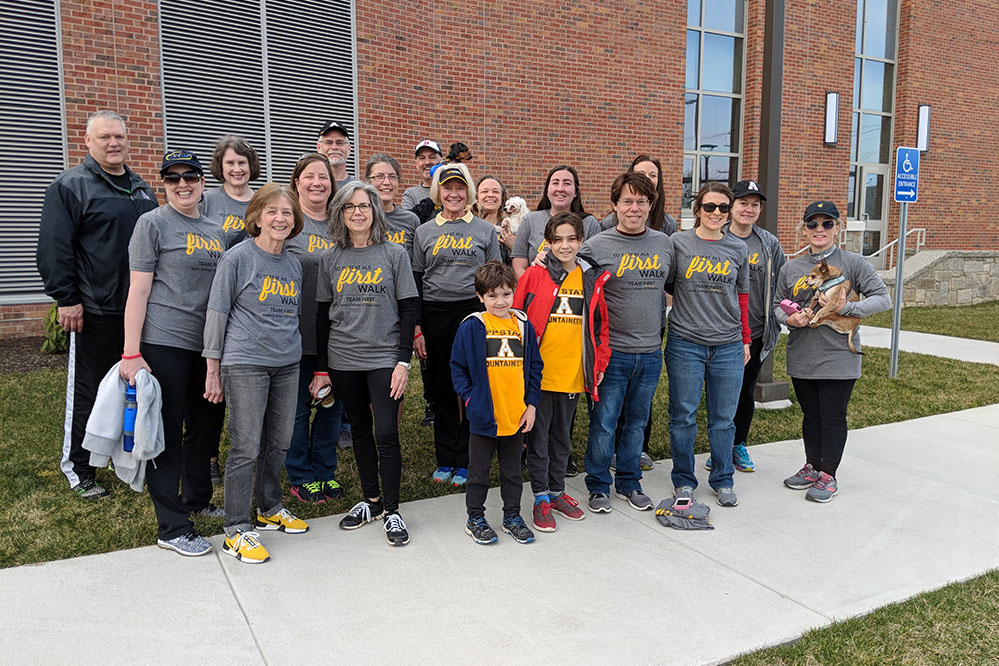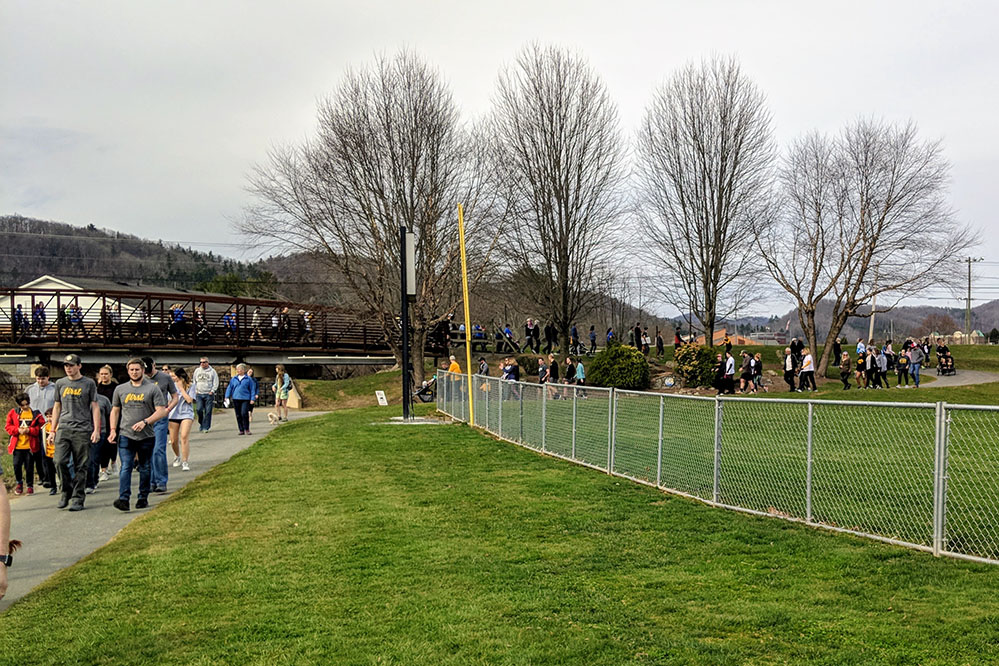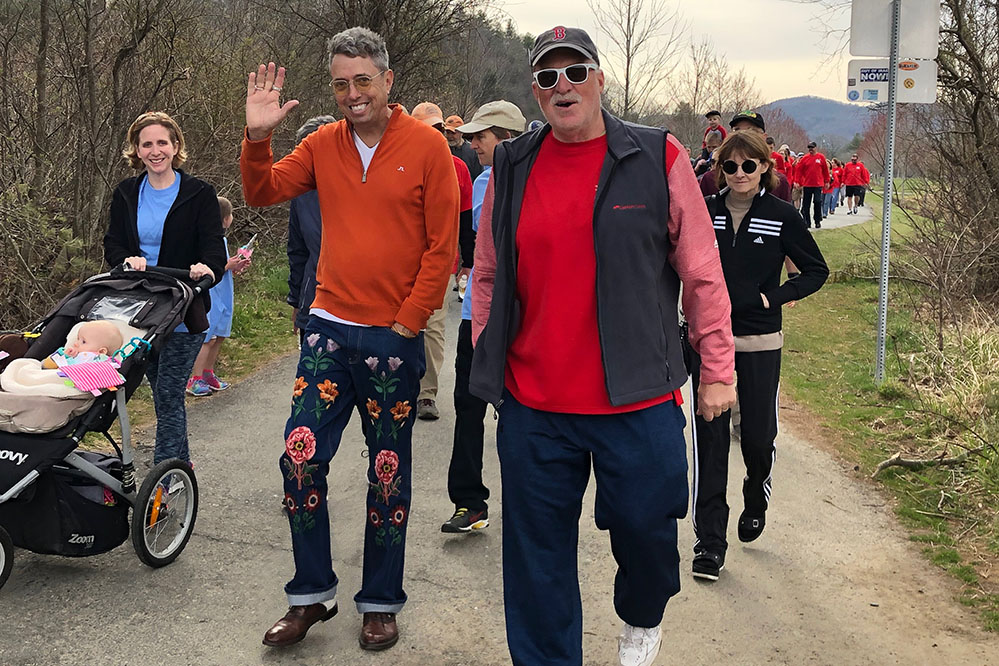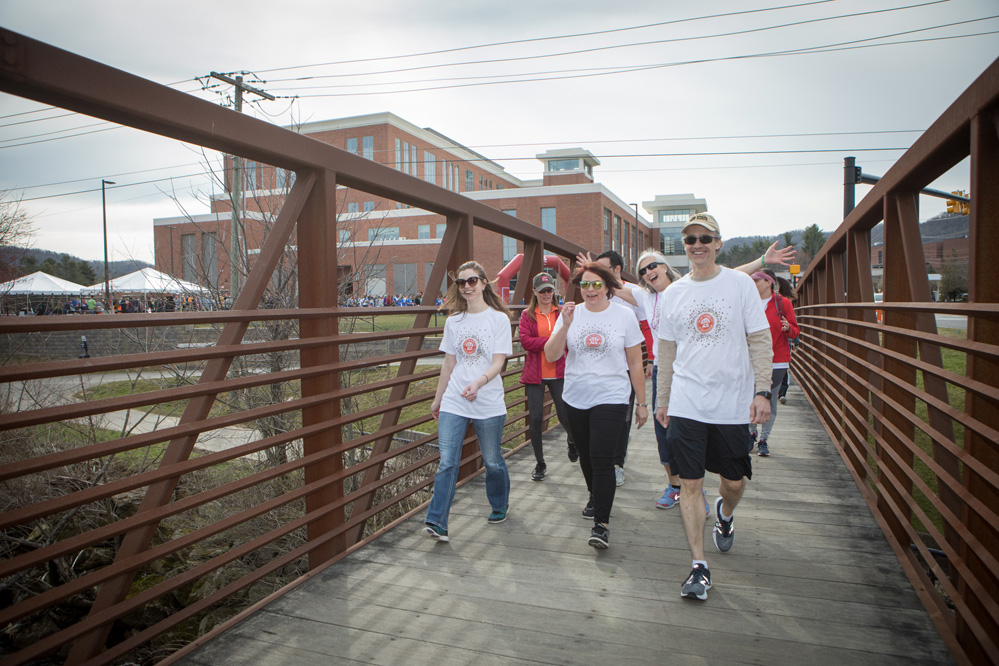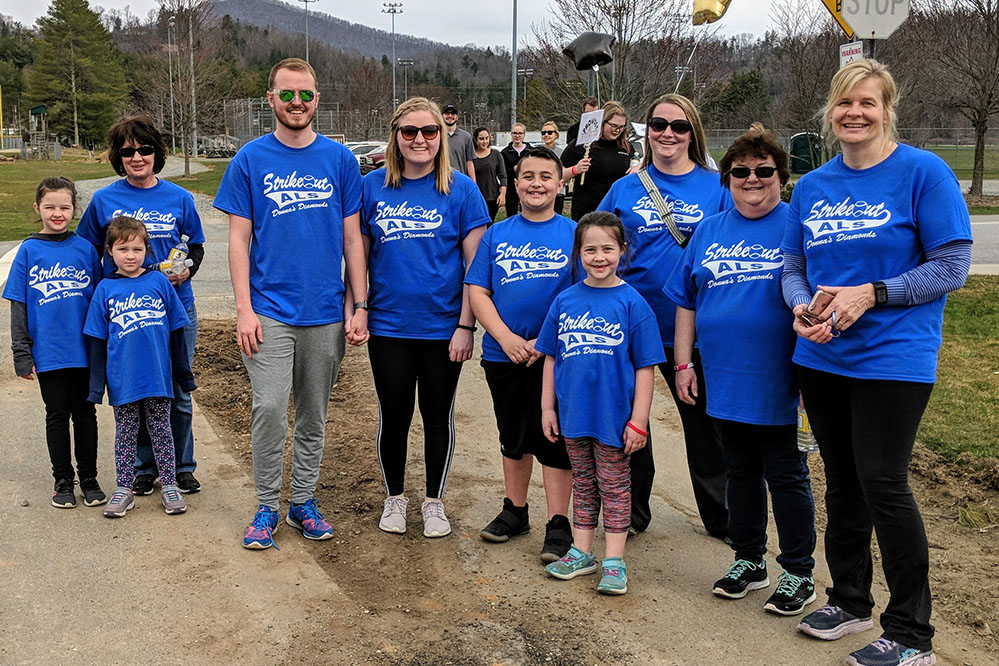 Posted April 4, 2019 at 9:32 a.m.
BOONE, N.C. — Appalachian State University and its Beaver College of Health Sciences, along with Appalachian Regional Healthcare System, partnered with the ALS Association North Carolina Chapter to sponsor the university's inaugural Walk to Defeat ALS. More than 500 walkers participated in the event Saturday, raising nearly $47,000 for the ALS Association and its mission of research, advocacy and service.
This year's event was organized to honor Dr. Dane Ward, dean of libraries at Appalachian. Ward was diagnosed with amyotrophic lateral sclerosis (ALS) — also known as Lou Gehrig's disease — in October 2017, shortly after he and his wife, Jenny Ward, director of development in the Beaver College of Health Sciences (BCHS), moved to Boone. ALS is a progressive neurodegenerative disease that affects the nerve cells of the brain and spinal cord.
"I am so grateful for the tremendous support of our community for Appalachian's first Walk to Defeat ALS," Ward said. "The large turnout and funds raised highlight the caring nature of the High Country and our collective willingness to help each other during times of need."
Dr. Marie Huff, dean of the BCHS, spearheaded the event with an original goal of $25,000 — a goal that was surpassed by almost double. Additionally, Appalachian Mountain Brewery in Boone held a separate fundraiser Saturday evening after the Defeat ALS Walk, the funds from which supplemented those raised by the walkers.
"These kinds of events not only address a great cause, but they're bonding experiences," Huff said. "It brings people together, gives people a sense of pride about being part of the university or part of a team and doing something to make other people's lives better."
In addition to the walk, the BCHS hosted Dr. Richard Bedlack, professor of neurology at Duke University and director of the Duke ALS Clinic, on Friday in Appalachian's Leon Levine Hall of Health Sciences. His presentation, "ALS: An Overview," may be viewed here.
ALS usually strikes individuals between the ages of 40 and 70, and approximately 20,000 people in the U.S. have the disease at any given time. Although there is no cure for ALS or a treatment that halts the disease's progression, scientists funded through the ALS Association's global research program have made significant progress in understanding what causes the disease.
In the words of the ALS Association, "Fundraising through the walk drives bold and urgent innovation as we march together toward a cure for ALS."
What do you think?
Share your feedback on this story.
The Appalachian Online
Oct. 17, 2018
About University Libraries
University Libraries at Appalachian State University contributes to the campus mission of learning, teaching, advancing knowledge, engagement and effectiveness. Belk Library and Information Commons along with the Nicholas Erneston Music Library provide academic resources for all students and faculty. Within the library, students and faculty find group and quiet study spaces, the Digital Media Studio, the inspire lab, the Idea Factory, digital devices to check out, and special collections such as the W.L. Eury Appalachian Collection and Instructional Materials Center. Learn more at https://library.appstate.edu.
About the Beaver College of Health Sciences
Appalachian's Beaver College of Health Sciences opened in 2010 as the result of a strategic university commitment to significantly enhance the health and quality of life for individuals, families and communities in North Carolina and beyond. In 2015, the college was named for an Appalachian alumnus and pioneer in the health care industry — Donald C. Beaver '62 '64 of Conover. The college offers nine undergraduate degree programs and seven graduate degree programs, which are organized into six departments: Communication Sciences and Disorders; Health and Exercise Science; Nursing; Nutrition and Health Care Management; Recreation Management and Physical Education; and Social Work. Learn more at https://healthsciences.appstate.edu.
About Appalachian State University
As the premier public undergraduate institution in the state of North Carolina, Appalachian State University prepares students to lead purposeful lives as global citizens who understand and engage their responsibilities in creating a sustainable future for all. The Appalachian Experience promotes a spirit of inclusion that brings people together in inspiring ways to acquire and create knowledge, to grow holistically, to act with passion and determination, and to embrace diversity and difference. Located in the Blue Ridge Mountains, Appalachian is one of 17 campuses in the University of North Carolina System. Appalachian enrolls more than 20,000 students, has a low student-to-faculty ratio and offers more than 150 undergraduate and graduate majors.