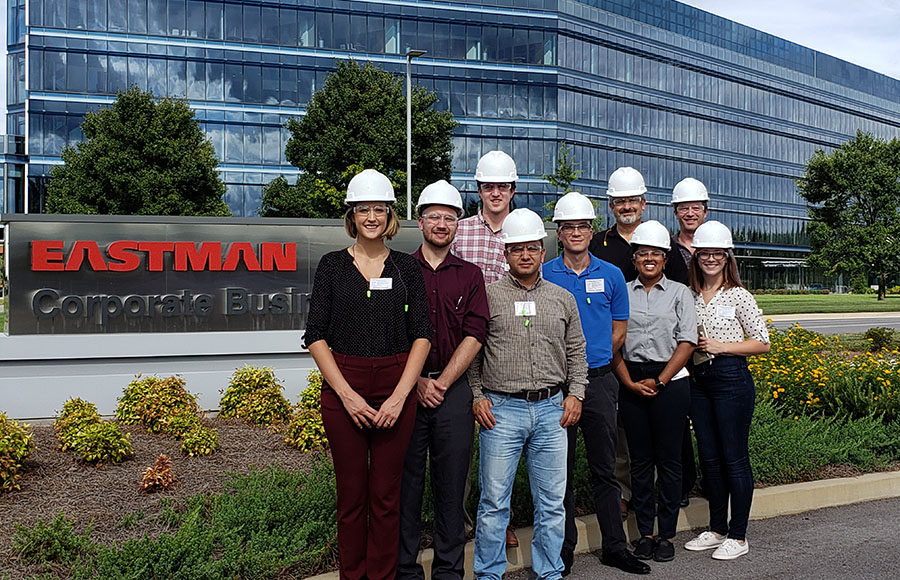 IOHRM graduate students involved in the research project
Posted June 4, 2019 at 11:43 a.m.
BOONE, N.C. — At Appalachian State University, the Human Resources (HR) Science Research Team — a group comprising faculty members and graduate students in Appalachian's Industrial-Organizational Psychology and Human Resource Management (IOHRM) program — is exploring how the use of data analytics could factor in to increased workplace safety for companies and their employees.
The team's multiyear data analytics project with Eastman Chemical Co., a chemicals, fibers and plastics manufacturer located in Kingsport, Tennessee, began in fall 2018, when Dr. Shawn Bergman, professor in Appalachian's Dr. Wiley F. Smith Department of Psychology, was awarded $37,000 in funding from the National Institute for Occupational Safety and Health (NIOSH) for the study. Bergman has received an additional $37,000 in funding from NIOSH for the second year of the study in 2019–20.
The HR Science Research Team's first goal for the project was to develop an analytics readiness audit that will evaluate a company's safety and health metrics.
"This audit will inform the development of data systems, sources and sets, which will in turn allow the team to conduct a multiphase analytics process to identify patterns in the data and develop models to help prevent future injuries," Bergman explained.
Under the direction of Bergman and his IOHRM colleagues Dr. Timothy Ludwig and Dr. Yalçın Açıkgöz, IOHRM graduate students Lauren Ferber '16, Philip Hinson and Matthew Laske have established contact and built relationships with safety professionals from Eastman Chemical Co. in order to begin collecting, organizing and evaluating the company's safety data.
"The information from these analyses will allow for the production of industry-specific and more general documents to be published in the occupational safety literature in order to inform industries of new techniques to improve their safety programs," Bergman said.
Appalachian's IOHRM program, an interdisciplinary Master of Arts degree, prepares professionals for work in business, industry and government. The degree is offered by the university's Department of Psychology in the College of Arts and Sciences and the Department of Management in the Walker College of Business.
What do you think?
Share your feedback on this story.
IOHRM graduate students involved in the research project
Industrial-Organizational Psychology and Human Resource Management Program
About the Dr. Wiley F. Smith Department of Psychology
Appalachian State University's Dr. Wiley F. Smith Department of Psychology serves more than 1,400 undergraduate majors seeking the Bachelor of Arts or Bachelor of Science degree in psychology, as well as 90 graduate students across four graduate programs: experimental psychology (MA), industrial-organizational psychology and human resource management (MA), school psychology (MA/SSP) and clinical psychology (PsyD). Learn more at https://psych.appstate.edu.
About the College of Arts and Sciences
The College of Arts and Sciences (CAS) at Appalachian State University is home to 17 academic departments, two centers and one residential college. These units span the humanities and the social, mathematical and natural sciences. CAS aims to develop a distinctive identity built upon our university's strengths, traditions and unique location. The college's values lie not only in service to the university and local community, but through inspiring, training, educating and sustaining the development of its students as global citizens. More than 6,400 student majors are enrolled in the college. As the college is also largely responsible for implementing App State's general education curriculum, it is heavily involved in the education of all students at the university, including those pursuing majors in other colleges. Learn more at https://cas.appstate.edu.
About the Department of Management
The Department of Management offers undergraduate and graduate degree programs to prepare students for managerial responsibilities in today's dynamic environment. Learn more at https://management.appstate.edu.
About the Walker College of Business
The Walker College of Business at Appalachian State University delivers transformational educational experiences that prepare and inspire students to be ethical, innovative and engaged business leaders who positively impact our community, both locally and globally. The college places emphasis on international experiences, sustainable business practices, entrepreneurial programs and real-world applications with industry. Enrolling approximately 3,000 undergraduates in 10 majors and 175 graduate students in three master's programs, the Walker College is accredited by AACSB International – the premier global accrediting body for schools of business. Learn more at https://business.appstate.edu.
About Appalachian State University
As the premier public undergraduate institution in the Southeast, Appalachian State University prepares students to lead purposeful lives as global citizens who understand and engage their responsibilities in creating a sustainable future for all. The Appalachian Experience promotes a spirit of inclusion that brings people together in inspiring ways to acquire and create knowledge, to grow holistically, to act with passion and determination, and to embrace diversity and difference. Located in the Blue Ridge Mountains, Appalachian is one of 17 campuses in the University of North Carolina System. Appalachian enrolls nearly 21,000 students, has a low student-to-faculty ratio and offers more than 150 undergraduate and graduate majors.