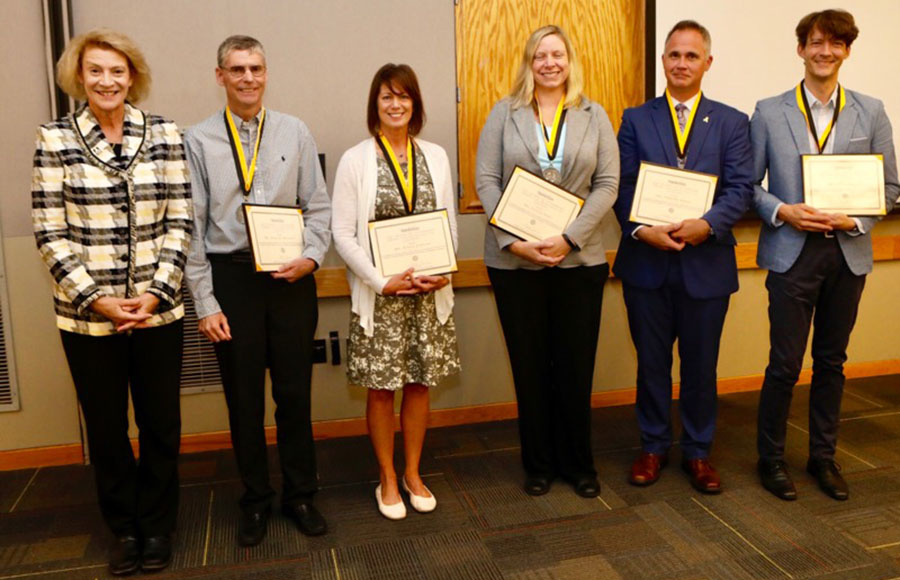 Posted Oct. 7, 2019 at 4:42 p.m.
BOONE, N.C. — Appalachian State University recognized seven faculty members for excellence in teaching during its Fall 2019 Faculty and Staff Meeting held Friday, Sept. 6, on Appalachian's campus.
"Appalachian is proud to count these honorees among our faculty," Chancellor Sheri Everts said. "They exemplify Appalachian's dedication to the success of our students and contribute to our standing as the premier public undergraduate institution in the state."
The faculty, who each received an award and cash prize conferred by the University of North Carolina System during Appalachian's Spring 2019 Commencement ceremonies, were recognized at the fall meeting by Appalachian Provost and Executive Vice Chancellor Dr. Darrell Kruger.
D. Jason Miller, associate professor in the Department of Sustainable Technology and the Built Environment (STBE), is Appalachian's 2019 recipient of the UNC Board of Governors Excellence in Teaching Award. As part of the award, Miller received a bronze medallion and a $12,500 cash prize.
The UNC System Board of Governors Excellence in Teaching Awards were established in 1994 to underscore the importance of teaching and to encourage, identify, recognize, reward and support good teaching within the System. The awards are presented annually to a faculty member of each of the System's 17 constituent institutions.
In addition to the systemwide award, UNC campuses receive a further allocation each year for teaching excellence awards as determined by each campus. Appalachian's selection committee recommended the annual allocation be awarded to one first runner-up to the systemwide award and up to five faculty members who teach at the baccalaureate lower division and who receive the most votes from the committee.
Dr. Holly Hirst, professor in the Department of Mathematical Sciences, was Appalachian's runner-up. She received a $1,500 cash prize.
The recipients of the Appalachian campus-level excellence in teaching awards, who each received a $1,000 cash prize:
More on the 2019–20 awardees
What do you think?
Share your feedback on this story.
About Appalachian State University
As the premier public undergraduate institution in the Southeast, Appalachian State University prepares students to lead purposeful lives. App State is one of 17 campuses in the University of North Carolina System, with a national reputation for innovative teaching and opening access to a high-quality, affordable education for all. The university enrolls more than 21,000 students, has a low student-to-faculty ratio and offers more than 150 undergraduate and 80 graduate majors at its Boone and Hickory campuses and through App State Online. Learn more at https://www.appstate.edu.