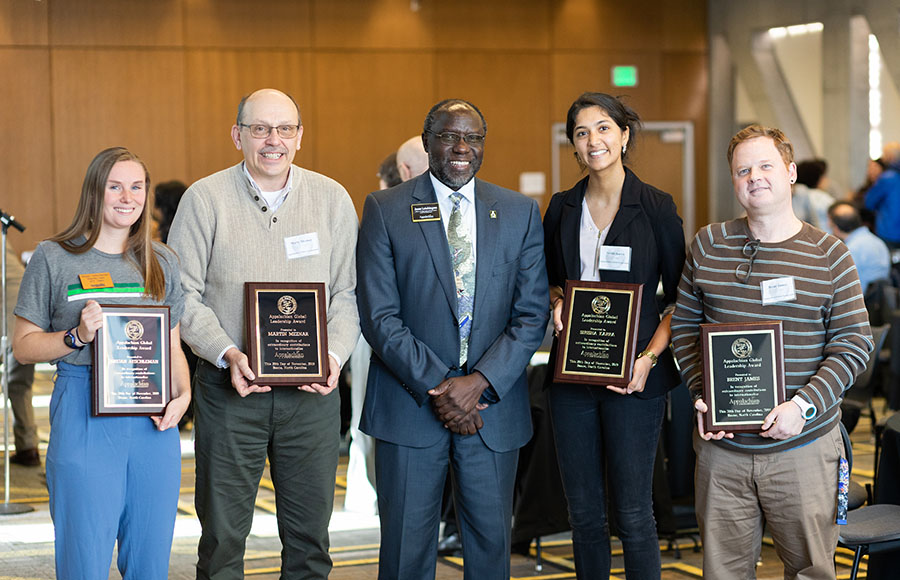 Posted Dec. 9, 2019 at 9:24 a.m.
BOONE, N.C. — Appalachian State University conferred its 2019 Global Leadership Awards and Global Engagement Award as part of the annual Appalachian Global Symposium hosted by Appalachian's Office of International Education and Development (OIED) Nov. 20. Six winners were recognized with Global Leadership Awards and an alumna received the Global Engagement Award.
"This year's Global Leadership Awards recipients exemplify the high quality and diversity of our faculty, staff and students' global engagement work," said Dr. Maria Anastasiou, executive director of OIED.
Dr. Jesse Lutabingwa, associate vice chancellor of international education and development, director of international research and development and professor of public administration, said this year's Global Engagement Award winner is "one of the many deserving individuals outside the university who have made significant contributions to support Appalachian's global engagement efforts."
The recipients of the 2019 Global Leadership Awards and Global Engagement Award:
"Dr. James and Dr. Meznar have created numerous innovative, meaningful and highly effective global learning opportunities for our students and continue to greatly support students through their global learning journeys," Anastasiou said. "The winning students truly embody what it means to be a global citizen though their work and engagement on and off Appalachian's campus."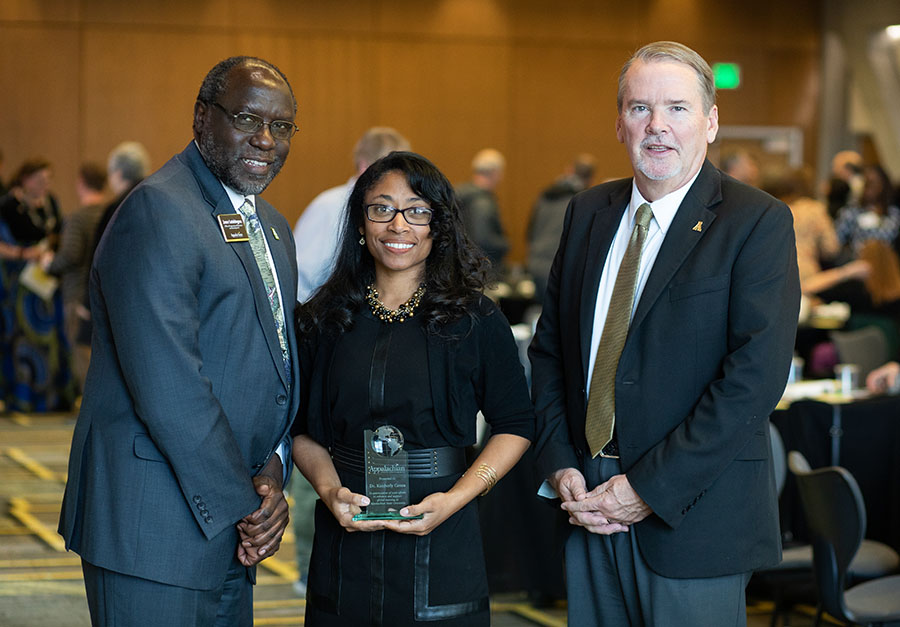 The Global Leadership Awards recognize students, faculty and staff who have made extraordinary contributions to global learning by initiating, developing and/or supporting opportunities for global learning at Appalachian and in the local community. The Global Engagement Award recognizes individuals whose support of global engagement has resulted in increased global learning opportunities for Appalachian students.
About the awards winners
Dr. Brent James
Senior lecturer
Faculty Global Leadership Award
Dr. Martin Meznar
Associate dean for global and civic engagement
Staff Global Leadership Award
Megan Aeschleman
Senior middle grades education major
Undergraduate Student Leadership Award
Walker Ballard
Senior music education and languages, literatures and cultures–German double major
Undergraduate Student Leadership Award
Philip Gadzekpo
Doctoral student in educational leadership
Graduate Student Leadership Award
Sirisha Karra
Senior management major
Local to Global Leadership Award
Dr. Kimberly Green '88 '01
Assistant professor, WKU
Global Engagement Award
For more information about these awards and Appalachian's Global Symposium, visit https://international.appstate.edu/get-involved/global-symposium.
What do you think?
Share your feedback on this story.
It's not enough to be globally aware. Appalachian graduates must be globally competent.
App State announces winning photos of International Education Week Photo Contest
Nov. 26, 2019
About the Office of International Education and Development
The OIED is responsible for spearheading the internationalization efforts at Appalachian. The internationalization mission of Appalachian is to develop awareness, knowledge, appreciation and respect of cultural differences in both domestic and international contexts in its students, faculty, staff and the surrounding communities. The university is also dedicated to creating a campus environment that builds the theoretical and practical skills needed to interact effectively in a global society. Learn more at https://international.appstate.edu.
About Appalachian State University
As the premier public undergraduate institution in the Southeast, Appalachian State University prepares students to lead purposeful lives. App State is one of 17 campuses in the University of North Carolina System, with a national reputation for innovative teaching and opening access to a high-quality, affordable education for all. The university enrolls more than 21,000 students, has a low student-to-faculty ratio and offers more than 150 undergraduate and 80 graduate majors at its Boone and Hickory campuses and through App State Online. Learn more at https://www.appstate.edu.