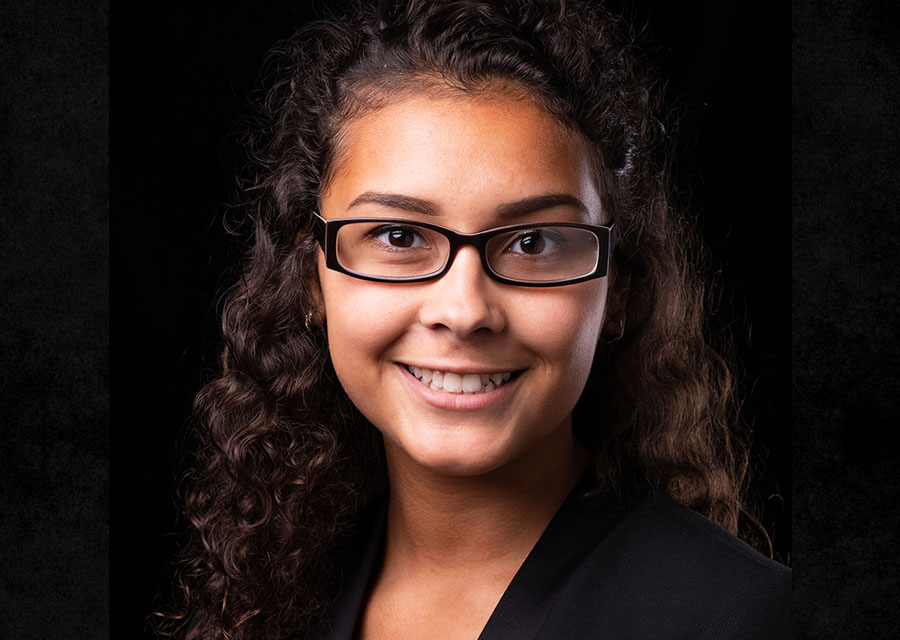 Alyssa Rodriguez
Political science–public administration, Department of Government and Justice Studies
Elizabeth City, North Carolina
2020 Kenneth E. Peacock Spirit of ACCESS Award
Appalachian State University
Posted May 5, 2020 at 3:42 p.m.
BOONE, N.C. — Alyssa Rodriguez '20, an Appalachian State University Class of 2020 graduate and former ACCESS Scholar from Elizabeth City, has been named the 2020 recipient of Appalachian's Kenneth E. Peacock Spirit of ACCESS Award. She will receive a medallion as part of the award, along with a monetary prize to support her future endeavors.
The award — named for Dr. Kenneth E. Peacock, who served as Appalachian's fifth chancellor from 2004–14 and established the Appalachian Commitment to a College Education for Student Success (ACCESS) Scholarship Program in 2007 — recognizes an ACCESS Scholar for embodying the impact the ACCESS Scholarship Program was created to make in someone's life. The program provides low-income college students from North Carolina with a debt-free, four-year Appalachian education.
"Alyssa made the most of her ACCESS Scholarship. Not only did she further her education, but she sought out community for herself and found ways to get immersed in those communities and serve to her fullest capacity," said Beth Marsh, director of Appalachian's ACCESS Scholarship Program.
In her winning ACCESS Award essay, Rodriguez, who graduated from Appalachian May 16 with a B.S. in political science–public administration and minors in general business and leadership studies, wrote: "As a first-generation college student, an ACCESS scholar and a young Latinx woman, this experience has been difficult, confusing and discouraging at times. When I first came to college, I didn't know how anything worked and neither did my family. I felt virtually on my own, alone and scared … but I soon realized all of the resources I had around me and began to craft the best experience that I could."
Rodriguez found community and leadership opportunities through University Housing's Residence Hall Association (RHA), eventually serving as vice president of the RHA Executive Board. During her second year at Appalachian, she joined the Student Government Association (SGA) as the director of communications in the Milbourne–Kelly administration. She currently serves as the chief of staff of the Milbourne–Davis administration for the 2019–20 academic year.
She cited her campus mentors and her leadership studies minor as valuable impacts on her leadership journey, and these ultimately led to her decision to continue her education at Appalachian — she will pursue her Master of Arts in student affairs administration beginning in fall 2020. The program "will allow me to leave a positive and long-lasting impact on others, like so many have done for me," she said.
Through her work-study position in Appalachian's University Communications, Rodriguez became involved in the nonpartisan organization Democracy North Carolina as a Communications Fellow, a position she has held since summer 2019.
"This internship experience has allowed me to grow in my passion, as a student and as a civically engaged American," Rodriguez said. "I also have a new understanding of federal and state level politics and the importance of being politically involved and socially informed."
In fall 2019, she was nominated and chosen to be a part of Appalachian's homecoming court, and she has also been a member of the university's Latin Hispanic Student Association.
"I have always remained exceptionally grateful to the ACCESS program for what it has made possible for me and my future. Without ACCESS, I would not have Appalachian, and without Appalachian, I would not have found my purpose," Rodriguez wrote in her essay.
She continued, "Coming to Appalachian has allowed me to develop into a conscious and intentional leader, along with giving me a bright and hopeful future paired with unforgettable moments along the way."
Read Rodriguez's winning Spirit of ACCESS Award essay in full.
What do you think?
Share your feedback on this story.
About the ACCESS Scholarship Program
Appalachian State University is committed to making higher education affordable for every North Carolina student and developed the Appalachian Commitment to a College Education for Student Success (ACCESS) Scholarship Program as a method to ensure that first-year students from low-income families in North Carolina can attend Appalachian debt free. Along with financial assistance, the ACCESS program offers recipients a comprehensive program of academic and personal support that includes orientation and academic advising, mentorship and professional development opportunities. The scholarship supplements federal financial aid grants, state grants, scholarships and other forms of financial assistance. Learn more at https://universitycollege.appstate.edu/access.
About Scholarships at App State
Appalachian State University offers students the opportunity to receive a world-class education at an affordable rate, with an average of $25 million awarded to incoming, current and transfer students each year based on need, as well as academic and athletic achievement. On average, about $4.9 million in outside aid is awarded to App State students annually. App State's Office of Student Financial Aid and University Scholarships assists students in learning about and applying for these university scholarship opportunities and also shares information about non-App State scholarships. Learn more at https://scholarships.appstate.edu.
About Appalachian State University
As the premier public undergraduate institution in the Southeast, Appalachian State University prepares students to lead purposeful lives. App State is one of 17 campuses in the University of North Carolina System, with a national reputation for innovative teaching and opening access to a high-quality, affordable education for all. The university enrolls more than 21,000 students, has a low student-to-faculty ratio and offers more than 150 undergraduate and 80 graduate majors at its Boone and Hickory campuses and through App State Online. Learn more at https://www.appstate.edu.