Posted June 12, 2020 at 1:58 p.m.
BOONE, N.C. — Angela Gantkowski's career is on the fast track — and she hasn't yet graduated. This Appalachian State University senior from Kannapolis is a marketing major with a concentration in digital marketing — and a driver in the Professional Drag Racers Association (PDRA).
This summer Gantkowski is interning as a team manager with Caruso Family Racing, a three-generation racing team based in Rochester, New York, that competes in PDRA and the National Hot Rod Association (NHRA). She is securing marketing partners for each race in which the team competes and managing social media for the team.
Her goal is to one day manage a race team of her own, and Gantkowski believes her marketing degree will help her in building the business.
"The more I experience with marketing, the better my program will be and vice versa," she said. "The better I perform, the better my content will be."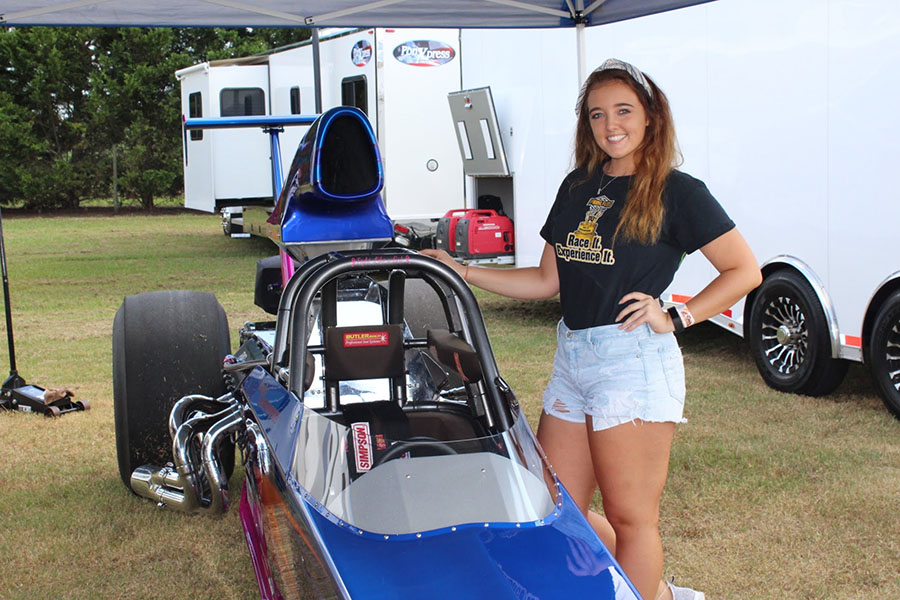 Gantkowski was the runner-up in the PDRA World Finals during her first season in 2018 and was recently featured in the magazine Drag Illustrated. As a member of a family-operated race team, she began as a Junior Dragster driver 11 years ago and moved up to the Top Dragster class when she was 15.
"Being one of the few women in a male-dominated sport, there were times I felt like I had to prove myself. But through the years I think I've made a statement," Gantkowski shared. "At every event I often have little girls come over to my car. They always get excited to see a girl behind the wheel."
The passion of the faculty in Appalachian's Department of Marketing and Supply Chain Management has impressed Gantkowski. She said, "Christy Cook's social media marketing class taught me so much about techniques and helped me realize what I want to do after graduating. She always gave helpful feedback."
Cook, who is a lecturer in the Department of Marketing and Supply Chain Management, said, "A cultural revolution is underway and the marketing industry is undergoing a fundamental transformation — customers and businesses are increasingly shifting their attention from traditional marketing media to the digital media. Angela Gantkowski's altruism, confidence, engagement and excellence are notable. She is capable of anything she sets her mind to."
Outside of class, Gantkowski said she improved her communication and time management skills as a member of the Theta Nu Chapter of Appalachian's Alpha Phi sorority.
"I think being in the sorority helped prepare me for the woman I want to be," she said.
What do you think?
Share your feedback on this story.
About the Department of Marketing and Supply Chain Management
At Appalachian State University, students in the Walker College of Business' Department of Marketing and Supply Chain Management learn to drive industry initiatives that develop customer satisfaction and retention, contribute to company profits and build connections with suppliers, distributors and the community. Students majoring in marketing may select a concentration in general marketing, digital marketing or sales. Students majoring in supply chain management (SCM) learn about logistics, operations, strategic sourcing, process improvement strategies and supply chain technologies, enabling them to compete in the global marketplace and help future employers reduce costs, improve profits and expand their markets. Learn more at https://marketing.appstate.edu.
About the Walker College of Business
The Walker College of Business at Appalachian State University delivers transformational educational experiences that prepare and inspire students to be ethical, innovative and engaged business leaders who positively impact our community, both locally and globally. The college places emphasis on international experiences, sustainable business practices, entrepreneurial programs and real-world applications with industry. Enrolling approximately 3,000 undergraduates in 10 majors and 175 graduate students in three master's programs, the Walker College is accredited by AACSB International – the premier global accrediting body for schools of business. Learn more at https://business.appstate.edu.
About Appalachian State University
As the premier public undergraduate institution in the Southeast, Appalachian State University prepares students to lead purposeful lives as global citizens who understand and engage their responsibilities in creating a sustainable future for all. The Appalachian Experience promotes a spirit of inclusion that brings people together in inspiring ways to acquire and create knowledge, to grow holistically, to act with passion and determination, and to embrace diversity and difference. Located in the Blue Ridge Mountains, Appalachian is one of 17 campuses in the University of North Carolina System. Appalachian enrolls nearly 21,000 students, has a low student-to-faculty ratio and offers more than 150 undergraduate and graduate majors.