Posted June 30, 2020 at 4:47 p.m.
BOONE, N.C. — In the Hayes School of Music (HSOM) at Appalachian State University, many of the music classes are more about making notes than taking notes — still, faculty transitioned successfully from hands-on instruction to online delivery during the COVID-19 restrictions during spring and summer.
"Since the earliest days in the history of music, students have learned in an apprenticeship model that includes ensembles, private lessons, academic coursework and experiential learning," said Dr. James Douthit, dean of the HSOM. "During the last half of the spring semester, the students, driven by their passion for music and their desire to build a professional livelihood in their art, displayed resilience, fortitude and creativity as their semester took a turn that no one had even considered at its start."
From live to living rooms
"The center focus of a music school is music performance, and our students thrive on that," Dr. James Stokes, professor of trumpet, added. "It was not easy for our students to adjust to the realization that live performances would not be possible. However, we were able to create alternative ways, with videos and livestream performances from students in their living rooms."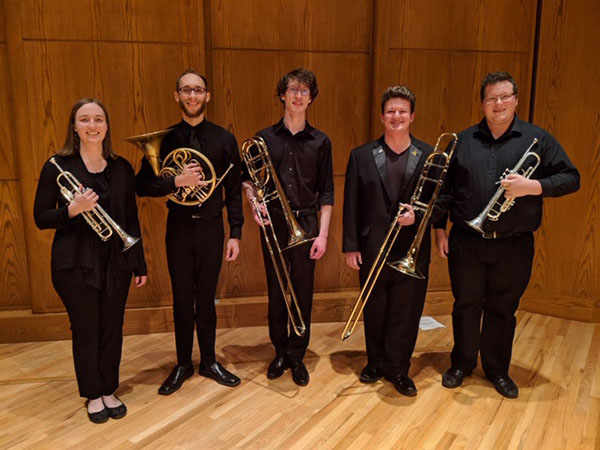 Stokes said it was clear to him that students did not fall behind in their musical development during the spring semester. "In most cases, their progress excelled. They made better use of their time and looked forward to practicing their instruments, and many participated in online masterclasses with members of major U.S. symphony orchestras and recording artists," he said.
A survey conducted among music majors revealed the students appreciated the variety of ways courses were adjusted to create opportunities to learn in new ways — with 75% of the respondents rating their instruction as average or better.
Rethinking resources and delivery
Some challenges for teaching and evaluating music online included difficulty scheduling at home practice time that would not disturb parents or roommates; access to some of the larger instruments like organs, large percussion and pianos; and variations in bandwidth that complicated upload speed for music files.
Douthit said HSOM faculty were very resourceful in finding ways to transform and overcome challenges — exploring software and applications to find technological solutions. Faculty also helped students locate instruments and loaned keyboards and microphones, when possible, to improve recording quality.
Without a way for Appalachian's orchestra to practice together, conductor Mélisse Brunet focused on aspects of musical careers that do not typically receive as much class time.
She invited professional guests including educators, performers and conductors from all over the world to cover topics such as negotiating salaries, professional use of social media, marketing and assessment tests for music education.
"We had one session with the principal trombone player with the Boston Symphony Orchestra, and students were able to practice an audition with him," Brunet said. "It was a great experience — one that would not have occurred during a regular semester."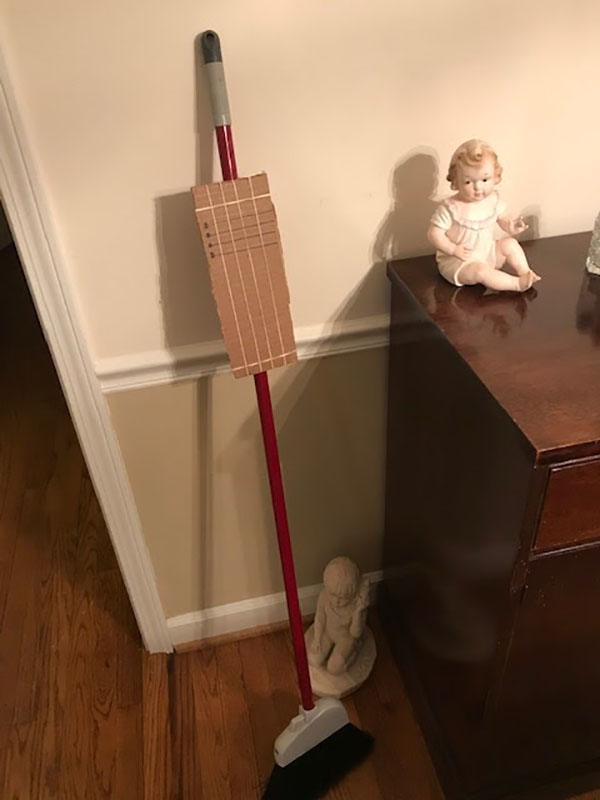 One of Brunet's students, senior music education major and trumpet player Anna Sheppard from Morganton, said the guest presenters provide a chance for students to widen their professional connections.
"The experience influenced me personally and answered a lot of my questions about the professional world," Sheppard shared. "It also changed the way I approached my summer break. I'm practicing differently, recording myself more often, trying to build a website, and exploring information from different musical sources."
Face to face interface
Dr. Jennifer Snodgrass, professor of music theory, also reached out to interview experts in her field, creating a YouTube channel that is now being used in virtual classrooms around the country. "I can't think of a way I would have been able to share all of these opinions with my students without the online interface we are now working in," she said.
Several faculty members said during the transition to online teaching they discovered software and electronic devices they will continue to use in face-to-face classes. Some also plan to incorporate more interactions with professionals in the industry, citing the value of learning from others and making connections.
Recognizing the potential need for and growth in online classrooms, Snodgrass is adding a unit in online teaching for her music education students.
"Students will be required to create a teaching video and a podcast. It is an important attribute for a teacher to be engaging — in both online and face-to-face instruction," she said.
As online instruction becomes more and more mainstream, some issues still need to be addressed. Professors agree making music is often a cooperative experience, with multiple instruments or accompaniment — not easily achieved when conducting class sessions with teleconference software such as Zoom. And, there were sometimes technical issues.
"There are lag time issues with technology," explained Dr. Douglas James, professor of guitar. "When two are more are playing online from different locations, the music doesn't sync up."
Also, music instruction involves careful listening to nuances, James said. While Zoom served its purpose of bringing faculty and students together, there were notable differences in sound quality.
James, Stokes and other HSOM faculty invested a lot of time in trial and error, finding workable solutions to the challenges, they said.
"Adjustment was the key to everything we did on a daily basis. Flexibility was at the forefront of our thinking. We learned to adapt, be flexible and understanding about the circumstances of this unusual time in our history," Stokes said. "We looked at education in a new way in order to provide students the most clear and meaningful experience possible."
What do you think?
Share your feedback on this story.
About the Hayes School of Music
The Hayes School of Music prepares young musicians for professional lives as performers, composers, music educators, music therapists, conductors and music industry professionals, ensuring the next generation of musical leadership for the state, region and nation. Noted for quality instruction by national and internationally recognized faculty musicians, the school offers four undergraduate degree programs and three graduate-level programs. Learn more at https://music.appstate.edu.
About Appalachian State University
As the premier public undergraduate institution in the Southeast, Appalachian State University prepares students to lead purposeful lives. App State is one of 17 campuses in the University of North Carolina System, with a national reputation for innovative teaching and opening access to a high-quality, affordable education for all. The university enrolls more than 21,000 students, has a low student-to-faculty ratio and offers more than 150 undergraduate and 80 graduate majors at its Boone and Hickory campuses and through App State Online. Learn more at https://www.appstate.edu.