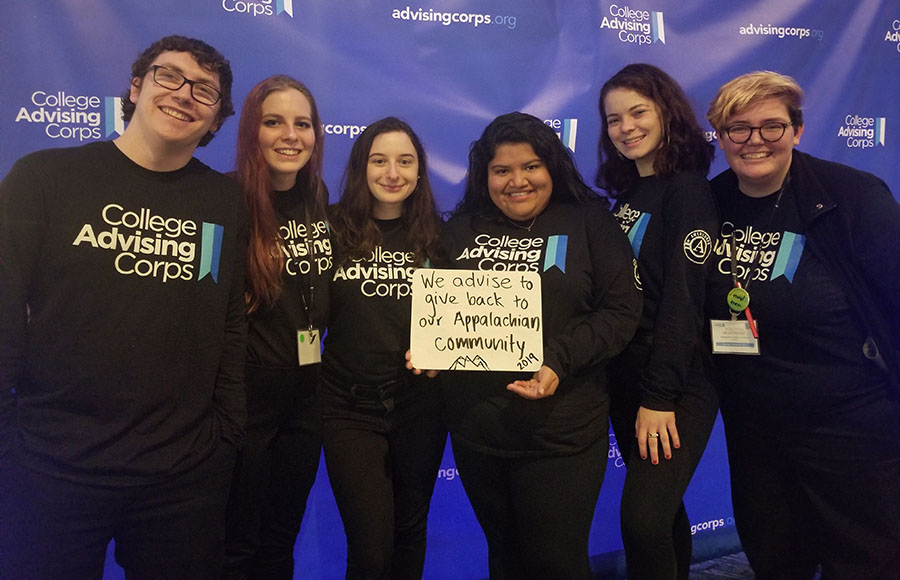 App State CAC impact — by the numbers
Posted Oct. 1, 2020 at 12:56 p.m.
BOONE, N.C. — Western North Carolina high school seniors are learning how to prepare for and succeed in college — and beyond — thanks to support provided by college advisers in Appalachian State University's College Advising Corps (CAC).
App State's CAC program, which launched during the 2019–20 academic year, recruits and trains recent college graduates, including those from App State, to serve as full-time college advisers in partner high schools throughout Western North Carolina. Advisers who are not graduates of the university either grew up in Appalachia or attended a school in Western North Carolina.
"As members of a national movement, Appalachian State University College Advising Corps college advisers help students in rural, underserved Appalachian communities realize their dreams of achieving postsecondary education," said Dr. James Beeler, senior director of App State's College Access Partnerships, which oversees the university's CAC program.
From October 2019 to the beginning of the COVID-19 outbreak in March, six Appalachian graduates served as CAC advisers, providing support for more than 1,000 seniors in six Western North Carolina high schools. The advisers helped these seniors secure more than $4 million in institutional aid and scholarships.
Beeler said that over the next few years, the App State CAC program hopes to expand to support students throughout all of Western North Carolina. For the 2020–21 academic year, 18 App State CAC advisers — 13 of whom are App State alumni — will serve students in 20 regional high schools. Meet the university's 2020–21 College Advising Corps.
In 2017, App State Chancellor Sheri Everts signed a pledge with Margaret Spellings, then-president of the University of North Carolina (UNC) System, for App State to meet certain performance goals as part of the UNC System's five-year strategic plan, titled "Higher Expectations." Among these prioritized initiatives are increasing enrollment and degree achievement for low-income and rural App State students.
In 2020–21, App State enrolls 5,992 rural students — more than 300 students above the UNC System strategic plan benchmark for this year — and 6,100 first-generation undergraduate students, which is 34% of the total undergraduate population.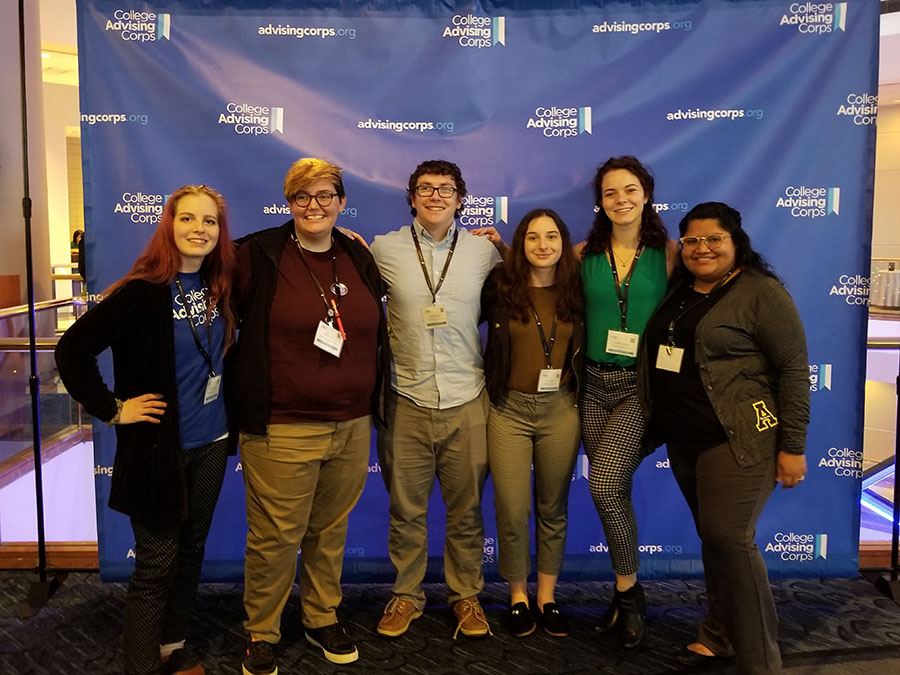 A near peer model of success
App State CAC advisers participate in an intensive summer training program before serving in schools and benefit from ongoing coaching from experienced educators. They also gain valuable professional and life skills while providing service to prepare low-income, first-generation and underrepresented high school seniors for postsecondary success.
Adam Warren, director of App State's CAC program, said, "Our advisers can connect to the students they serve through their own lived experience. All of our advisers have graduated within two years of the start of their service experience and, as recent graduates themselves, are closer in age and 'near peer' to the students in our partner schools."
He continued, "Many of our advisers are first-generation college students, students from backgrounds underrepresented in college and/or from Western North Carolina. Using the near peer model, our advisers can share current, real-world college knowledge with the students they serve."
App State alumna and graduate student Yesenia Martinez-Salazar '19, of Raleigh, who is pursuing her Master of Arts in higher education, said being a first-generation college graduate drew her to App State's CAC program. During 2019–20, she served as a college adviser for seniors at Wilkes Central High School in Wilkesboro.
"I have grown up around a very supportive family that wanted me to go to college, but they had no idea how to guide me through the process. When I was trying to figure out the FAFSA, college applications … I really wished I had someone to help guide me. I love my job, and it fills me with joy to know that I can be a college access point for some students," said Martinez-Salazar, who holds a Bachelor of Science in psychology–human services with a minor in sociology.
She added, "I have always wanted to incorporate helping the Latinx community in the work that I do, and serving at Wilkes Central has allowed me to do that. Plus, getting to work on my interpretation and translating skills is also benefiting my professional life."
Alumnus Zack Beasley '19, of Greenville, who holds a B.S. in history–secondary education from App State, shared he was immediately drawn to his CAC position because it would allow him to serve a similar role to that of a teacher. "While I wouldn't be in the classroom, I could still make a positive impact in the lives of students," he said.
"My favorite aspect of this work is the students and getting to hear their stories about why they want to go to college or what they plan to do after graduation. The absolute best part of the job, though, is when a student realizes their passion or discovers the path that they want to take — and I get to help them reach that goal," said Beasley, who is serving as an adviser in Morganton's Freedom High School during 2020–21.
More on CAC advisers' engagement
CAC advisers help students identify higher education programs that are connected to their long-term plans and career goals, as well as programs that are a good academic match for their academic interests, financial needs and personal interests.
Through working with the schools' support staff on ACT/SAT support, FAFSA (Free Application for Federal Student Aid) assistance, college applications and scholarships, CAC advisers become experts on college access. They collaborate with administrators, support staff and teachers to foster a college-going culture within the schools they serve.
"Most importantly, advisers supplement and support, not supplant, existing high school counseling staff and college access efforts, thereby reaching more students," Warren said.
About nonprofit CAC
As a national nonprofit, College Advising Corps (CAC) works to increase the number of low-income, first-generation college and underrepresented high school students who enter and complete higher education. CAC advisers accomplish this goal by delivering personalized, knowledgeable guidance on college admission, financial aid and enrollment. Today, 829 CAC advisers serve more than 240,000 students in 782 high schools across America. Learn more
App State CAC impact — by the numbers
Increased interest in higher education careers
Support for App State College Advising Corps
Services offered by App State College Advising Corps
What do you think?
Share your feedback on this story.
About College Access Partnerships
Appalachian State University's College Access Partnerships supports students from the Appalachian region of North Carolina in finding their own distinct path to postsecondary education. This is accomplished by supporting the work of teachers, counselors and educators, along with providing direct services to students. College Access Partnerships offers the Upward Bound and GEAR UP programs, as well as additional resources for students, families and educators. Learn more at https://gocollege.appstate.edu.
About Appalachian State University
As the premier public undergraduate institution in the state of North Carolina, Appalachian State University prepares students to lead purposeful lives as global citizens who understand and engage their responsibilities in creating a sustainable future for all. The Appalachian Experience promotes a spirit of inclusion that brings people together in inspiring ways to acquire and create knowledge, to grow holistically, to act with passion and determination, and to embrace diversity and difference. Located in the Blue Ridge Mountains, Appalachian is one of 17 campuses in the University of North Carolina System. Appalachian enrolls more than 20,000 students, has a low student-to-faculty ratio and offers more than 150 undergraduate and graduate majors.