Posted Feb. 2, 2021 at 9:41 a.m.
BOONE, N.C. — The first group of Appalachian State University students who live in campus residence halls blew into town for spring semester on Thursday, Jan. 28 — amid high winds, a sprinkling of snow and continued health and safety precautions regarding COVID-19.
According to first-year student Josiah Sink, of Lexington, who moved into Dogwood Hall, returning to the App State campus could not have happened soon enough. Students enjoyed an extra long winter break from mid-December 2020 to the third week of January due to COVID-19 precautions, followed by the Jan. 8 announcement to hold the first two weeks of classes online for additional safety.
See the photo gallery for a glimpse of the first day back as captured by university photographers Marie Freeman and Chase Reynolds.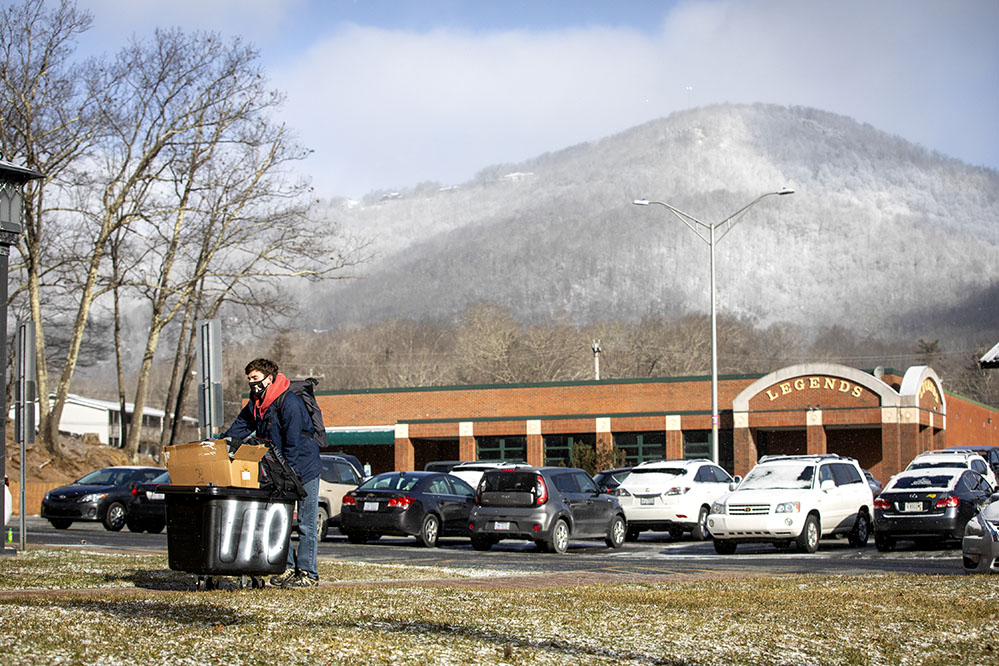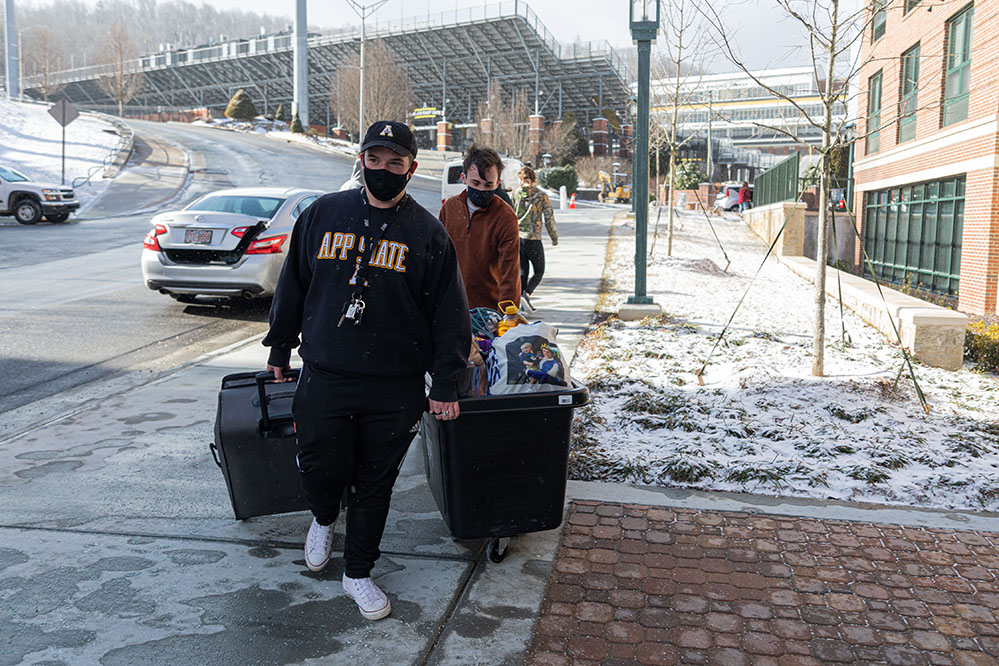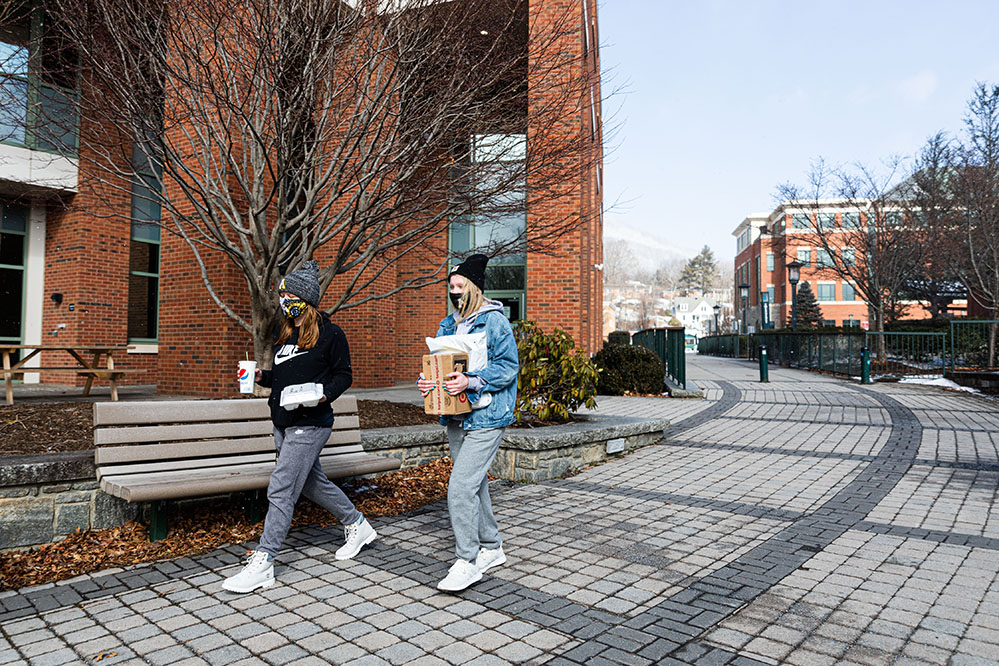 More than 3,700 students were scheduled to arrive between Jan. 28–31 at pre-assigned appointment times issued by University Housing. The university's COVID-19 dedensification strategy for on-campus student housing included allowing students to rework their schedules for all online classes and opt out of their housing contracts if they preferred to live with their parents or guardians for the spring semester.
Students who live on campus were required to submit a negative PCR (molecular) or antigen (rapid) COVID-19 test prior to move-in. In addition to this re-entry testing, all students moving in are required to complete a follow-up COVID-19 test between Feb. 1–6 to identify those who might have become infected between the time of their pre-move-in test and their actual transition to campus. They will also be required to complete periodic testing throughout the semester. Additionally, App State faculty are engaging in wastewater surveillance testing in residence halls, which will help further refine the university's targeted COVID-19 testing strategy. The cost of the on-campus testing is covered by the university.
Members of App State's Wellness and Prevention Services team have contacted the students who will be living in on-campus housing in spring 2021 to remind them about required testing and answer any questions they may have.
Classes at App State began Jan. 19 all online and resumed with a mix of face-to-face, hybrid and online formats Feb. 1.
What do you think?
Share your feedback on this story.
What to expect in spring 2021
About the Division of Student Affairs
The Division of Student Affairs at Appalachian State University is committed to the development of lifelong learners and leaders by engaging and challenging students within a culture of care and inclusion. The division consists of 16 units that offer activities and services to help students develop more fully by becoming global learners, fostering healthy relationships, appreciating diversity and different perspectives, understanding community responsibility, enhancing self-awareness, developing autonomy and living ethically. These units include the Career Development Center, Campus Activities, Office of Community-Engaged Leadership, Wellness and Prevention Services, Counseling and Psychological Services, Student Health Service, Parent and Family Services, University Housing, Student Conduct, University Recreation, Intercultural Student Affairs, Student Legal Clinic and Off-Campus Student Services, Electronic Student Services, Child Development Center, and Staff Development and Strategic Initiatives. Learn more at https://studentaffairs.appstate.edu.
About Appalachian State University
As the premier public undergraduate institution in the Southeast, Appalachian State University prepares students to lead purposeful lives as global citizens who understand and engage their responsibilities in creating a sustainable future for all. The Appalachian Experience promotes a spirit of inclusion that brings people together in inspiring ways to acquire and create knowledge, to grow holistically, to act with passion and determination, and to embrace diversity and difference. Located in the Blue Ridge Mountains, Appalachian is one of 17 campuses in the University of North Carolina System. Appalachian enrolls nearly 21,000 students, has a low student-to-faculty ratio and offers more than 150 undergraduate and graduate majors.