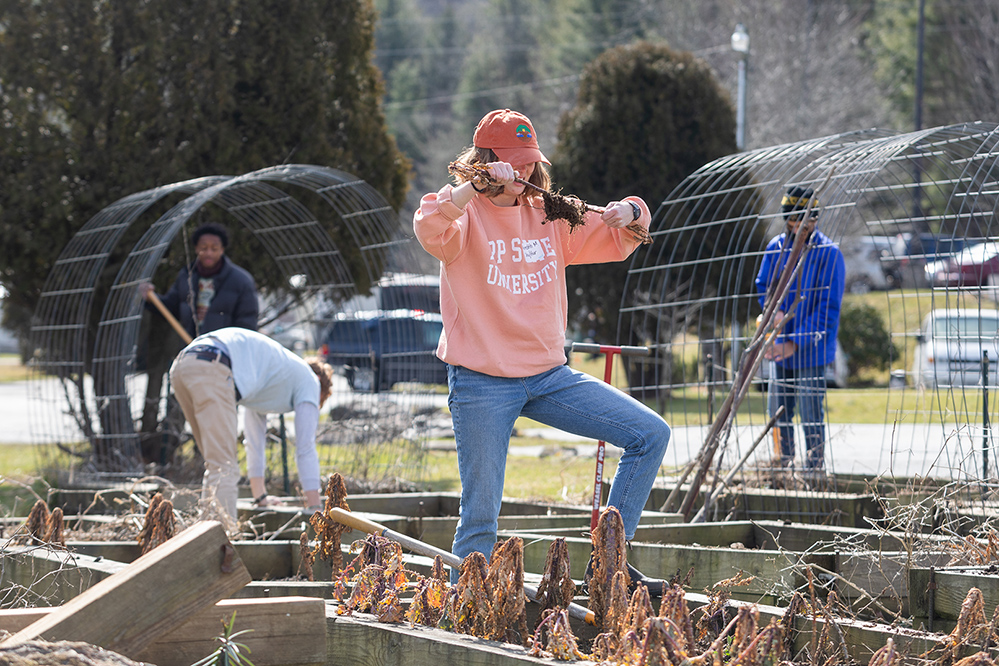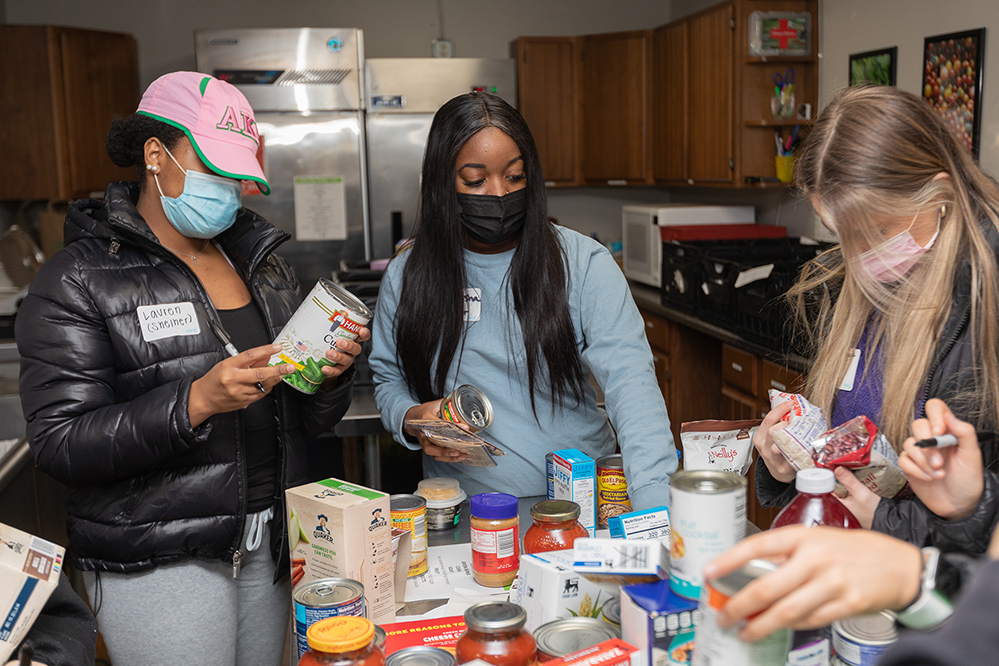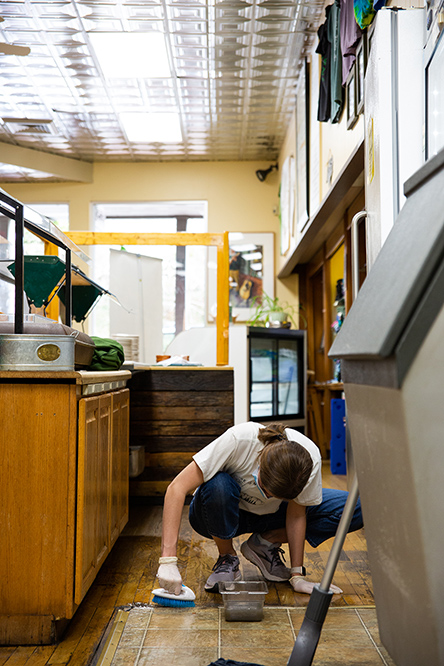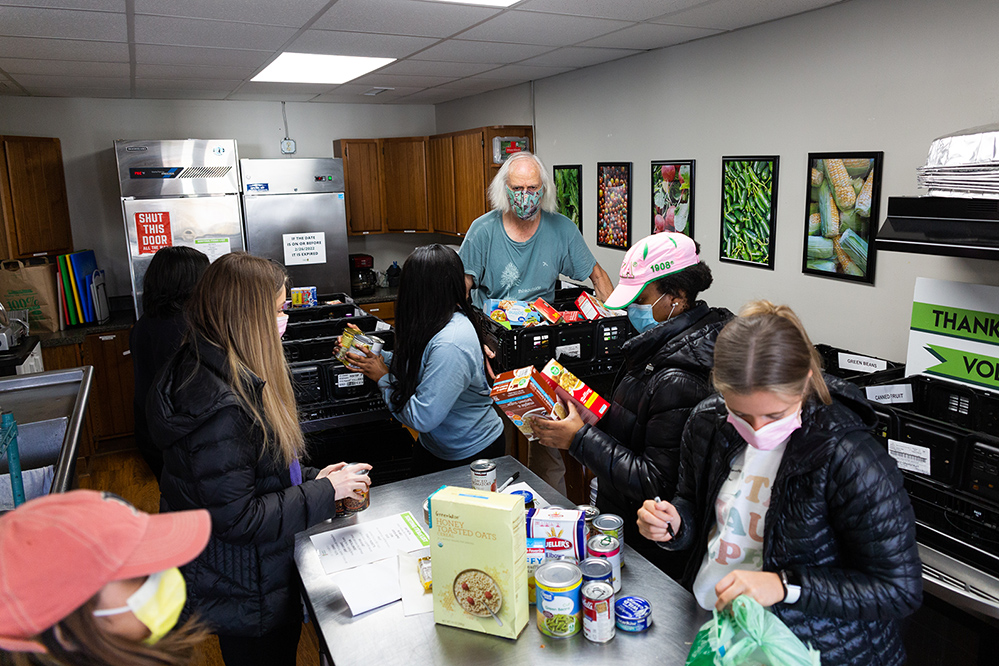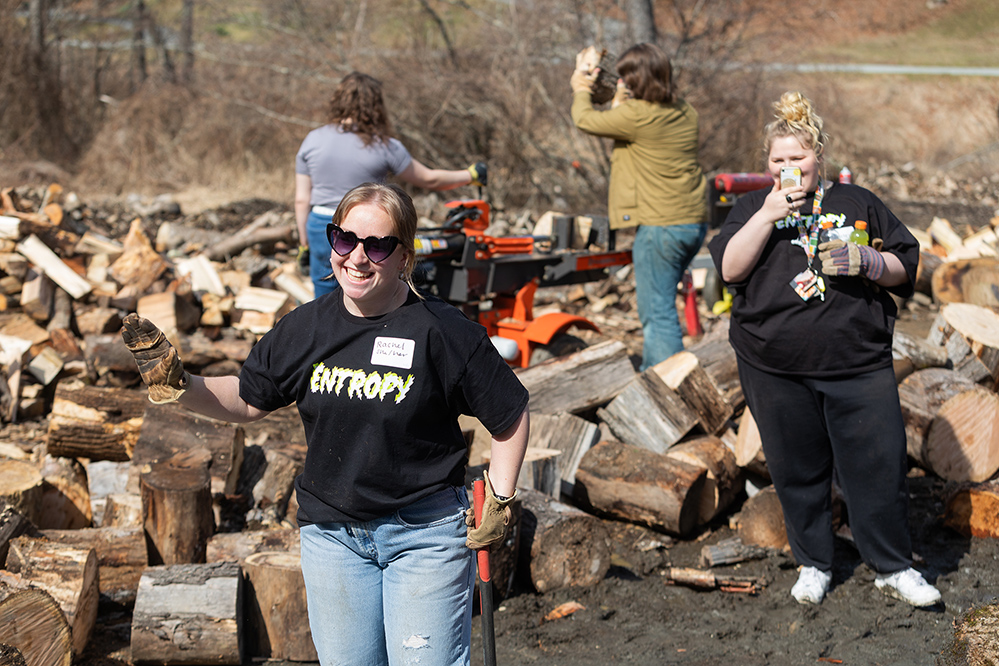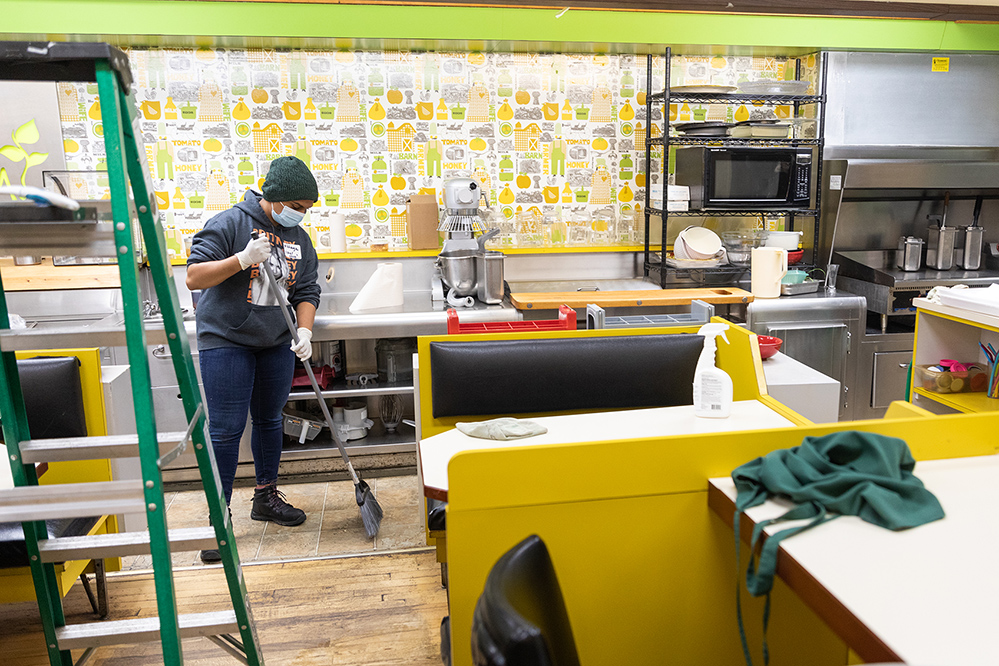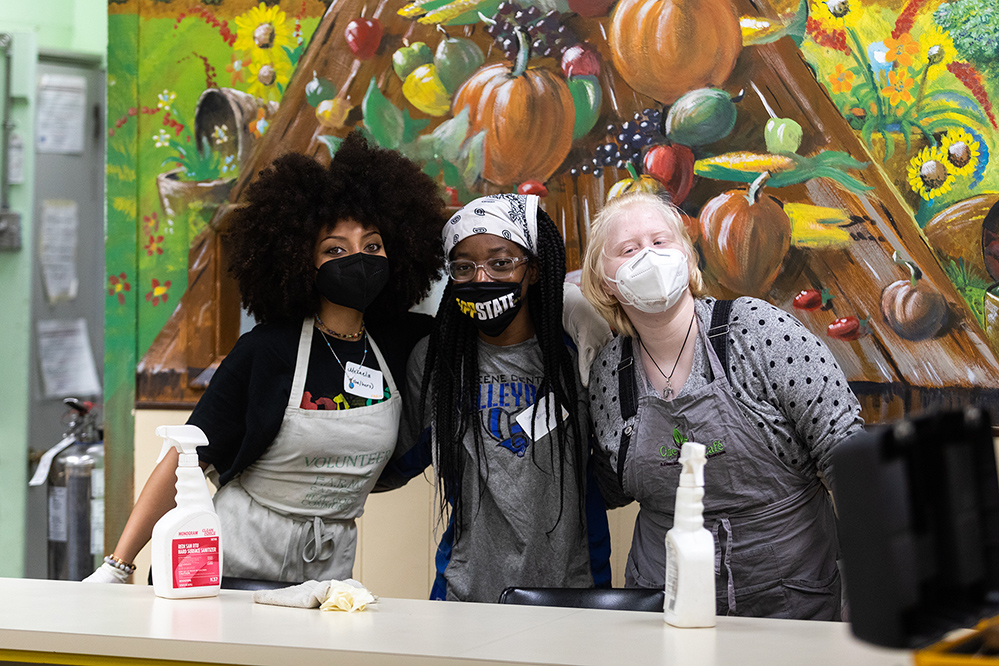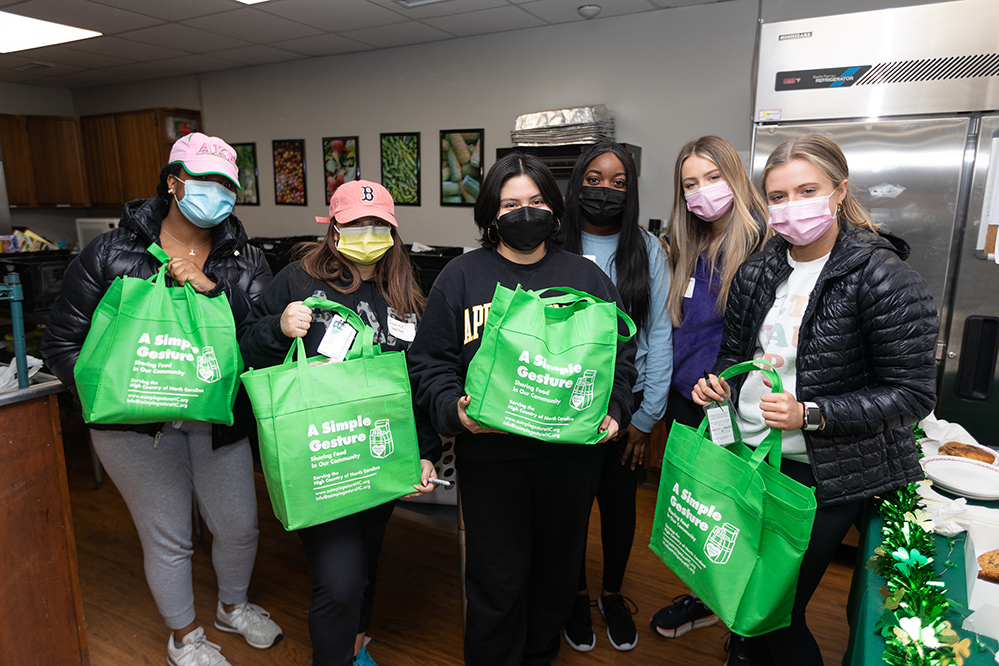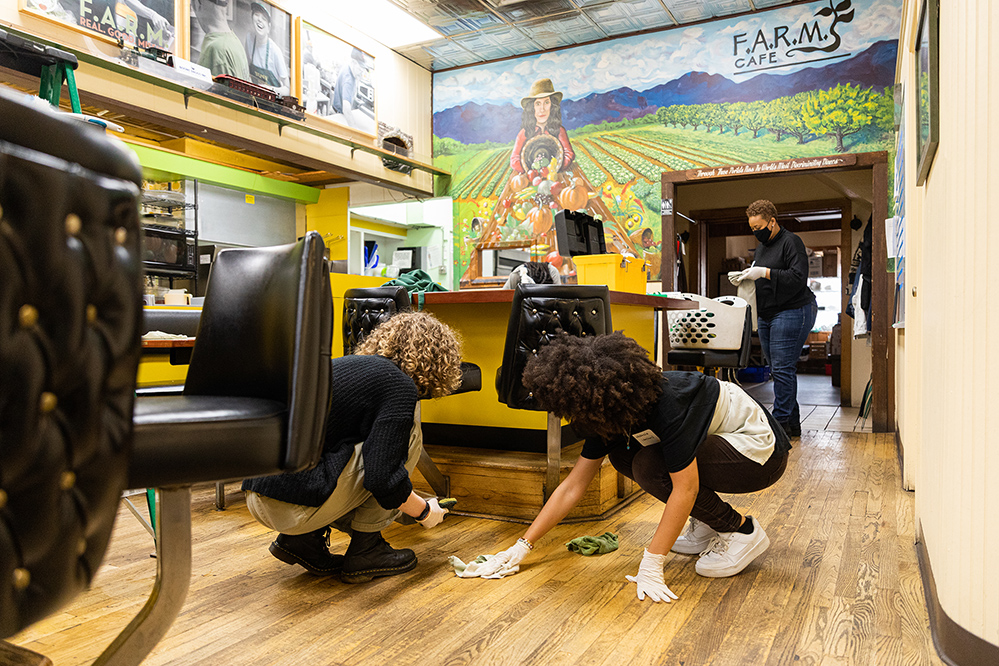 Posted March 2, 2022 at 11:20 a.m.
BOONE, N.C. — More than 50 students, staff and faculty participated in Appalachian State University's 2022 MLK Day of Service, Feb. 26 — marking more than two decades of Mountaineer community service in the High Country through this day of reflection, education and service.
The annual event, organized by the Office of Community-Engaged Leadership (CEL) with support from Intercultural Student Affairs, honors the life and legacy of Dr. Martin Luther King Jr. and his message of social service, as participants accomplish challenging projects alongside community partners — all while being challenged intellectually, socially and physically.
"Today is a day to remember that the pursuit of freedom and justice is seldom an easy path. It takes all kinds of people and all kinds of action to create change, and all of us have the capacity to contribute to Dr. King's legacy," said App State interim Chief Diversity Officer Jamie Parson, who delivered remarks at the event kickoff in Plemmons Student Union.
App State Community members completed 162 volunteer hours, serving four local nonprofits: F.A.R.M Cafe, the Hunger and Health Coalition, the Volunteers-In-Parks program for Blue Ridge Parkway and Helping Hands Woodlot Ministry.
Each organization asked students to complete a service project — from splitting wood and sorting and organizing donated food items, to deep cleaning facilities and preparing gardens for spring planting.
App State's first MLK Day of Service — formerly known as the MLK Challenge — was held in 1999 and has since become a model for campuses across the nation.
North Carolina Campus Compact, a member of a national coalition of 1,000-plus community-committed colleges and universities, wrote a $300,000 grant in 2011 to replicate the CEL program throughout the state and nation.
What do you think?
Share your feedback on this story.
About the Office of Community-Engaged Leadership
The Office of Community-Engaged Leadership at Appalachian State University engages students in academic, experiential and community-oriented programs that enhance their capacity to serve and lead in socially responsible ways for the benefit of their local and global communities. The office comprises the former Appalachian and the Community Together (ACT) and Leadership Education and Development (LEAD) offices. Learn more at https://cel.appstate.edu.
About the Division of Student Affairs
The Division of Student Affairs at Appalachian State University is committed to the development of lifelong learners and leaders by engaging and challenging students within a culture of care and inclusion. The division consists of 16 units that offer activities and services to help students develop more fully by becoming global learners, fostering healthy relationships, appreciating diversity and different perspectives, understanding community responsibility, enhancing self-awareness, developing autonomy and living ethically. These units include the Career Development Center, Campus Activities, Office of Community-Engaged Leadership, Wellness and Prevention Services, Counseling and Psychological Services, Student Health Service, Parent and Family Services, University Housing, Student Conduct, University Recreation, Intercultural Student Affairs, Student Legal Clinic and Off-Campus Student Services, Electronic Student Services, Child Development Center, and Staff Development and Strategic Initiatives. Learn more at https://studentaffairs.appstate.edu.
About Appalachian State University
As the premier public undergraduate institution in the Southeast, Appalachian State University prepares students to lead purposeful lives as global citizens who understand and engage their responsibilities in creating a sustainable future for all. The Appalachian Experience promotes a spirit of inclusion that brings people together in inspiring ways to acquire and create knowledge, to grow holistically, to act with passion and determination, and to embrace diversity and difference. Located in the Blue Ridge Mountains, Appalachian is one of 17 campuses in the University of North Carolina System. Appalachian enrolls nearly 21,000 students, has a low student-to-faculty ratio and offers more than 150 undergraduate and graduate majors.