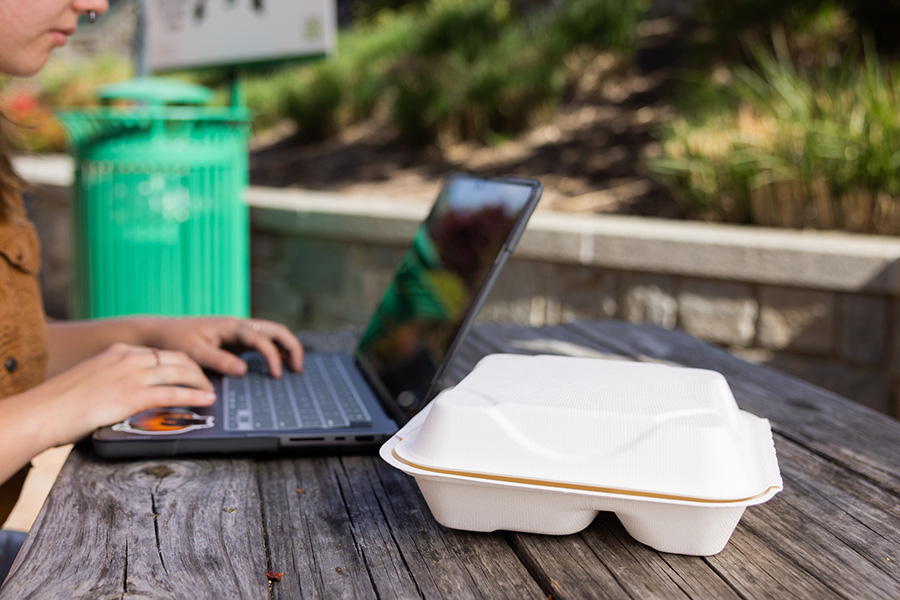 Posted May 12, 2023 at 11:56 a.m.
BOONE, N.C. — Appalachian State University continues to reduce its carbon footprint through its sustainable purchasing initiative — a key component of the university's Climate Action Plan, which guides App State's progress toward climate neutrality.
Sustainable purchasing is the practice of buying goods that serve the same functional purpose as traditional products and also mitigate negative effects on human health and the environment.
"We want to contribute to a circular economy by purchasing items that don't require a lot of packaging or waste and that are recyclable or compostable — anything that is not going to the landfill," said Dr. Lee Ball, App State's chief sustainability officer. In a circular economy model, materials, products and services are kept in circulation for as long possible, rather than discarded, with an aim to mitigate waste.
A sustainable purchase can be something as small as basic office supplies, or something as big as alternative fuel vehicles.
"Nearly everything you buy has an option that can fall into the category of sustainable purchasing," said Ball.
App State's Office of Sustainability works closely with the university's Materials Management Division — which oversees the university's inventory and purchasing operations — to consider sustainable purchasing policies, while also encouraging faculty, staff, students and the greater public to purchase sustainably whenever possible.
Chad Hicks, App State's director of materials management, said, "With a university of our size, and in an area where we are the largest employer, we need to embrace this and be leaders in taking the right step for our environment. On our campus, in our region and even in the country, this can have a far-reaching effect if we can show that this is working for us."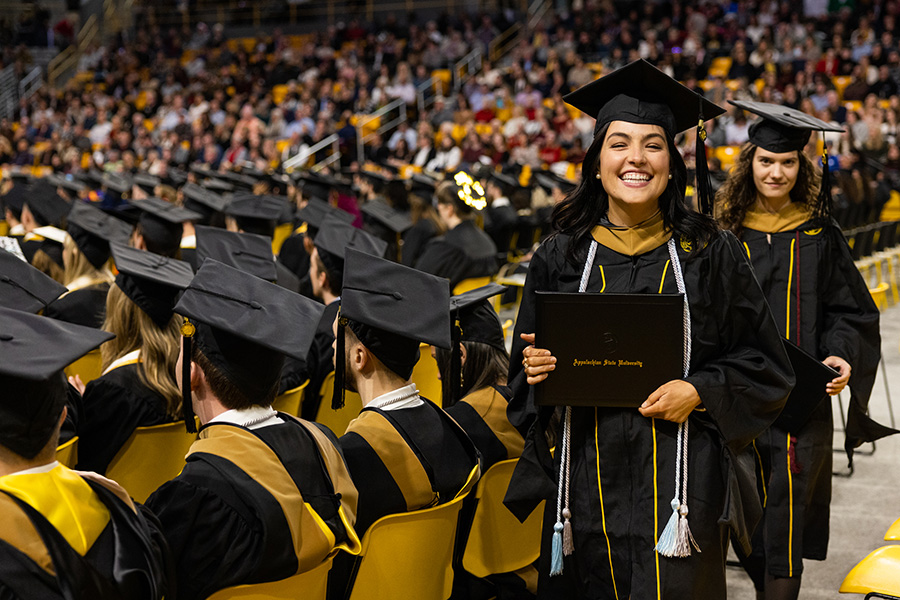 At App State, the most commonly purchased items include paper products for office and janitorial supplies, as well as electronics, furnishings and building materials. Sustainable purchasing practices consider whether a product uses recycled content, is bio-based, is energy- and water-efficient, minimizes waste and pollution and uses renewable energy resources.
However, one of the most important ways to purchase sustainably is to not purchase anything at all, advised Jennifer Maxwell, App State's sustainability program director.
She provided this tip on how individuals can employ sustainable purchasing practices in their own lives: "Ask yourself if you really need to buy a product, or if you can share a product, or if there is a surplus of something that you may not be aware of."
Maxwell added, "One of the most important things we can do right now is to try and educate people about this and about the resources that are available to them."
Some examples of the many units on App State's Boone campus that are currently utilizing sustainable purchasing include:
The Office of Sustainability is working to implement policies for campuswide purchasing, taking into consideration financial responsibility, quality and durability of products, and the health and safety of both people and the environment.
"People may not know there are a lot of sustainable products out there that are even cheaper than your standard items," said Ball.
As more individuals, departments and divisions are becoming aware of these options, "very good progress" is being made across campus, Hicks said, and sustainable purchasing is expanding beyond the realm of office supplies and other small items.
"We're in the process right now of purchasing two electric vehicles for the police force," he said. "There's also a lot of solar equipment that we're researching that's really promising, like solar-powered generators, for example. With all products, big or small, we are really trying to think about what's best for our planet."
Materials Management is also currently in the process of developing a supplier diversity program to purchase goods from historically underutilized businesses (HUBs), which are businesses that are typically owned and operated by women, minorities, LGBTQ+ individuals and veterans, among others.
App State junior Julia Murray — a sustainable development major from Charlotte and sustainable purchasing intern with the Office of Sustainability — is working with Hicks on the program. She is in the process of researching HUBs and cataloging the sustainable products they have available for purchase.
"It's so important to buy locally and to buy from diverse suppliers who have sustainable products," said Murray. "This helps us to create connections and strengthen our relationships within the community and with people of diverse backgrounds, while also making a positive impact on the environment."
Outside of HUBs, Maxwell said most businesses' websites now have search options for sustainable products. At App State, faculty and staff can make sustainable purchases through Yo-Mart — the university's e-procurement system — by using the "green" or "recycled" filters when searching for products to buy.
With all of these resources easily accessible to anyone at App State, Ball said the end goal is to institutionalize the practice of sustainable purchasing.
"If anyone is interested in learning more, they can come talk to us any time," he said.
App State's Office of Sustainability is located on the first floor of East Hall. Contact the office at sustainability@appstate.edu and/or 828-262-2659.
What do you think?
Share your feedback on this story.
Sustainable purchasing workshops
A year after the adoption of App State's latest climate action plan, AppCap 1.0, multiple carbon mitigation strategies are underway
May 5, 2022
About Sustainability at Appalachian
Appalachian State University's leadership in sustainability is known nationally. The university's holistic, three-branched approach considers sustainability economically, environmentally and equitably in relationship to the planet's co-inhabitants. The university is an active steward of the state's interconnected financial, cultural and natural resources and challenges students and others think critically and creatively about sustainability and what it means from the smallest individual action to the most broad-based applications. The university offers both undergraduate and graduate academic degree programs that focus on sustainability. In addition, 100 percent of Appalachian's academic departments offer at least one sustainability course or course that includes sustainability, and all students graduate from programs that have adopted at least one sustainability learning outcome. Learn more at https://appstate.edu/sustainability.
About Appalachian State University
As the premier public undergraduate institution in the Southeast, Appalachian State University prepares students to lead purposeful lives. App State is one of 17 campuses in the University of North Carolina System, with a national reputation for innovative teaching and opening access to a high-quality, affordable education for all. The university enrolls more than 21,000 students, has a low student-to-faculty ratio and offers more than 150 undergraduate and 80 graduate majors at its Boone and Hickory campuses and through App State Online. Learn more at https://www.appstate.edu.