Posted July 7, 2023 at 1:53 p.m.
BOONE, N.C. — Appalachian State University's sustained commitment to the success of its transfer student population has been recognized for the seventh consecutive year, with the university being named to Phi Theta Kappa's 2023 Transfer Honor Roll. App State is among 208 higher education institutions nationwide — and the only University of North Carolina System institution — included on the list.
Established in 2016, PTK's Honor Roll recognizes four-year colleges and universities across the country for developing dynamic and innovative pathways that lead to success among community college transfer students.
Approximately 2,000 new transfer students join App State each academic year, representing more than 50 community colleges. Transfer students make up one-fourth of the total undergraduate student population, with 70% of new transfer students coming to the university from community colleges, according to App State's Office of Transfer Admissions and Engagement. The degree completion rate for North Carolina community college students who transferred to App State is more than 20% above the national average.
"Transfer students represent a thriving population of talented students across all majors at App State," said Dr. Troy Johnson, vice chancellor of enrollment management at App State. "These students come prepared to succeed in our classrooms and engage in the richness of our university campus life, and they progress on to success in graduate school and in their careers."
PTK used 40 key metrics related to the support and success of transfer students to determine its Honor Roll — including college cost and financial aid, campus life for transfer students, admissions practices and bachelor's degree completion.
"The goal of most students attending community college is a bachelor's degree, but few do because of financial barriers and the complexities of the transfer process," said Dr. Lynn Tincher-Ladner, PTK president and CEO. "We are proud to recognize the exceptional colleges and universities that go above and beyond to create accessible pathways to bachelor's degree completion for community college transfer students."
Established in 1918, PTK Honor Society recognizes the academic achievement of college students and provides opportunities for its members to grow as scholars and leaders. The society is made up of more than 3.8 million members and nearly 1,300 chapters in 10 countries, with approximately 240,000 active members in the nation's colleges.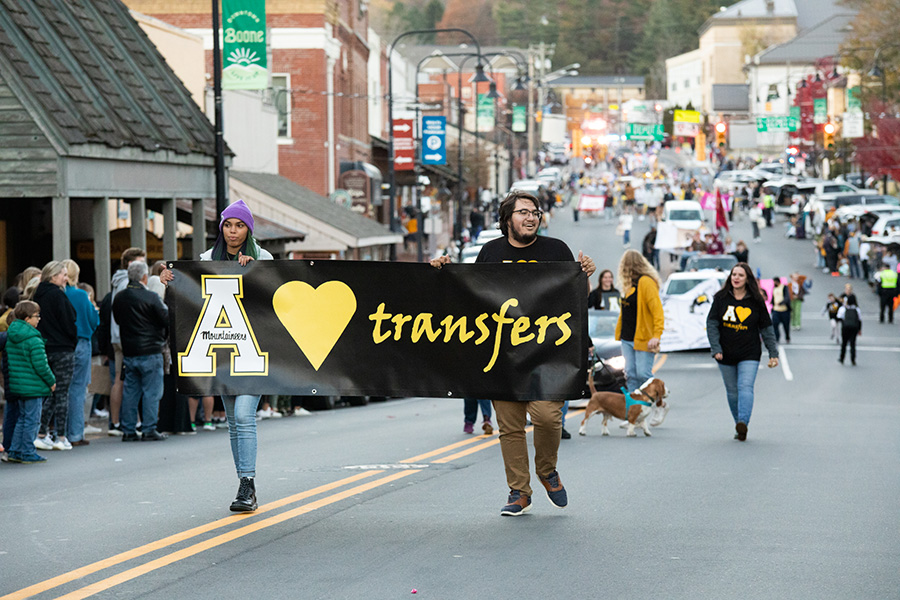 'Transfer students thrive at App State'
"Transfer students thrive at App State for numerous reasons," shared Johnson, "with one of the primary reasons being that App State is very intentional about supporting its students. We take a cross-campus team approach that begins with streamlined transfer credit evaluations and continues through our inspiring academic programs.
"Additionally, we nurture close relationships with our outstanding community college partners, allowing us all to jointly support these students," he added.
Dr. Kim Morton, director of transfer recruitment and retention at App State, noted that App State offers comprehensive resources and programming that help students navigate the transfer process, maximize their transfer credits and engage with the App State Community once they arrive at the university.
Those resources and programming include:
Recently, App State hosted a series of spring and summer meetings attended by leaders of area community colleges, and the university will hold a cross-sector higher education summit with Hickory area community colleges and universities on Aug. 18, Johnson shared.
Learn more about the many ways App State supports transfer students throughout their time as Mountaineers.
What do you think?
Share your feedback on this story.
Transfer students — 2022–23 fast facts
About Transfer Admissions and Engagement
Transfer Admissions and Engagement at Appalachian State University supports students through all stages of their transfer journey, including admission counseling and pretransfer advising, credit evaluation, transitional assistance as they begin at App State and through involvement and retention efforts during their App State education. The office serves undergraduate transfer students studying on the main campus in Boone as well as App State Online students who complete their classes fully online or at an off-site location. The services and resources provided by Transfer Admissions and Engagement ensure the university's transfer student population finds academic and social success at App State. Learn more at https://transfer.appstate.edu.
About the Division of Enrollment Management
The Division of Enrollment Management at Appalachian State University is responsible for planning, implementing, assessing and providing services and programs that promote student success — from pre-enrollment through graduation. The division comprises the Office of Admissions, Office of the Registrar, Office of Transfer Admissions and Engagement, and Office of Student Financial Aid and University Scholarships. Learn more at https://em.appstate.edu.
About Appalachian State University
As the premier public undergraduate institution in the Southeast, Appalachian State University prepares students to lead purposeful lives. App State is one of 17 campuses in the University of North Carolina System, with a national reputation for innovative teaching and opening access to a high-quality, affordable education for all. The university enrolls more than 21,000 students, has a low student-to-faculty ratio and offers more than 150 undergraduate and 80 graduate majors at its Boone and Hickory campuses and through App State Online. Learn more at https://www.appstate.edu.