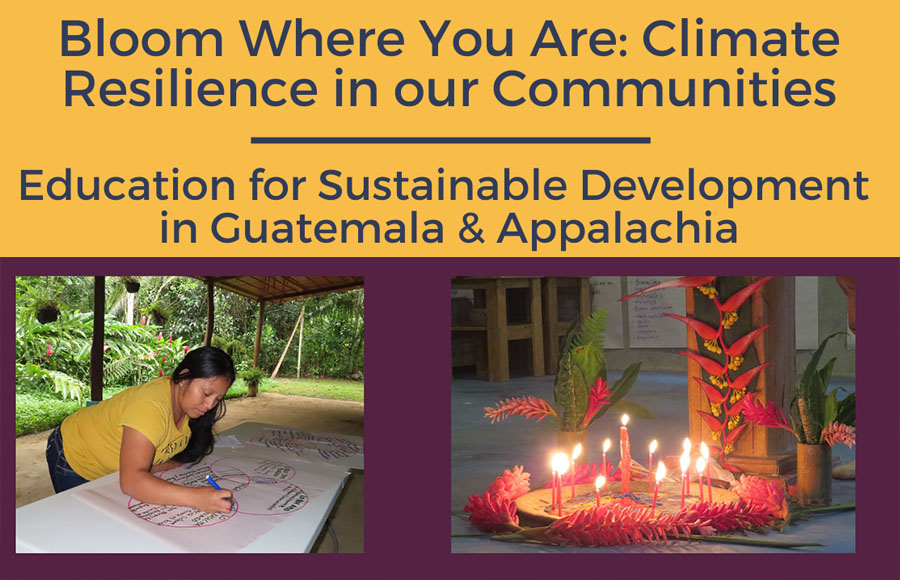 Bloom Where You Are: Educating for Sustainability in Guatemala & Appalachia
Reich College of Education Rotunda and Rooms 124 A/B
map
Free and open to the public
Marleny Rosales-Meda, Dr. María Susana Hermes, Rafael Coy Choocoj, and Dr. Anne Fanatico will present, "Bloom Where You Are: Climate Resilience in our Communities" as part of the University Forum Series at Appalachian State University. The speakers will discuss ways in which they are using education to help local communities create more just and sustainable futures in the face of climate change. Rosales-Meda, Hermes, and Chocooj will join virtually and share examples from their work in Maya communities in Guatemala. Fanatico will talk about similar efforts here on Appalachian's campus, specifically highlighting the Sustainable Development Civic Garden.
The program is free and open to the public, and light refreshments will be provided. This event will be bilingual, with Spanish/English interpretation provided by Anne Thomae Elias and Adrienne Erazo from the Department of Languages, Literature, and Cultures.
About the speakers
For the past 20 years Marleny Rosales-Meda and María Hermes have worked with the Q'eqchi' Maya in northern Guatemala to implement community-based sustainable development initiatives to care for the land and the environment and respond to global climate change. In 2010, they co-founded the Organization for the Conservation of Nature and Community Development (ORCONDECO), located in Alta Verapaz, Guatemala. Their approach centers local indigenous knowledge and focuses on building leadership capacity around conservation in local communities. ORCONDECO provides training for youth, teachers, community leaders, and university faculty through workshops and residential retreats. Drawing from science and indigenous knowledge and experience, they center cultural, economic, political, and environmental justice.
ORCONDECO works closely with the multiethnic indigenous Maya community of Copal AA La Esperanza and their middle school, Instituto Básico Nuevo Amanecer (IBNA). The curriculum at IBNA emphasizes youth leadership, Maya identity development, and cultural and environmental sustainability. Rafael Coy Choocoj, the Director of IBNA, will discuss how the school engages students and community members in learning about and acting on sustainability. Fabiana Jimenez Sales, one of the community's founders, will share some of the community's history, including their experience as refugees from the Guatemala internal armed conflict. App State's relationship with Copal AA extends back nearly 30 years, when Dr. Greg McClure in the Reich College of Education served as a human rights observer in the community during its first year in 1996. Along with colleagues Jeff Goodman and Shanan Fitts, he has led two delegations of App State students to the community. Read more about the App State/Copal AA partnership.
Dr. Anne Fanatico has been a faculty member in the Department of Sustainable Development since 2010. Her interests include regenerative agriculture, poultry research, and creating social justice in agriculture. She will talk about some of the initiatives related to the Sustainable Development Civic Garden. The Civic Garden began in 2006 and is located at the Living Learning Center.
For more information, or any questions about the event, contact Greg McClure at mccluregs@appstate.edu.
About the University Forum Lecture Series
The University Forum Lecture Series brings nationally prominent speakers to campus. Their views enliven campus dialogue on a variety of issues. Past speakers have included activist Gloria Steinem, conservationist Terry Tempest Williams, presidential historian Harold Holzer, CNN correspondent Peter Bergen and award-winning science journalist Carl Zimmer. Learn more at https://universityforum.appstate.edu.
About Appalachian State University
As the premier public undergraduate institution in the Southeast, Appalachian State University prepares students to lead purposeful lives as global citizens who understand and engage their responsibilities in creating a sustainable future for all. The Appalachian Experience promotes a spirit of inclusion that brings people together in inspiring ways to acquire and create knowledge, to grow holistically, to act with passion and determination, and to embrace diversity and difference. Located in the Blue Ridge Mountains, Appalachian is one of 17 campuses in the University of North Carolina System. Appalachian enrolls nearly 21,000 students, has a low student-to-faculty ratio and offers more than 150 undergraduate and graduate majors.