What is service-learning?
Posted July 22, 2010 at 9:28 p.m.
BOONE, N.C. — "I learned so much more than expected—both about myself and the problems people here experience," senior Sarah Cox said about her internship half a world away in Madurai, India, where last spring she set up a village recycling center and conducted case studies at the Centre for Rural Health and Environmental Protection.
Cox, a sustainable development major, is among a growing number of Appalachian State University students gaining overseas experience through Appalachian's International Community Development Initiative (ICDI).
The new program increases opportunities for students to participate in international service-learning, community-based research and service-based internships in India and South Africa.
"The ICDI program has added depth and breadth to the reach of our international service-learning program—offering students the opportunity to engage with communities in developing nations for two to four months at a time," said Shari Galiardi, director of service-learning at Appalachian.
The program is sponsored by Appalachian and the Community Together (ACT) and the Office of International Education and Development.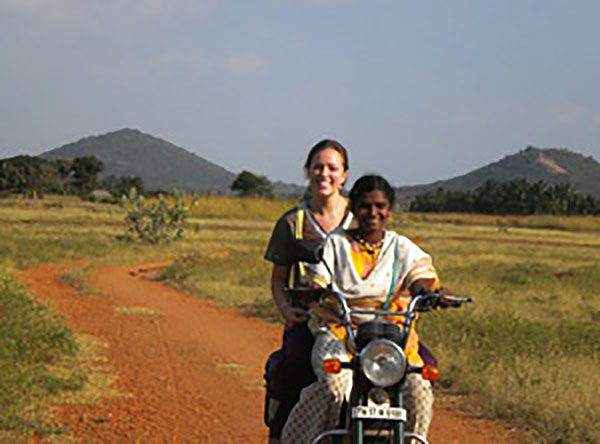 Who participates
A variety of majors can participate in ICDI. In addition to Cox, graduate student Rachel Siegel, a master of social work student with a concentration in expressive arts therapy, was also in Madurai, India, last spring. She interned with the Centre for Experiencing Socio-Cultural Interactions.
"Interning in India provided me with professional and personal experience that will continue to influence and enhance the rest of my life," Siegel said.
Three more students interned in India this summer:
Joo Lee, a chemistry (pre-med) student, with Madras Christian Council of Social Service in Chennai, India
Alexandra Farrington, an international business student, and Laura MacMinn, a management student, with the People's Development Initiative in Trichy, India
Each student participating in service-learning experiences in India were provided up to $4,000 in stipends by Appalachian's Office of International Education and Development through a grant from the U.S. Department of Education's Business and International Education Program.
In South Africa, Jack Bedrosian, a political science student, took a service-learning course titled "Service-Learning in the Humanities" at the University of the Free State, Bloemfontein, South Africa, during the 2010 spring semester.
Brandie Williams, a psychology (pre-med) student, completed a summer internship in 2009 at Mangaung University of the Free State Partnership Program Development and Health Care in Bloemfontein, South Africa. She worked in a public health clinic that specializes in treatment of HIV and tuberculosis. She also helped establish an administrative volunteer program that utilized local youth to help order and organize patient charts, referral forms and other duties.
Why faculty believe it is important
"I feel strongly that today's school and industry leaders require an understanding of the world's cultural traditions and cross cultures," said Dr. Paul Wallace in the Department of Leadership and Educational Studies, who is among Appalachian faculty convinced of the value of international service-learning.
He traveled to southern India to identify projects that his master's level instructional technology students could complete as a part of a new service-learning course. His advanced web design students ended up working with the Russ Foundation in Madurai, India, to redesign the agency's web site.
"In the future, I hope to expand the service-learning component in this and other instructional technology courses, whereby Appalachian students will serve as technology mentors and consultants to teachers and community members in southern India."
This spring, the university sponsored special forums both on campus and in South Africa to enhance community engagement work. A similar forum will be held in southern India during the 2010-11 academic year.
What do you think?
Share your feedback on this story.
What is service-learning?
About the Office of International Education and Development
The OIED is responsible for spearheading the internationalization efforts at Appalachian. The internationalization mission of Appalachian is to develop awareness, knowledge, appreciation and respect of cultural differences in both domestic and international contexts in its students, faculty, staff and the surrounding communities. The university is also dedicated to creating a campus environment that builds the theoretical and practical skills needed to interact effectively in a global society. Learn more at https://international.appstate.edu.
About Appalachian State University
As the premier public undergraduate institution in the Southeast, Appalachian State University prepares students to lead purposeful lives as global citizens who understand and engage their responsibilities in creating a sustainable future for all. The Appalachian Experience promotes a spirit of inclusion that brings people together in inspiring ways to acquire and create knowledge, to grow holistically, to act with passion and determination, and to embrace diversity and difference. Located in the Blue Ridge Mountains, Appalachian is one of 17 campuses in the University of North Carolina System. Appalachian enrolls nearly 21,000 students, has a low student-to-faculty ratio and offers more than 150 undergraduate and graduate majors.