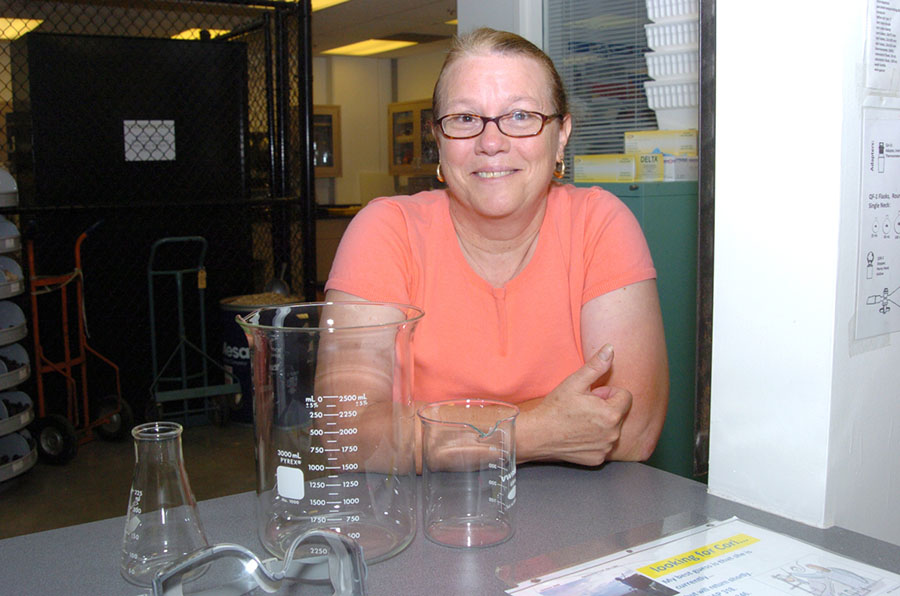 Posted July 26, 2010 at 3:32 p.m.
BOONE, N.C. — We all know what happens when you mix baking soda and vinegar, or drop Mentos candy in a carbonated drink – a chemical reaction that's fun to watch, but messy to clean up.
Mixing or spilling chemicals in a laboratory, however, can have dangerous consequences.
Samuella B. Sigmann, a lecturer and chemical hygiene officer in Appalachian State University's Department of Chemistry, educates students and faculty about chemical safety to reduce the risk of personal injury or property damage.
Her course on lab safety was highlighted in an article on expanding chemical safety training for undergraduate students that was published in Chemical and Engineering News, an international publication of the American Chemical Society.
"We have always had safety protocols," Sigmann said, "but as the department and university have become more research oriented, we have expanded our safety training and safety protocols. This training also gives our students who enroll in graduate programs or are employed in industrial settings knowledge of safety procedures required in their field."
Students taking Sigmann's safety course are introduced to more detailed information than they might receive otherwise, such as how to access and use Material Safety Data Sheets, and about the proper types of personal protective gear such as goggles, gloves and respirators, and proper waste management. They also learn about OSHA, EPA and other regulations. "Students need to know about regulations relating to certain chemicals, including those imposed by Homeland Security," she said.
Before students can participate in chemistry labs, they watch a safety video produced by the American Chemical Society. Students enrolled in the chemistry department's introduction to research class have access to a web-based chemical hygiene course and they also must pass a safety quiz. Students who go on to conduct undergraduate laboratory research in departmental labs complete the training by indicating knowledge of safety items specific for the lab. They also may be required to write a standard operating procedure outlining hazards, protections, what to do if there is a spill, and evaluate if a less hazardous chemical might be suitable for use. "You can't change the fact that certain chemicals are hazardous, but you can reduce risk when using chemicals," Sigmann said.
Sigmann's course is open to anyone who may work with chemicals, such as students enrolled in or faculty teaching in technology, biology, geology art or physics courses.
Students need to learn that responsible chemical research must be conducted safely according to best practices. "Future chemists should not view safety as an impediment to research, but as its compliment. You can perform effective research in a safe environment," Sigmann said.
What do you think?
Share your feedback on this story.
About the A.R. Smith Department of Chemistry and Fermentation Sciences
The A.R. Smith Department of Chemistry and Fermentation Sciences offers a Bachelor of Arts in chemistry, a Bachelor of Science in chemistry with eight different concentrations and an interdisciplinary Bachelor of Science degree in fermentation sciences. The department's programs prepare students to attend graduate and professional schools, as well as for employment in the pharmaceutical and fermentation industries and other business sectors. Learn more at https://dcfs.appstate.edu.
About the College of Arts and Sciences
The College of Arts and Sciences (CAS) at Appalachian State University is home to 17 academic departments, two centers and one residential college. These units span the humanities and the social, mathematical and natural sciences. CAS aims to develop a distinctive identity built upon our university's strengths, traditions and unique location. The college's values lie not only in service to the university and local community, but through inspiring, training, educating and sustaining the development of its students as global citizens. More than 6,400 student majors are enrolled in the college. As the college is also largely responsible for implementing App State's general education curriculum, it is heavily involved in the education of all students at the university, including those pursuing majors in other colleges. Learn more at https://cas.appstate.edu.
About Appalachian State University
As the premier public undergraduate institution in the Southeast, Appalachian State University prepares students to lead purposeful lives as global citizens who understand and engage their responsibilities in creating a sustainable future for all. The Appalachian Experience promotes a spirit of inclusion that brings people together in inspiring ways to acquire and create knowledge, to grow holistically, to act with passion and determination, and to embrace diversity and difference. Located in the Blue Ridge Mountains, Appalachian is one of 17 campuses in the University of North Carolina System. Appalachian enrolls nearly 21,000 students, has a low student-to-faculty ratio and offers more than 150 undergraduate and graduate majors.