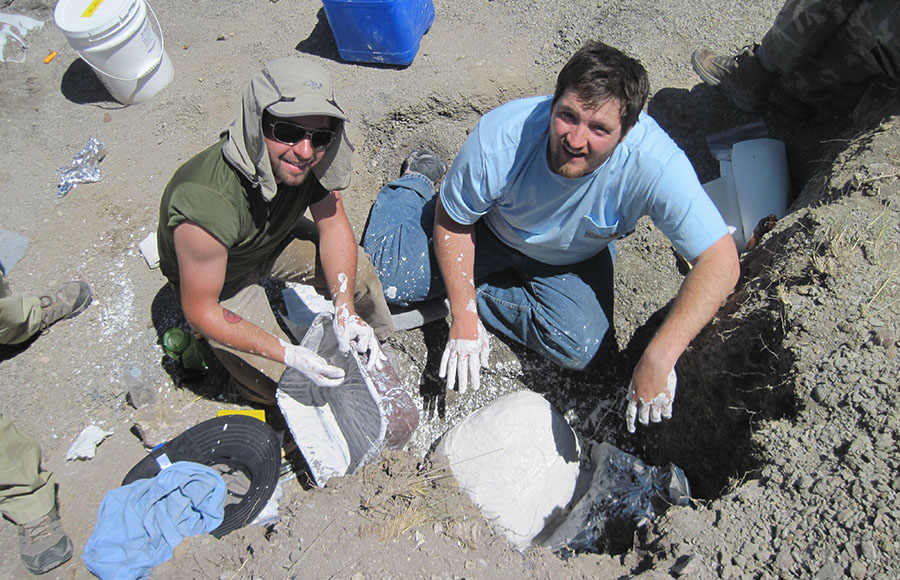 Posted Aug. 2, 2012 at 8:10 p.m.
BOONE, N.C. — It's known as the "Triassic trip"—an annual excursion to recover fossils in the American Southwest from the Triassic period.
Geology students at Appalachian State University gain knowledge from the field experience, while also collecting resources for the N.C. Museum of Natural Sciences' Paleontology Section and its research and collections.
The partnership between Appalachian and the museum is in its third year. In that time, the museum has received about 50 plaster-jacketed fossils of various sizes, with weights ranging from 10 to 100 pounds. In a process that can take weeks to years, the museum will extract the fossils for research or exhibit.
Fossils recovered by students during past "Triassic trips" include hipbones of an Aetosaur, which is an early relative of the crocodile, and bones from a Placerias, a mammal-like reptile that lived during the late Triassic period.
The N.C. Museum of Natural Sciences' collections include fossils from the same time period unearthed in North Carolina. "The long-term research goal is to help us understand the state's Triassic period," said Vince Schneider, curator of paleontology at the museum. "We are getting lots of material from North Carolina, but we don't have a lot of comparative material. These trips are helping us build a decent Triassic collection in the state."
This year's trip was to the Placerias Quarry in northeastern Arizona, which was first excavated by the University of California Berkley in the 1930s and later by the Museum of Northern Arizona in the 1970s and 1980s. It has been at least 20 years since the site was actively studied.
"Historically it's known to be a very rich site," said Professor Andrew B. Heckert, director of the McKinney Geology Teaching Museum at Appalachian and a member of the Department of Geology faculty. He leads the trip each year.
In this latest trip, students unearthed dime-sized upper arm bones, probably from an animal smaller than a squirrel; a bone that might be from a dinosaur; and pieces of bone possibly from a Trilophosaurus, a lizard-like reptile probably weighed up to 100 pounds and growing to about eight feet in length.
"If we didn't have Appalachian, we would have a more difficult time getting this done," said Schneider. "Andy and his students help us get more material than we would otherwise."
Fossils recovered from past Triassic trips have led to research publications and presentations by Heckert and his students in publications such as the Journal of Vertebrate Paleontology, Rocky Mountain Geology and Geological Society of America Abstracts.
What do you think?
Share your feedback on this story.
About the Department of Geological and Environmental Sciences
Located in Western North Carolina, Appalachian State University provides the perfect setting to study geological and environmental sciences. The Department of Geological and Environmental Sciences provides students with a solid foundation on which to prepare for graduate school or build successful careers as scientists, consultants and secondary education teachers. The department offers six degree options in geology and two degree options in environmental science. Learn more at https://earth.appstate.edu.
About the College of Arts and Sciences
The College of Arts and Sciences (CAS) at Appalachian State University is home to 17 academic departments, two centers and one residential college. These units span the humanities and the social, mathematical and natural sciences. CAS aims to develop a distinctive identity built upon our university's strengths, traditions and unique location. The college's values lie not only in service to the university and local community, but through inspiring, training, educating and sustaining the development of its students as global citizens. More than 6,400 student majors are enrolled in the college. As the college is also largely responsible for implementing App State's general education curriculum, it is heavily involved in the education of all students at the university, including those pursuing majors in other colleges. Learn more at https://cas.appstate.edu.
About Appalachian State University
As the premier public undergraduate institution in the Southeast, Appalachian State University prepares students to lead purposeful lives as global citizens who understand and engage their responsibilities in creating a sustainable future for all. The Appalachian Experience promotes a spirit of inclusion that brings people together in inspiring ways to acquire and create knowledge, to grow holistically, to act with passion and determination, and to embrace diversity and difference. Located in the Blue Ridge Mountains, Appalachian is one of 17 campuses in the University of North Carolina System. Appalachian enrolls nearly 21,000 students, has a low student-to-faculty ratio and offers more than 150 undergraduate and graduate majors.