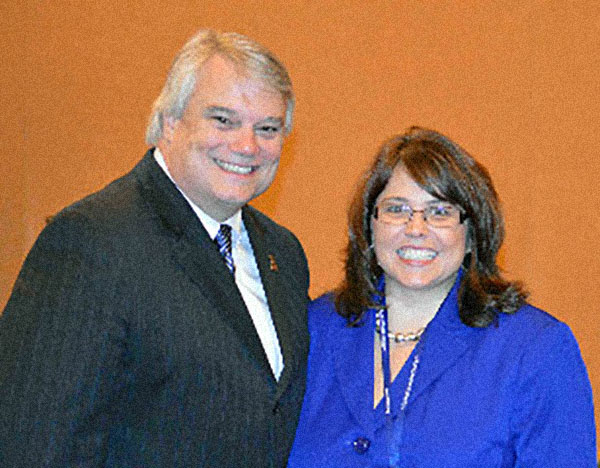 Posted Jan. 22, 2013 at 2 p.m.
BOONE — Dr. Jennifer Snodgrass from Appalachian State University's Hayes School of Music received the 2012 College Music Society Technology Initiative Award during the national meeting of the College Music Society (CMS).
The award recognizes a CMS member who has demonstrated exceptional initiative in integrating technology in college music instruction, preparing students to share their musicianship with a global community that is increasingly dependent on technology, and providing a model of effective practice to education, industry and the public at large.
Since joining the music faculty at Appalachian in 2005, Snodgrass has been a leader on campus and in her profession in using technology to enhance student learning.
Snodgrass uses Tablet PCs to teach music theory. Her teaching expands on her work as a Ph.D. student at the University of Maryland that focused on computer-assisted instruction and pedagogy.
Students in Snodgrass's music theory classes learn about the dynamics of composition and music theory and are able to share their in-classroom work with other students using a Tablet PC.
In 2006, Snodgrass received a Microsoft Research & External Programs grant to further develop her use of technology in the classroom and offered workshops on campus and presented talks at professional meetings about her work.
Snodgrass, along with computer science faculty member Frank Barry from Appalachian, Byron Richard from Trinity Software Solutions, and Susan Piagentini from Northwestern University, developed a Web site that complements the music theory textbook used by Snodgrass and other music educators across the United States.
Former graduate student John Leupold '06 earned a doctorate focusing on composition and now is a member of the music faculty at Washington College. His students and those in Snodgrass's class are now working on joint assignments using the Tablet PC and software related to music theory and composition analysis.
Snodgrass's research of the efficacy of Tablet PCs and other pedagogical research can be found in "The Impact of Tablet PCs and Pen-Based Technology on Education" published by Purdue Press, the 2012 volume of Journal of Technology in Music Learning, Journal of Music Theory Pedagogy Online, Sacred Music, The TI:MEs, Music Theory Online and the Music Educators Journal.
She will write an article about her work for the Instructional Technologies component of College Music Symposium journal and present a talk at the 2013 CMS national conference in Cambridge, Mass.
What do you think?
Share your feedback on this story.
About the Hayes School of Music
The Hayes School of Music prepares young musicians for professional lives as performers, composers, music educators, music therapists, conductors and music industry professionals, ensuring the next generation of musical leadership for the state, region and nation. Noted for quality instruction by national and internationally recognized faculty musicians, the school offers four undergraduate degree programs and three graduate-level programs. Learn more at https://music.appstate.edu.
About Appalachian State University
As the premier public undergraduate institution in the Southeast, Appalachian State University prepares students to lead purposeful lives as global citizens who understand and engage their responsibilities in creating a sustainable future for all. The Appalachian Experience promotes a spirit of inclusion that brings people together in inspiring ways to acquire and create knowledge, to grow holistically, to act with passion and determination, and to embrace diversity and difference. Located in the Blue Ridge Mountains, Appalachian is one of 17 campuses in the University of North Carolina System. Appalachian enrolls nearly 21,000 students, has a low student-to-faculty ratio and offers more than 150 undergraduate and graduate majors.