Posted July 15, 2013 at 3:42 p.m.
BOONE, N.C. — Appalachian State University is one of 19 U.S. universities to open an American Cultural Center at a Chinese university. The center at Northeastern University (NEU) in Shenyang, China, has been funded by a $100,000 grant from the U.S. Department of State and is part of a program initiated by the state department in 2011.
The center, dedicated May 10 during American Culture Day at NEU, includes a reading room with books, films and other materials about American culture. NEU has installed video conference equipment and computers and also purchased materials for the center.
Appalachian has had a relationship with Northeastern University since 1981 when former chancellor John E. Thomas initiated an exchange program with Northeast Institute of Technology, now Northeastern University. Appalachian was the first university in the United States to develop a bilateral relationship with a Chinese university that was not initiated at a government level following China's Open Door Policy of the late 1970s.
"This program really elevates our partnership to a new level," said Dr. Xiaorong Shao, an information literacy librarian in Appalachian's Belk Library and Information Commons. She is the grant's principal investigator and the director of American Cultural Center along with her counterpart at NEU. Foreign language professors Dr. Xiaofei Tu and Dr. Wei Xie from Appalachian are co-principal investigators for the grant.
"Northeastern University especially wants to help its students understand American culture and provide opportunities for their faculty to have cultural exposure and opportunities for teaching and conducting research in areas related to American culture," Shao said.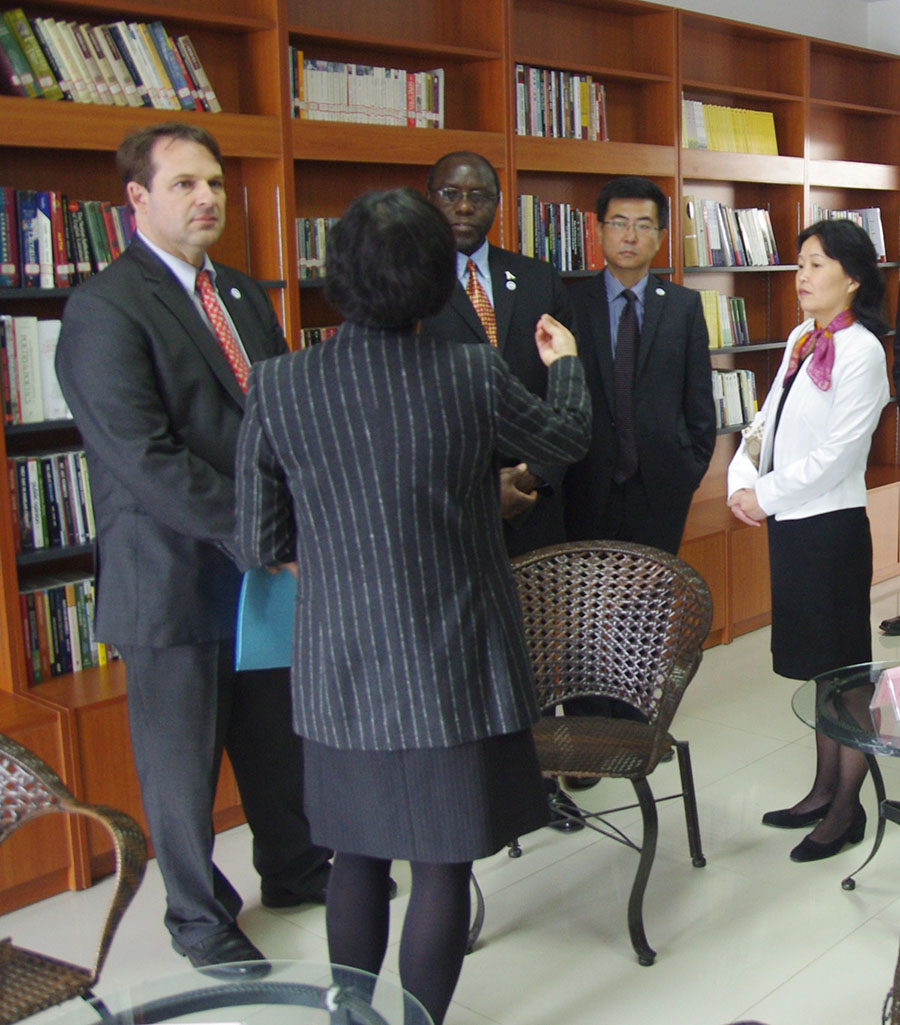 During NEU's spring semester, six professors from Appalachian presented programs about Shenyang's and the Appalachia region's coal mining industry, the sustainable development program at Appalachian, information technology ethics and e-commerce, the history and music of the Appalachian region, slavery, changing U.S. demographics and American cooking and gardening – all topics requested by educators and students at NEU.
Each institution also has sent one professor as an exchange professor to conduct teaching and research at the partner university during the spring semester and summer session.
The grant also sponsored a student leaders program in which students from both universities participated during the spring semester, using email and Skype to communicate for their projects.
The grant also supports outreach to the general public in Shenyang. These included a Model UN Conference by students from universities in Shenyang, music by Chinese and American musicians, and a lecture series presented by professors from other NEU partner universities in U.S.
"There is a lot of misunderstanding among people about each other's culture," Shao said. "While the U.S. and China have long been business partners, it remains important to provide opportunities for students and the general public to understand U.S. culture and history."
Better understanding of each other's culture can help improve relationships between the two countries, she added.
Following the opening of the culture center, NEU announced it will offer scholarships that provide housing and tuition for up to 12 students from Appalachian interested in a three-month Chinese-language program. "That will give the NEU students an opportunity to interact with our students," Shao said. "Northeastern wants to bring the world to their students, too, as we do here for our students." Appalachian has hosted students from NEU since 2011.
Eight faculty and administrators from NEU traveled to Appalachian in July to attend workshops on language pedagogy, curriculum design and teaching with technologies. They also participated in cultural tours in North Carolina and Washington, D.C.
Shao plans to seek a supplemental Department of State grant to provide a series of lectures and learning opportunities at Northeastern University on sustainable campus development.
"Certainly, having the American Cultural Center at Northeastern has opened a new chapter in our relationship with that long-term partner," said Dr. Jesse Lutabingwa, associate vice chancellor for international education and development.
"Our goal now is to continue deepening our institutional relationship to take advantage of the strengths of each institution for the benefit our students, faculty and staff. For example, we are currently discussing a 2+2 program in which students will take the first two years of university general education coursework at Northeastern and complete the final two years at Appalachian," he said.
Other future programming may include a summer camp for NEU students at Appalachian and outreach to area high school students in Shenyang to encourage them to study at Appalachian.
Video about the American Culture Center at NEU and activities associated with American Culture Day
What do you think?
Share your feedback on this story.
About Northeastern University and Shenyang
Founded in 1923, NEU enrolls more than 20,000 students. It offers 46 undergraduate programs, 53 master's degree programs and 23 doctoral degree programs, as well as an adult education program. It is considered one of China's top 50 universities. Located in northeast China's Liaoning province, Shenyang is the largest city in northeast China. It has a population of 8.1 million. The city has been a leader in China's move to modernize its manufacturing industry and reduce air and other pollution. It was named a National Environmental Protection Model City and one of China's most "Economically Dynamic" cities in 2004.
About Appalachian State University
As the premier public undergraduate institution in the Southeast, Appalachian State University prepares students to lead purposeful lives. App State is one of 17 campuses in the University of North Carolina System, with a national reputation for innovative teaching and opening access to a high-quality, affordable education for all. The university enrolls more than 21,000 students, has a low student-to-faculty ratio and offers more than 150 undergraduate and 80 graduate majors at its Boone and Hickory campuses and through App State Online. Learn more at https://www.appstate.edu.