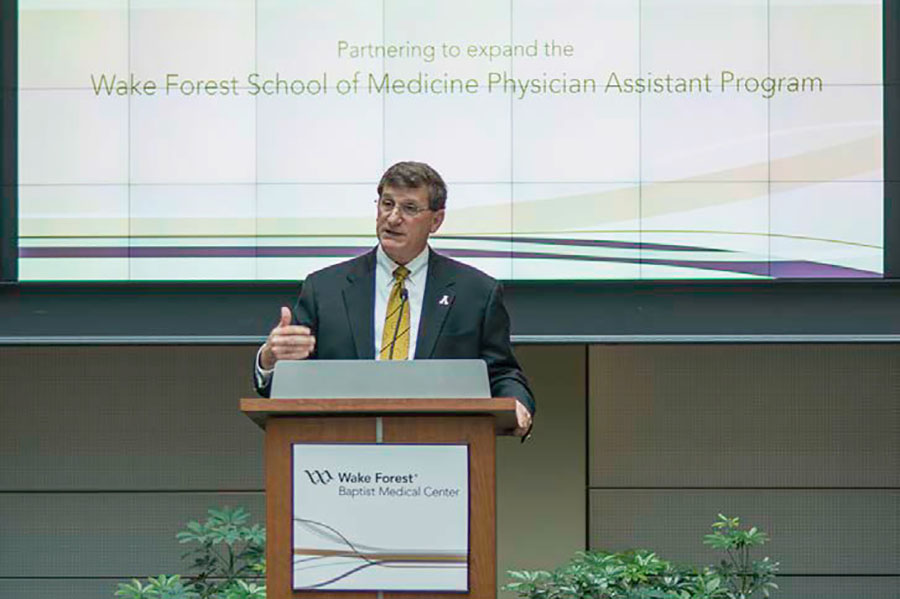 Posted Aug. 28, 2013 at 2:36 p.m.
BOONE, N.C. — Appalachian State University and Wake Forest Baptist Medical Center announced today (Aug. 28) plans to expand the physician assistant (PA) program at the Wake Forest School of Medicine to Appalachian State University's campus.
The program will address a shortage of primary care physician assistants in the rural areas of the state, according to John D. McConnell, M.D., chief executive officer at Wake Forest Baptist Medical Center, who spoke during a news conference held in Winston-Salem.
Students admitted to the program will take the same curriculum as students in the current PA program, beginning a one-month basic science immersion at the Wake Forest School of Medicine. For the remainder of their pre-clinical training, students can attend classes at either the Wake Forest or Appalachian's College of Health Sciences. Supervised clinical experience, or rotations, will be administered by the program and take place at participating medical facilities, with an emphasis on building a PA workforce that remains in Western North Carolina.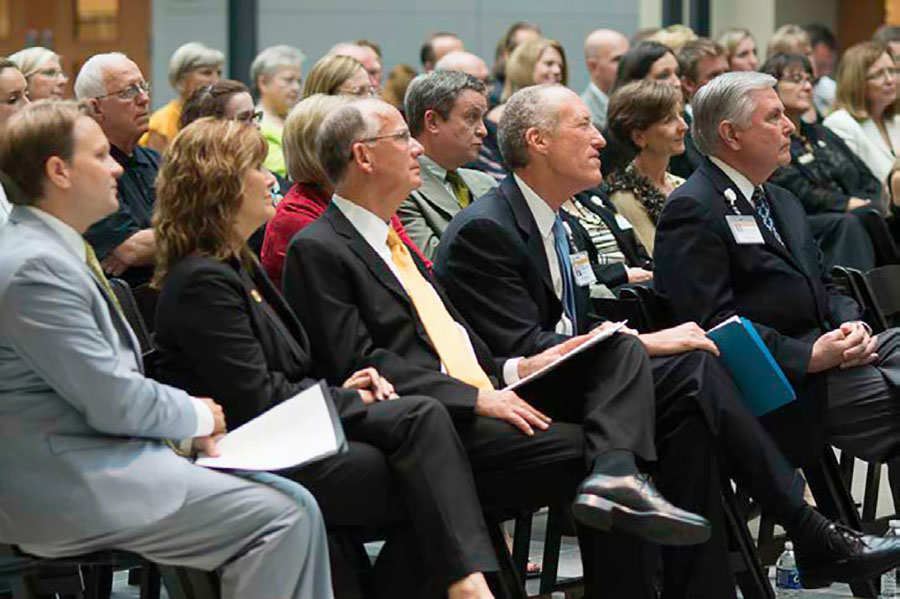 The program initially will enroll 24 to 32 students who will complete in-depth course work, including small-group learning, clinical skills and assessment activities and supervised clinical rotations. After taking the basic science immersion coursework, they will then move on to nine months of preclinical training at Appalachian. After that, students will start their year-long series of required and elective supervised clinical rotations in locations across the region and country.
"As we increase access to health care and hopefully the affordability of health care, there will be and already is a major challenge with (having sufficient) providers," McConnell said. "And the algebra simply will not work to think that all of those needs can be met by physicians." He said health care needs in many communities will be met by physician assistants and advanced nurse practitioners.
To help address the need for physician assistants in underserved communities, the program will target students from the Appalachian region who want to train and work in these underserved areas, as well as veterans of the United States military.
"We feel students at both universities will benefit as they will have interprofessional, educational and clinical experiences that will provide them with a competitive advantage," said Dr. Frederick K. Whitt, dean of Appalachian's College of Health Sciences. "But the real winners are the citizens of Western North Carolina and beyond by having greater access to much needed primary health care."
There are 173 accredited PA programs in the country. Wake Forest's 44-year old program is a national leader and ranks 18th in the U.S. by U.S. News & World Report.
Appalachian's Chancellor Kenneth E. Peacock called the partnership "a dream come true" and "a way we can truly serve our region and improve health care in the rural part of North Carolina."
The PA initiative is partially funded by a three-year, $375,000 grant from the Duke Endowment. The Duke Endowment in Charlotte seeks to fulfill the legacy of James B. Duke by enriching lives and communities in the Carolinas through higher education, health care, rural churches and children's services. Since its inception in 1924, the endowment has awarded more than $3 billion in grants.
What do you think?
Share your feedback on this story.
About the Beaver College of Health Sciences
Appalachian State University's Beaver College of Health Sciences (BCHS), opened in 2010, is transforming the health and quality of life for the communities it serves through interprofessional collaboration and innovation in teaching, scholarship, service and clinical outreach. BCHS offers nine undergraduate degree programs and seven graduate degree programs, which are organized into six departments: Nursing, Nutrition and Health Care Management, Public Health and Exercise Science, Recreation Management and Physical Education, Rehabilitation Sciences, and Social Work. The college's academic programs are located in the Holmes Convocation Center on App State's main campus and the Leon Levine Hall of Health Sciences, a state-of-the-art, 203,000-square-foot facility that is the cornerstone of the Wellness District. In addition, the college supports the Blue Cross NC Institute for Health and Human Services and has collaborative partnerships with the Wake Forest School of Medicine's Physician Assistant Program, the Appalachian Regional Health System and numerous other health agencies. Learn more at https://healthsciences.appstate.edu.
About Appalachian State University
As the premier public undergraduate institution in the Southeast, Appalachian State University prepares students to lead purposeful lives as global citizens who understand and engage their responsibilities in creating a sustainable future for all. The Appalachian Experience promotes a spirit of inclusion that brings people together in inspiring ways to acquire and create knowledge, to grow holistically, to act with passion and determination, and to embrace diversity and difference. Located in the Blue Ridge Mountains, Appalachian is one of 17 campuses in the University of North Carolina System. Appalachian enrolls nearly 21,000 students, has a low student-to-faculty ratio and offers more than 150 undergraduate and graduate majors.