Posted Jan. 6, 2014 at 9:33 a.m.
BOONE, N.C. — Winter Alternative Service Experience (ASE) Programs at Appalachian State University allow students to use the long holiday to explore and serve a different community. Programs vary in length and cost, but provide the same components of service, learning and exploration found in Alternative Service Experience programs during fall and spring breaks.
The winter 2014 programs in early January are in La Represa, Dominican Republic, and San Francisco.
In the Dominican Republic, students will work alongside community members repairing their school. The goal is to for students to be immersed in the vibrant culture and learn how grassroots non-profit organizations prioritize the needs, resources and interests of the village that lead to sustainable lifestyles for the people.
While in San Francisco, students will work with various organizations that serve individuals living with HIV/AIDS who are also struggling day-to-day to establish a sustainable source of food and shelter.
Senior global studies major Libba Moore will co-lead the Dominican Republic trip with senior sociology major Lauren Berryhill. Moore led an ASE trip to Peru last year to assist at a school in Cusco and described that experience as "an absolute joy.… Not only did I have the chance to submerge into the culture for a week but was able to help create a transformational experience for the ASE students.
"It is fascinating to watch a person being woken up to the darkest shades of problems in this world, but also to see a passionate fire arise from their realizations. I have been so lucky to watch 12 students become more curious about assisting humankind and I can't wait to see 12 more students go through the same process," Moore said.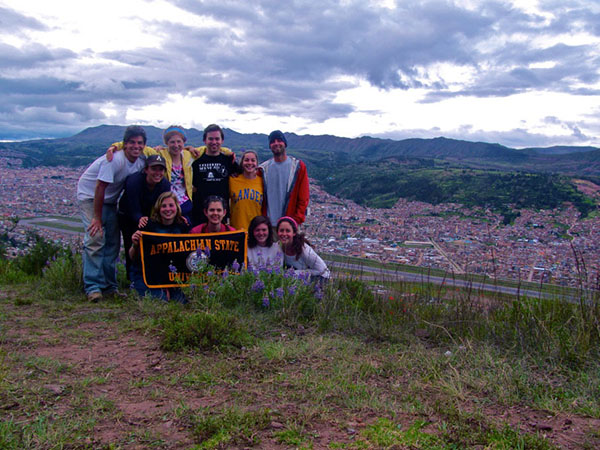 Life-changing experiences
Surveys of ASE participants have shown that nine out of 10 students agree that their future goals shifted or solidified after participating in an alternative service experience.
"It's a wonderful opportunity for all students to be involved with. Students have transformational experiences on these trips. I think every student should do it at least once," said Heather Jo Mashburn, assistant director of community service for Appalachian and the Community Together (ACT). ACT is the university's clearinghouse for community service, service-learning and community-based research.
The Winter ASE Program began because of student demand. Students wanted more opportunities for service over the long winter break and faculty members saw this as an opportunity for more students to participate. The winter trip allows December graduates and student-teachers participate.
Future opportunities
ACT is sponsoring 34 programs during the 2013-14 academic school year and is currently recruiting for spring break trips. Visit act.appstate.edu for details.
What do you think?
Share your feedback on this story.
About Appalachian State University
As the premier public undergraduate institution in the Southeast, Appalachian State University prepares students to lead purposeful lives. App State is one of 17 campuses in the University of North Carolina System, with a national reputation for innovative teaching and opening access to a high-quality, affordable education for all. The university enrolls more than 21,000 students, has a low student-to-faculty ratio and offers more than 150 undergraduate and 80 graduate majors at its Boone and Hickory campuses and through App State Online. Learn more at https://www.appstate.edu.