Posted Feb. 21, 2014 at 11:04 a.m.
Eating apples benefits our health, right? To what degree is a research topic Appalachian State University senior Leslie McCullen is exploring with her professor Dr. Martin Root in the university's College of Health Sciences.
They are measuring the presence of triterpenoids in the peels of 47 different varieties of North Carolina apples. Triterpenoids are compounds that possess health promoting properties that have been shown to fight cancer, inflammation and other disease.
"We're starting by surveying apples in North Carolina to see which varieties are high or low in levels of triterpenoids, and then in later studies we would want to find out if the effects of these compounds can be studied in people," said Dr. Martin Root, who teaches in Appalachian's Department of Nutrition and Health Care Management.
Root was eager to study the compounds after reading research by others that linked the triterpenoid known as ursolic acid to reduced obesity in mice. "The potential for these compounds is amazing, but no studies have been done with people. What Leslie is doing is the first step towards that," Root said.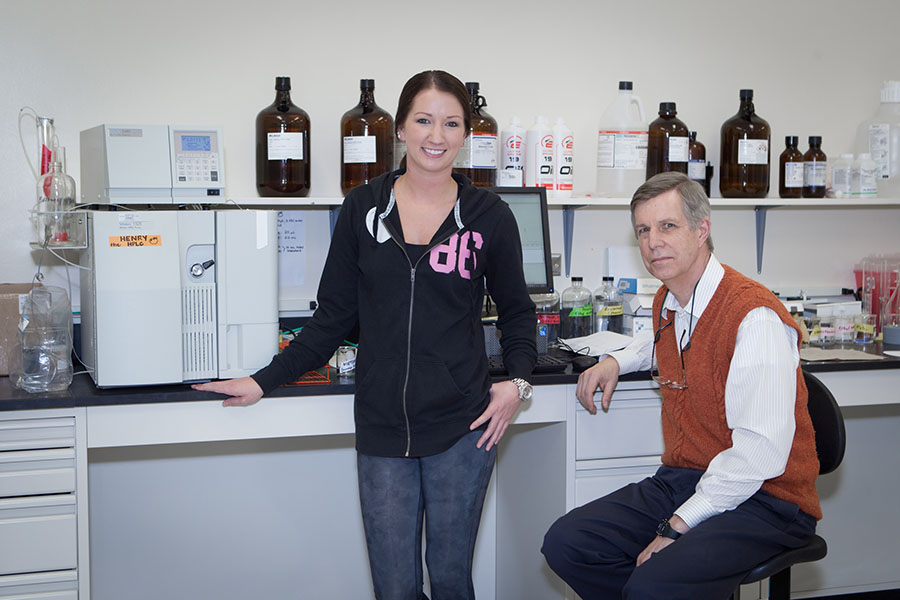 Their work recently got a financial boost from Appalachian's new Creating a Healthy, Just and Sustainable Society Student Research initiative. A nutrition and foods major, McCullen applied for the grant and was among 13 students who received $7,995 in total funding from the university.
McCullen used her $400 award to purchase three acids in the triterpenoid family—ursolic, oleanolic and betulinic acids—to use as standards for comparison. Using apples her professor purchased at farm stands, she cuts, peels and extracts them and then puts the extract through a high pressure liquid chromatography (HPLC) method in the College of Health Sciences laboratory to separate and quantify the levels of the naturally occurring acids found in the peels. The HPLC method requires multiple tests, so the standards she purchased are used for comparison and to ensure accuracy in the lab equipment.
"I've always had an interest in nutrition. I like the science aspect of it," McCullen said, a senior from Apex. She began the project last summer. The research opportunity has taught her important lab skills, she said, but also how to adapt to unexpected change and solve problems creatively.
McCullen is applying to graduate school with the goal to earn a master's degree in nutritional science. "This study has been perfect because it's about why foods are healthy, why these compounds are good for us and how we can prove that. That's what I'm interested in doing," she said.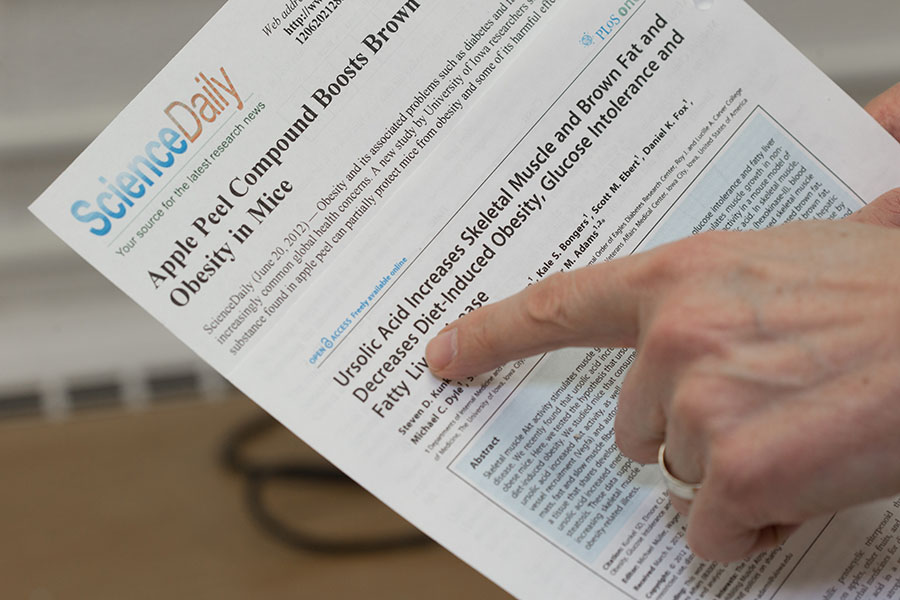 About the grant
Appalachian's new Creating a Healthy, Just and Sustainable Society Student Research Projects grant initiative is sponsored by Appalachian's Office of Student Research and the university's Research Institute for the Environment, Energy and Economics (RIEEE).
The grants support individual students and/or student groups engaged in a year-long research project that contributes to sustainability and human well-being through the use of economic, natural and human resources. Funding was provided by the academic deans and other units across campus.
"To be able to fund 13 faculty mentored student research projects with a focus on sustainability for a first time grant opportunity is a significant success," said Alan Utter, Appalachian's interim vice provost for research and director of the Office of Student Research. "This amount of participation from our faculty and students demonstrates a continued motivation of seeking discovery and new knowledge at the intersection of a healthy, just and sustainable society on our campus."
The recipients comprise three students from the College of Arts and Sciences, one from the Walker College of Business, one from the Reich College of Education, two from the College of Fine and Applied Arts and six from the College of Health Sciences.
Students and their projects are:
Appalachian studies graduate student Davie Walker, "Cultivating Community: Employing Appalachian State University's Edible Schoolyard as a University and Community Gathering Place and Incubator for Community Garden Best Practices"—$300
Biology undergraduate Alexis Gropper, "Mycoremediation of Oil Contamination in the Ecuadorian Amazon: Applying fungus to decompose oil to filter water and soil"—$300
Geography and planning graduate student Kathy Henson, "Bicycling in Boone: Safety, Citizenship, and Informality"—$500
Management graduate student Matthew Cartabuke, "Social Justice Perceptions of Higher Education Students"—$500
Educational leadership doctoral student Courtney Baines-Smith, "How Garden-Based Education Teacher Training Affects Preschool Teacher Attitudes About Learning Gardens"—$500
Art undergraduate Aaron Fairbanks, "Recess"—$1,000
Communication undergraduate Kara Flowers, "Civic Engagement: What Can Students Do?"—$1,000
Recreation management undergraduate Michael Neff, "Sustainability in Ski Resorts"—$500
Exercise science graduate student Amber Taylor, "Active Today = Healthy Tomorrow"—$1,000
Recreation management undergraduate Kate Miller, "An Evaluation of Sustainable Food Tourism in the Appalachian Region: A Case Study of Marketing a Tourist-Oriented Mapguide" —$495
Exercise science graduate student Courtney Goodman, "Effects of Strength Training on Measures of Ankle Stiffness and Mechanical Efficiency"—$1,000
Health, leisure and exercise science graduate student Andrew Zimmer, "The Privilege of Eating Local Food: A Qualitative Study Exploring Low Income Families' Food Choices"—$500
Nutrition and foods undergraduate Leslie McCullen, "Measuring triterpenoids in North Carolina Apples, 2013-2014"—$400
What do you think?
Share your feedback on this story.
About the Department of Nutrition and Health Care Management
The Department of Nutrition and Health Care Management in Appalachian State University's Beaver College of Health Sciences provides graduate and undergraduate programs. The undergraduate health care management program prepares students for entry-level management positions, while the online Master of Health Administration degree is designed for working professionals who desire to advance their careers. The undergraduate nutrition and foods program prepares students for careers in dietetics or food systems management in a variety of settings, including schools, hospitals, nursing homes and food banks. The highly competitive master's degree in nutrition provides a pathway for students to become registered dietitians. Learn more at https://nhm.appstate.edu.
About the Beaver College of Health Sciences
Appalachian State University's Beaver College of Health Sciences (BCHS), opened in 2010, is transforming the health and quality of life for the communities it serves through interprofessional collaboration and innovation in teaching, scholarship, service and clinical outreach. BCHS offers nine undergraduate degree programs and seven graduate degree programs, which are organized into six departments: Nursing, Nutrition and Health Care Management, Public Health and Exercise Science, Recreation Management and Physical Education, Rehabilitation Sciences, and Social Work. The college's academic programs are located in the Holmes Convocation Center on App State's main campus and the Leon Levine Hall of Health Sciences, a state-of-the-art, 203,000-square-foot facility that is the cornerstone of the Wellness District. In addition, the college supports the Blue Cross NC Institute for Health and Human Services and has collaborative partnerships with the Wake Forest School of Medicine's Physician Assistant Program, the Appalachian Regional Health System and numerous other health agencies. Learn more at https://healthsciences.appstate.edu.
About the Research Institute for Environment, Energy, and Economics
Since 2008, Appalachian State University's Research Institute for Environment, Energy, and Economics (RIEEE) has fostered interdisciplinary research on the environment, energy and economics, especially the areas in which these subjects intersect. The institute serves as an umbrella organization for three centers: the Appalachian Energy Center, Center for Economic Research and Policy Analysis (CERPA) and the Southern Appalachian Environmental Research and Education Center (SAEREC). The work supported by RIEEE is integrated into Appalachian's academic programs, used to facilitate discovery among K-12 student students and teachers, and employed in the region's economic development. Learn more at https://rieee.appstate.edu.
About student research at Appalachian
Appalachian State University encourages faculty-mentored student research, which provides students with the opportunity to work side by side with faculty on meaningful research or creative endeavors. These projects often result in presentations, performances or exhibitions at regional, national and international conferences and events. Students who engage in research are able to apply knowledge from the classroom into real-world experiences and learn how to problem-solve, effectively communicate and analyze complex issues. Appalachian's Office of Student Research (OSR) was established in 2005 to expand the opportunities necessary for undergraduate and graduate students to engage in research and creative activities at Appalachian. Learn more at https://osr.appstate.edu.
About Appalachian State University
As the premier public undergraduate institution in the Southeast, Appalachian State University prepares students to lead purposeful lives as global citizens who understand and engage their responsibilities in creating a sustainable future for all. The Appalachian Experience promotes a spirit of inclusion that brings people together in inspiring ways to acquire and create knowledge, to grow holistically, to act with passion and determination, and to embrace diversity and difference. Located in the Blue Ridge Mountains, Appalachian is one of 17 campuses in the University of North Carolina System. Appalachian enrolls nearly 21,000 students, has a low student-to-faculty ratio and offers more than 150 undergraduate and graduate majors.