Posted March 24, 2014 at 1:10 p.m.
Dr. Timothy J. Smith has a special relationship with the predominantly indigenous town of Sololá, Guatemala. The Appalachian State University anthropologist began conducting research and field work there as an undergraduate student at Tulane University and continues to form lasting relationships through his academic contributions.
He is fluent in the local language, Kaqchikel Mayan, and his 17-year connection to Sololá includes:
a Fulbright grant to conduct dissertation field work that studied the customs, traditions and practices of the town's indigenous government
assisting with translation of documents written in Sololá in the 16th and 17th centuries by the town's elders, collectively known as The Kaqchikel Chronicles (University of Texas Press, 2006), through a research project at Tulane
a 2011 project by Appalachian to publish the first social science textbook written in Kaqchikel Mayan, which is being distributed to indigenous leaders, school officials, teachers and students in Sololá
In January, he received a special honor: the invitation to speak to nearly 5,000 citizens attending the inauguration of Sololá's new indigenous mayor and local government representatives.
"I talked about what we are hoping to accomplish with the textbook as a way to revitalize and strengthen the culture and, more importantly, to teach the younger generation about local traditions," he said of his speech to the newly elected leaders. "This is a way to try and help those groups interested in sustaining and revitalizing certain aspects of their culture."
Keeping Sololá's image
According to local leaders, three issues have weakened many of the local traditions that have given Sololá a unique identity in Guatemala: globalization, changes in the local economy and a declining focus on religious ceremonies. Smith explained, for example, that interest in wearing Sololá traje (local dress), which consists of brightly colored pants and shirts for men and skirts and blouses for women, and learning and producing traditional crafts is declining among the young, especially males.
"The mayor has made it his mission to grow the local economy and revitalize local traditions by focusing on tourism with plans to expand a gateway/kiosk and museum where foreigners, as well as Guatemalan tourists, can learn more about the town and local handicrafts and keep travelers from just passing through Sololá on their way to nearby Lake Atitlán," Smith said.
"The concern for local leaders is that tourists from other countries expect to see individuals in their indigenous dress and learn about the local customs. If these no longer exist, it's easy to envision a scenario in which the unique image of Sololá is lost as it becomes just another of the many other towns in Guatemala, one without its own visual identity."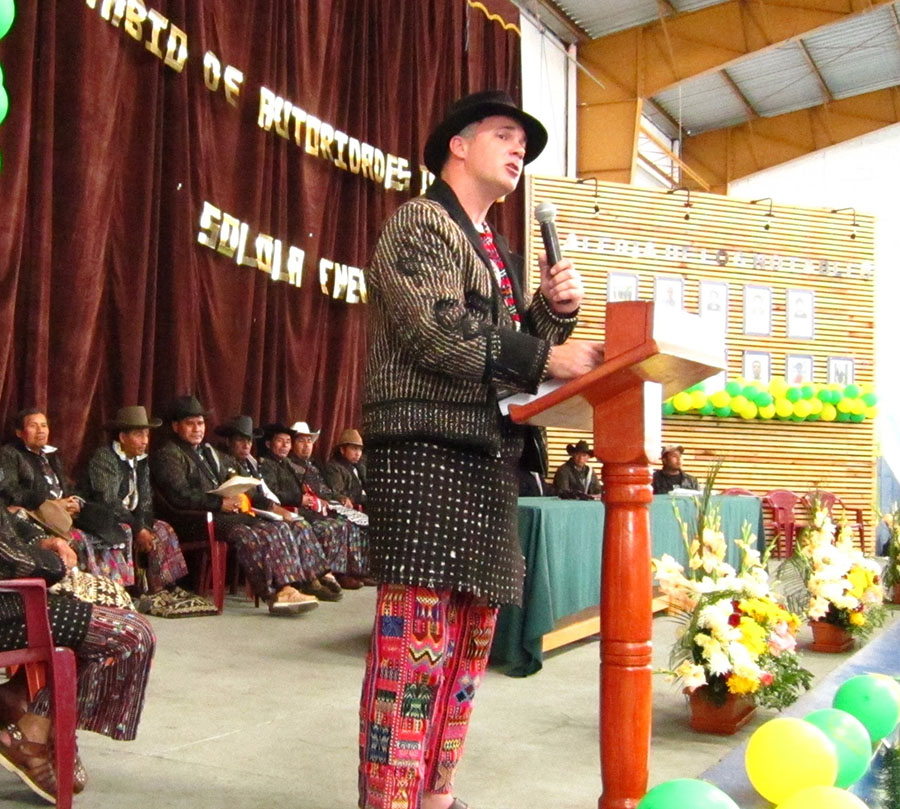 Repatriating knowledge
While he was in Sololá recently, Smith helped government officials access information related to a long-forgotten cemetery that was recently unearthed during excavation for a new market near the town center. The cemetery, which has since been relocated, held the remains of nearly 6,500 individuals.
Using the Kaqchikel Chronicles he helped translate, he was able to cross-reference information with studies by archaeologists, medical historians, and forensic anthropologists to propose that many of the skeletal remains might be those of individuals who died from what might have been the first major outbreak of measles in the town in the mid- to late 1500s. Any definitive scientific analyses, however, are not possible as the remains have been relocated to a nearby cemetery. Rightfully so, locals wanted to respectfully reinter the remains of their ancestors.
"I talked with town leaders about what their ancestors had written in the Chronicles and what anthropology can do to help the community recover its history by working with historic documents," Smith said. He also gave the new indigenous mayor a copy of the book "Kaqchikel Chronicles," written in Kaqchikel and with English translations.
"As an anthropologist and one who is committed to an applied project, it was incumbent upon me and really a great honor to be able to repatriate the knowledge that I had gained by reading through the documents of their ancestors. This is a responsibility instilled in me through my training in anthropology and global studies," Smith said.
Cultures shift, transform
Helping Solola's leaders and residents reconnect to their history does not prevent the town from changing on its own terms.
"The generations that were responsible for these traditions and government structures that have survived since the Colonial Period are getting older, but as an anthropologist, I would never even hint at the idea that a culture dies. Culture doesn't die – it changes, shifts and transforms into something new," Smith said.
"It's exciting to see what future generations might choose, but at the same time there is going to be some feeling of nostalgia and loss on the behalf of some local leaders and citizens and the foreign researcher, perhaps misguided, but I think that this is a sentiment that comes with a great caveat, which is that this is their culture, they are the owners and we should do nothing to stand in the way of that."
What do you think?
Share your feedback on this story.
About the Department of Anthropology
The Department of Anthropology offers a comparative and holistic approach to the study of the human experience. The anthropological perspective provides a broad understanding of the origins as well as the meaning of physical and cultural diversity in the world — past, present and future. Learn more at https://anthro.appstate.edu.
About the College of Arts and Sciences
The College of Arts and Sciences (CAS) at Appalachian State University is home to 17 academic departments, two centers and one residential college. These units span the humanities and the social, mathematical and natural sciences. CAS aims to develop a distinctive identity built upon our university's strengths, traditions and unique location. The college's values lie not only in service to the university and local community, but through inspiring, training, educating and sustaining the development of its students as global citizens. More than 6,400 student majors are enrolled in the college. As the college is also largely responsible for implementing App State's general education curriculum, it is heavily involved in the education of all students at the university, including those pursuing majors in other colleges. Learn more at https://cas.appstate.edu.
About Appalachian State University
As the premier public undergraduate institution in the Southeast, Appalachian State University prepares students to lead purposeful lives. App State is one of 17 campuses in the University of North Carolina System, with a national reputation for innovative teaching and opening access to a high-quality, affordable education for all. The university enrolls more than 21,000 students, has a low student-to-faculty ratio and offers more than 150 undergraduate and 80 graduate majors at its Boone and Hickory campuses and through App State Online. Learn more at https://www.appstate.edu.